Posted by Charlotte Wasylik, aka Prairie Birder
Now that Spring is underway through most of Canada, there are more birds to see, especially with the help of our cameras and scopes. If you have a camera — or even an iPhone — and a scope, one fun offshoot is digiscoping.
Digiscoping is using a spotting scope or binoculars with a camera (point-and-shoot or dslr), even an iPhone, to take close-up photos. It's comparable to taking photos with an expensive telephoto lens, and if you practice a lot you can get quite good at digiscoping. (I am still practicing!)
An American Robin I digiscoped this past week, with my point-and-shoot from a distance of 25 yards or so,
I started digiscoping last year after I bought my Swarovski scope, and I was just hand-holding my point-and-shoot camera to my scope; the photos were decent, but it was very difficult to get the camera centered with the scope. You can buy adapters for your camera and scope, but after spending so much money on my scope (three years' worth of 4H steer cheques and money from my egg route), I didn't have anything left for an adapter. So several months ago, in March, I made a DIY digiscoping adapter which was very simple, cheap, and fun to make. It's helped me to improve the quality of my photos, and lately I've just been digiscoping instead of using just the camera.
There are many digiscoping groups and websites where you can learn more. Some links I've found very helpful: Sharon Stiteler's Birdchick blog, the Facebook digiscoping group, the Yahoo Digiscoping Birds group, and The Digiscoper blog.
I wrote a post on my DIY adapter, where you can find all the items and you'll need to make your own adapter.
Here's my video on how to make the adapter,
A pair of Cinnamon Teals (the photo is a little out of focus, but they were swimming away quite quickly) from a distance of about 100 yards,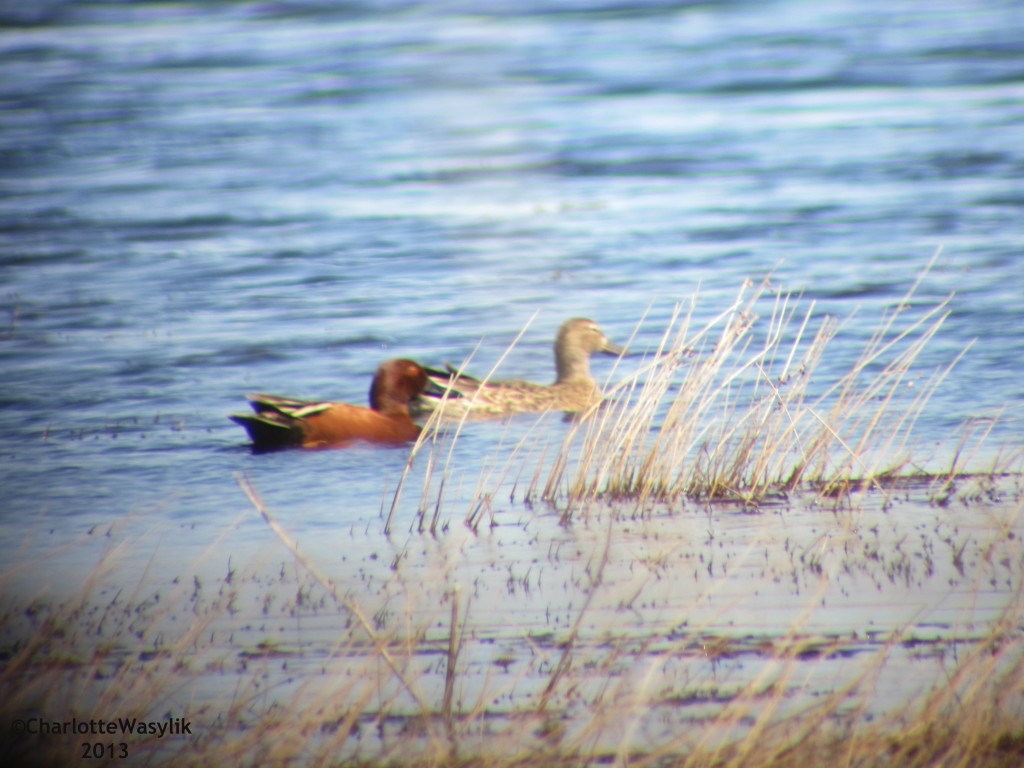 That dark area around the edges of the photo above, especially in the lower left corner, is vignetting. When taking photos with this adapter you get vignetting, which is a black ring around the photo. You can get rid of this by cropping after the fact, or zooming in with the camera to reduce the amount of vignetting.
Savannah Sparrow, from a distance of about five yards,
Tips that have helped me with my digiscoping: practice taking photos of subjects that stay still for long periods of time — swallows, preening waterfowl, and birds at feeders make great subjects for this; have the sun at your back for the best lighting; take lots of photos, because for every good one you will have 20 bad ones; and practice, practice, practice!
White-crowned Sparrow, taken through a bedroom window,
I'm hoping to digiscope most of the bird species I see the rest of this year, and improve my skills.
I'd love to know what kind of equipment other birders use for digiscoping, and what your favorite subjects to photograph are. Please use the comment section for this if you'd like.
All the photos in this post were digiscoped!