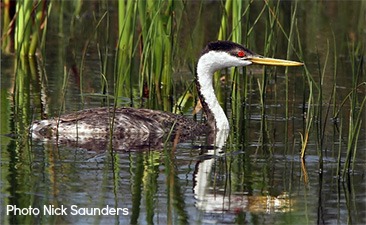 Two bird species were assessed at the most recent meeting of the Committee on the Status of Endangered Wildlife in Canada (COSEWIC), held in Halifax. Owing to population declines that have been taking place on its Pacific coast wintering grounds, COSEWIC assessed the Western Grebe as a species of Special Concern. Jon McCracken (Bird Studies Canada's Director of National Programs), who co-chairs COSEWIC's birds subcommittee, says that we don't yet know the extent to which some of the decline may just represent a geographic shift in the grebe's wintering distribution. Because the species congregates in large numbers, it is vulnerable to a variety of threats. 
COSEWIC also reconfirmed that the Prairie subspecies of Loggerhead Shrike is Threatened, and that its eastern counterpart in Ontario and Québec is Endangered. Like most other grassland birds, shrike populations continue to decline across North America. 
To learn more about these status assessments, and those for the other fauna and flora that were covered at the meeting, visit the COSEWIC website.