Winterizing my trailer already? Where did the summer go? Just when things seemed to be warming up, it starts to cool down again…typical Alberta. I can't complain though, the summers may be relatively short here (at least compared to Australia where I grew up), but they are mighty sweet!
August was a busy camping month from my family, so much so that I didn't find enough time to post last month, so I hope to make up for it with two blogs' worth now! First up is a shot taken at Buffalo Lake of a Black-crowned Nightheron in its 'element'…this was taken just after sundown with the nightheron having just flown in from its daytime hide to take up its night-time roost: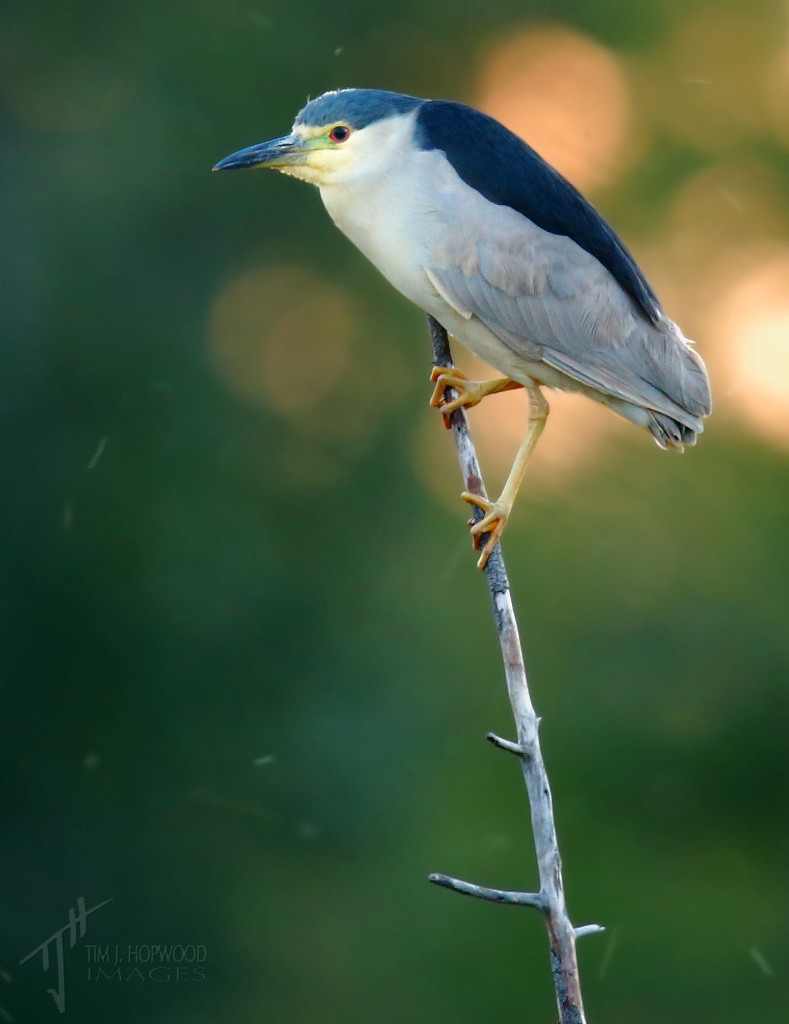 At a nearby shallow slough the following day I was also able to capture some of the shorebirds passing through on their south-bound migration.
Pretty much all these shots were taken lying on my belly so that I can get eye-level with the birds, and also obtain visually-pleasing out-of-focus backgrounds. I wear goretex overalls as the shorelines where I set up are not only water-logged and/or muddy, but the water itself is often quite stinky – great for the birds, but not for me! I also wear a cap for sun protection, but mainly to hide my features especially my eyes…I've found that birds are more accepting of you if you don't trigger their survival instincts i.e. try to reduce your 'human silhouette' (achieved by camouflage clothing and lying down) and don't make eye contact…you're less likely to be viewed as a predator if you 'don't have eyes' so to speak. That's my theory anyway and it seems to work for me.
A helpful habit of shorebirds is that they tend to return to the same spot to feed…while ideally I want to set up without the birds being aware that I'm there, if I do happen to cause the birds to flee as I set up, if you wait 5-15 minutes, there's a good chance they will come back. Alternatively, new birds may fly in to take their spot. A good way to tell whether you've been successful is when the birds return to active feeding or, the ultimate indication, when they relax completely and take a nap!:
All birds, even those of the same species, do not necessarily behave the same way…just like humans! You have your skittish introverts, the young and naïve, the seasoned veterans…every personality is out there. Shorebirds are no exception: oftentimes I need all the camera 'reach' I can get (e.g. 600mm lens with a 2x teleconverter), but then I'll come across other shorebirds that come so close my camera can't focus (which is a pretty special experience in itself because it happens so rarely, plus it's comforting to know the birds don't mind your company).
Camping at Gull Lake in August, I had my longest and best views to date of the normally shy Sora.
A family of five Soras were busy feeding and foraging in the open and seemed unfazed by my presence on the boardwalk that traverses their marsh home. A couple hundred campers must cross that boardwalk on a daily basis on weekends, so I guess these Sora have become acclimated to humans in their habitat – so a real plus for the photographer!
August also ushers in the start of warbler migration, a fun and exciting period because on any given day, as Forrest Gump would put it, 'you never know what you gonna get' ! Such is the case at Confederation Park in central Calgary which, for reasons best known to the warblers, seems to be something of a magnet for them during migration. This park is only 5 minutes from my home, so I get to make frequent trips to check it out. Sometimes it can be very quiet, other times it's hopping with migrants. Here's a selection from this fall…
But it's not just songbirds that pass through this park, there are some even smaller migrants…
…and where there are lots of small birds there are also larger birds that prey on them, such as the Cooper's Hawk:
One particular highlight from this summer would have to be my first warbler migration 'fall out', which took place while I was camping at Little Bow Provincial Park. A fall out occurs when migrating birds (warblers migrate at night) run into inclement weather and land to sit out the storm. Having arrived on Thursday evening, I was pleased to find a couple of warbler species (Blackpoll, Redstart, Yellow-rumped, Northern Waterthrush) but they were few and far between.
A forecasted cold front arrived just after lunch on Friday and it rained non-stop until the early hours of Saturday morning. By 8am, it was sunny out and I went for my usual morning birding sortie. While it started off pretty quiet, some new birds suddenly started to appear…the first being a Caspian Tern:
However, when I went and checked out the usual warbler trees and bushes they were literally hopping!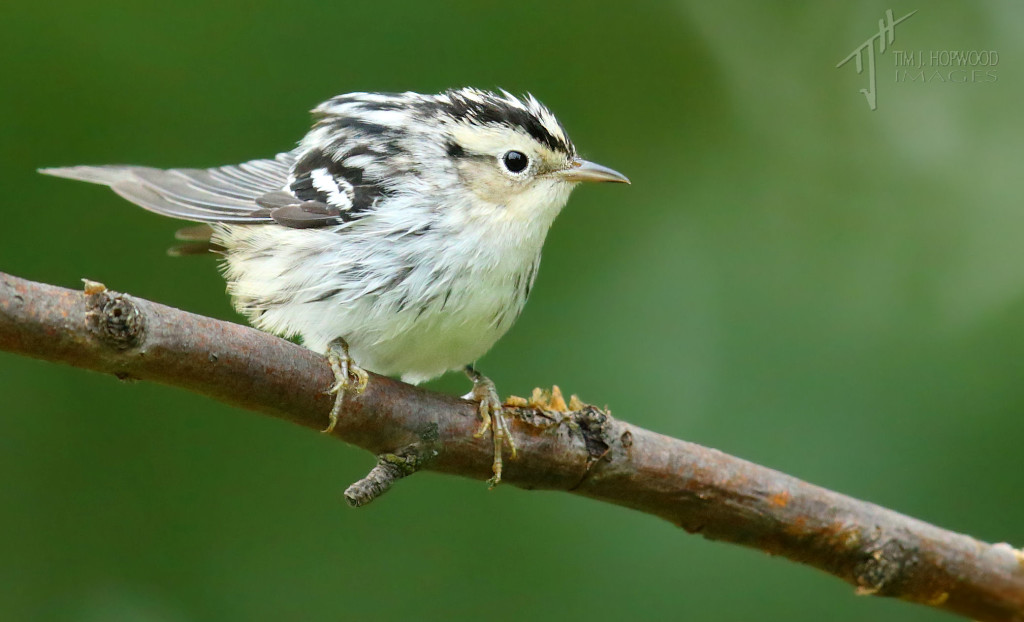 Yellow-rumpeds everywhere, pairs of Redstarts flitting around, bright yellow Wilson's darting around.
Then when I looked up higher in the surrounding conifers – more warblers!: a pair of Cape Mays and even a handful of Townsend's Warblers.
When I returned to my trailer for breakfast I got confirmation of a fall-out as waves of warblers made their way through the campground trees, highlights being multiple Magnolias and even a Canada Warbler!
The migrating warblers took advantage of the return of good weather, and by the next morning the campground was a virtual ghost town warbler-wise! Ah well, it was great while it lasted and I was happy that the migrants got to move on again soon to the warmer and more bountiful lands to the south. By my count I got 13 species of warbler during the 24 hrs, not to mention the multiple vireos and flycatchers. Definitely an experience I'll not soon forget!
As for warbler photography, this is definitely a challenge & can be equal parts frustrating and rewarding! These birds are by nature shy of humans and they also like to stay out of sight to avoid predators and they move very, very quickly. Normally I will take many shots but only a very few will be worth keeping for one reason or another (out-of-focus, blurry, bird not facing the camera, etc). Because of the habitat warblers favour (forest, undergrowth) light is often not great so to get the highest shutter speed I can I set my aperture as wide open (smallest f-stop) as possible I will generally set my ISO as high as I can tolerate (from a graininess perspective) which on my Canon 1Dx is ISO5000. I wouldn't have dreamed of using such a high ISO on my old Canon 7D…ISO800 was the most I could bear, and it is this (and frame rate) that for me put the 1Dx head and shoulders above every other Canon DSLR (and also why the price is head & shoulders above everything else too!!). With these settings, it's then a matter of patience plus skill plus luck to find and shoot warblers…patience to find and wait for a warbler to work its way out into the open, skill to be able to aquire, focus on, adjust exposure and shoot the warbler for the second or two it is visible, and luck for the bird to strike a nice pose and look in your direction (shots of birds looking at the viewer are generally more visually-pleasing than those that aren't)! When it all comes together and you nail a sharp shot of a skittish warbler in a great pose you will be one very satisfied photog and I think rightly so – good luck!