House finches are a relatively new yard bird in southern Alberta. Their inexorable colonization of the North American continent from both California and New York only brought them here within the last ten years or so.
I remember being very excited the first time I heard one of the brightly decorated red males singing his heart out in my poplar tree. Pretty soon I had half a dozen in the yard, then a dozen…  I stopped counting when I got to 23 at one go.
House finches are now a permanent part of my yard decorations, and I never tire of their singing. Each spring their numbers increase right along with my bird food bill. Now I have more house finches than I do house sparrows, but there's no shortage of them either.
This year, however, I'm noticing something different. I have tufted finches. Or horned finches, if you prefer.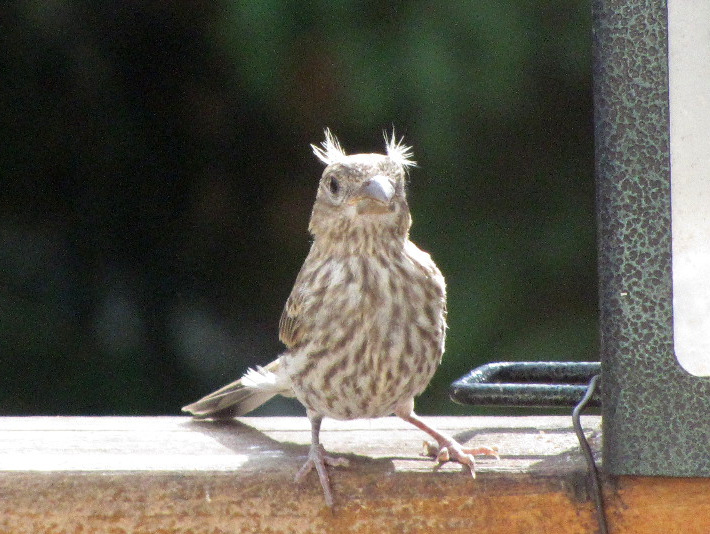 At first I chuckled over the sight of this little female with the funky head feathers. They reminded me of long, luscious eyelashes, and I had a mental image of her batting them at the males in a coquettish fashion.
Then I realized I had a great number of finches with tufts, and it wasn't just one 'well endowed' female. I've seen four or five of them at a time at the feeder, all with the spunkly little tufts located in the same place on the head. I'm now thinking maybe they're juveniles, not females.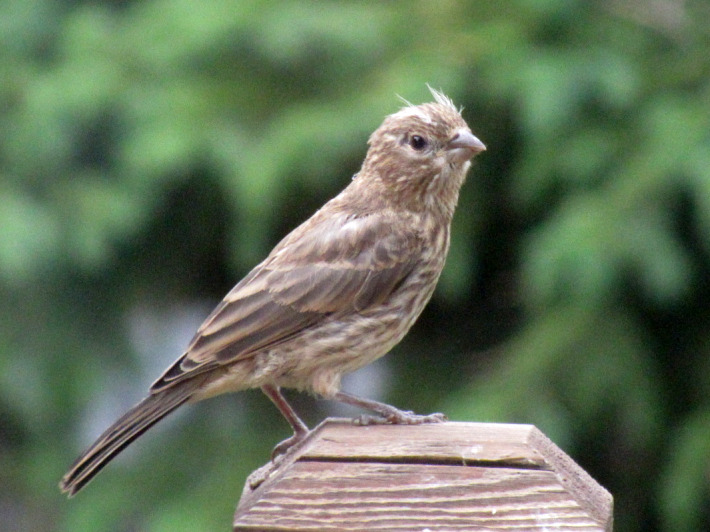 As I've never noticed any tufted finches in my yard before, I'm looking for answers. Is this peculiar feather growth normal for juvenile finches? Not being a house finch expert, maybe I've never seen juveniles at this particular growth stage. I'm hoping the tufts are not a prelude to  losing all the feathers on their head, which the blue jays go through occasionally.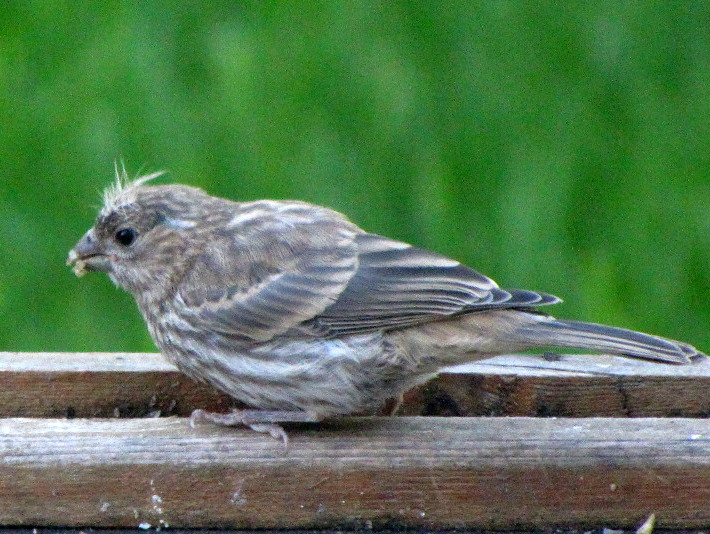 If anyone has any information on my tufted finches, please let me know in the comments. I'm not sure whether the number of tufted birds is increasing, or if I'm just noticing them more often, but they do seem to be on the increase at the feeders.