Hello! Welcome back to our Toronto backyard and slightly beyond. Spring is in full swing, migrating birds coming back to our region (or passing through, heading further north), and for some odd reason a winter species still remain here in early May.
We just started a 2 week vacation so please excuse the rushed photographic blog this month. I hope you enjoy the sightings I am sharing as much as we've enjoyed seeing them.
Rose-breasted Grosbeaks made a short stop at our safflower feeder. It's been 3 years since we've encountered these birds at our feeders.
The male.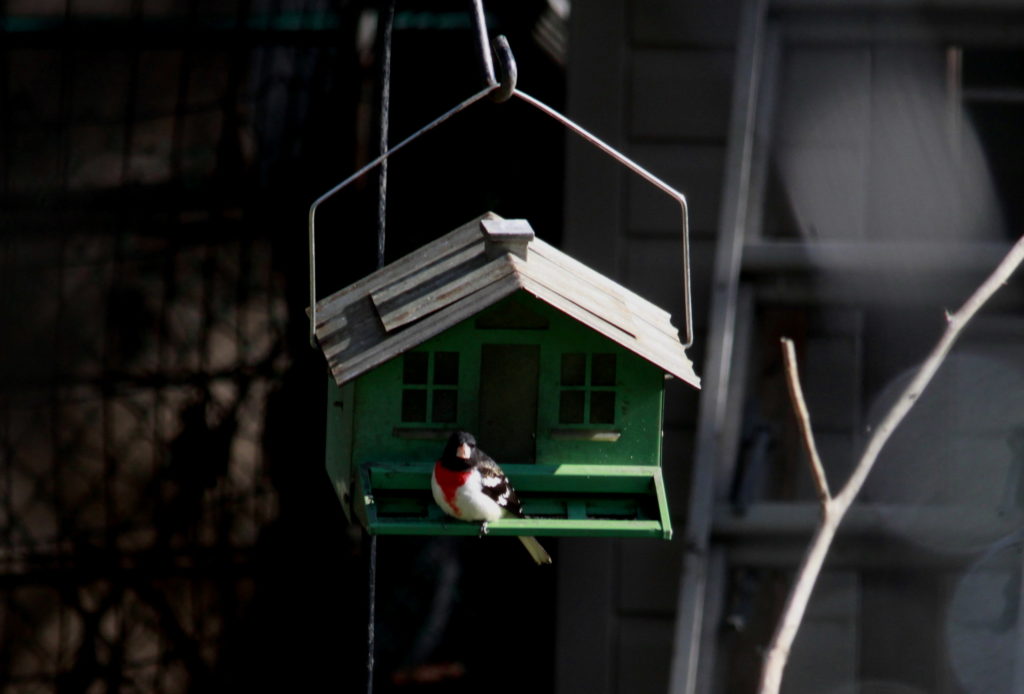 The female.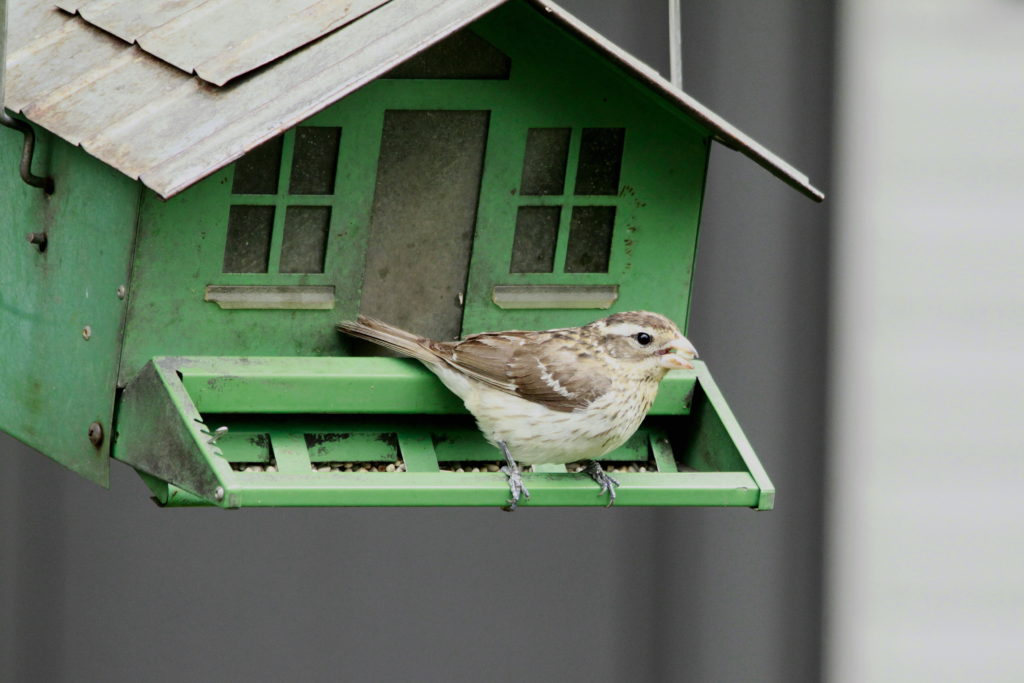 Eastern Bluebirds have been passing through and any close to home sightings are a thrill.
Male Bluebird.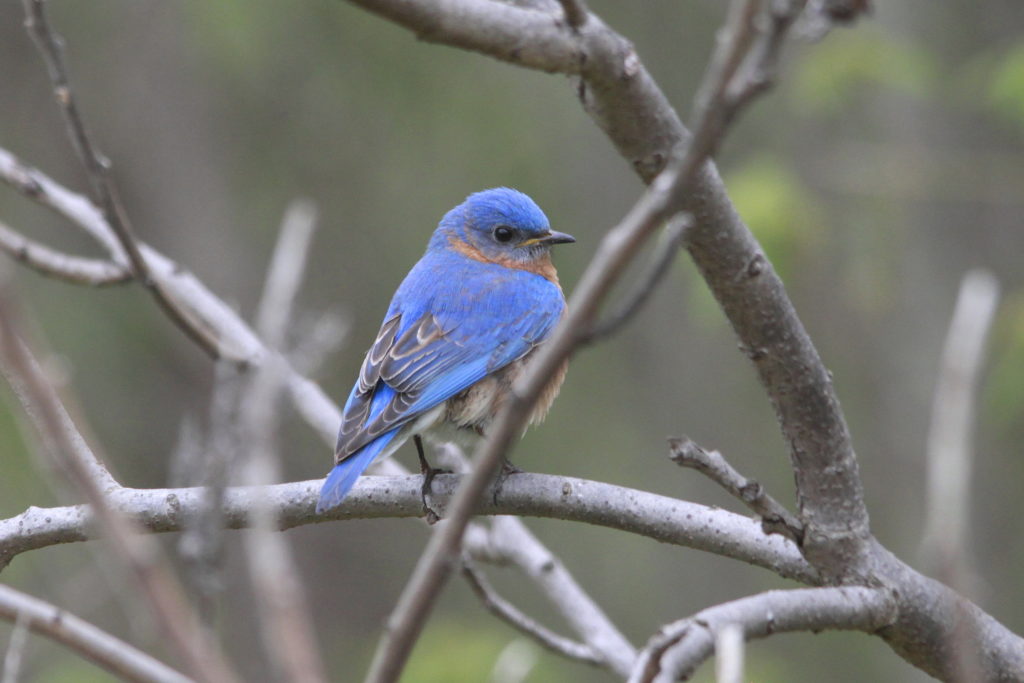 Female Bluebird.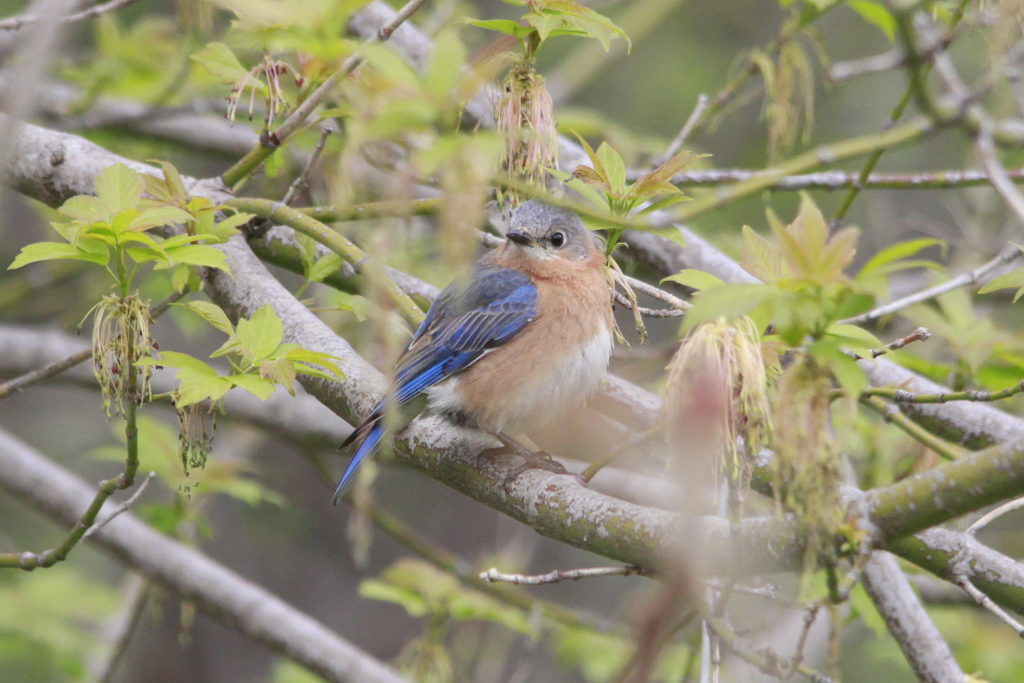 Odd for us but not exactly unusual is a Cooper's Hawk hanging around. Normally for us they leave by March or so and we don't see this species again until early Autumn.  It's made a few attacks at the Pigeons who frequent our backyard.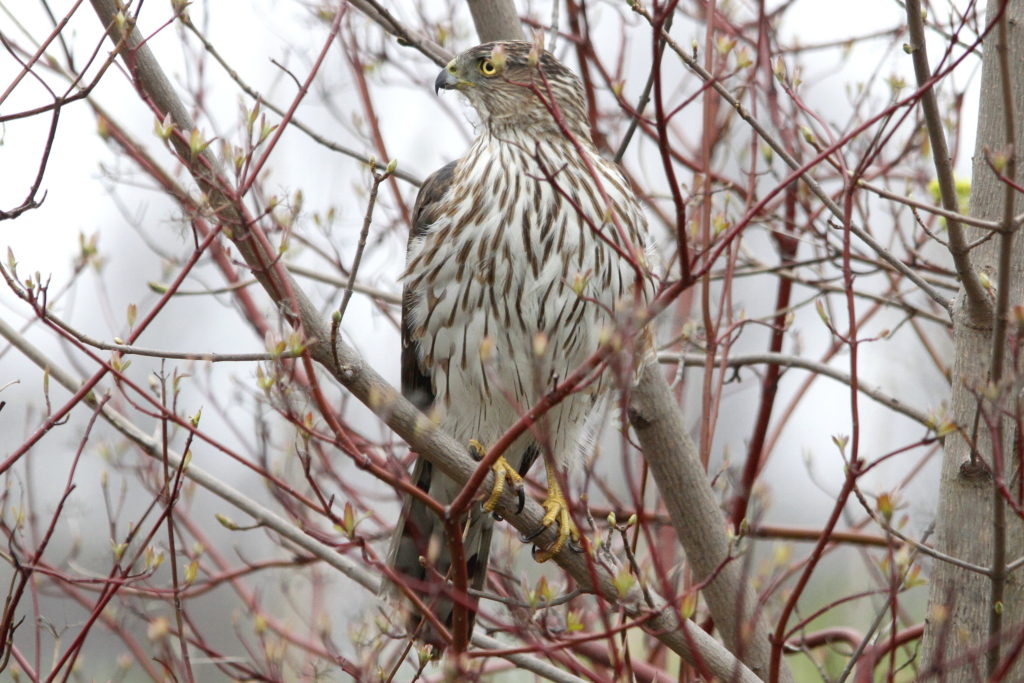 A Rusty Blackbird I spotted at a nearby park. I can count on one hand how many encounters we've had with this species of bird (and it's been a few years). So spotting this one around the corner from us recently was great!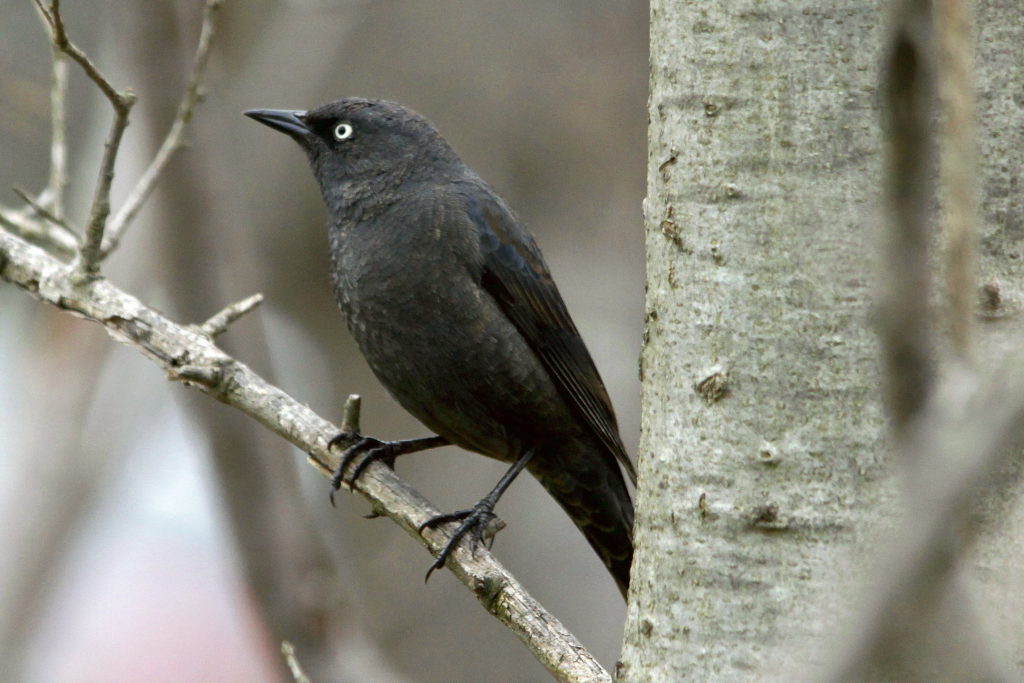 A pair of Great Egrets are hitting some local ponds the last few weeks. Big beauties that are a joy to watch hunt the ponds.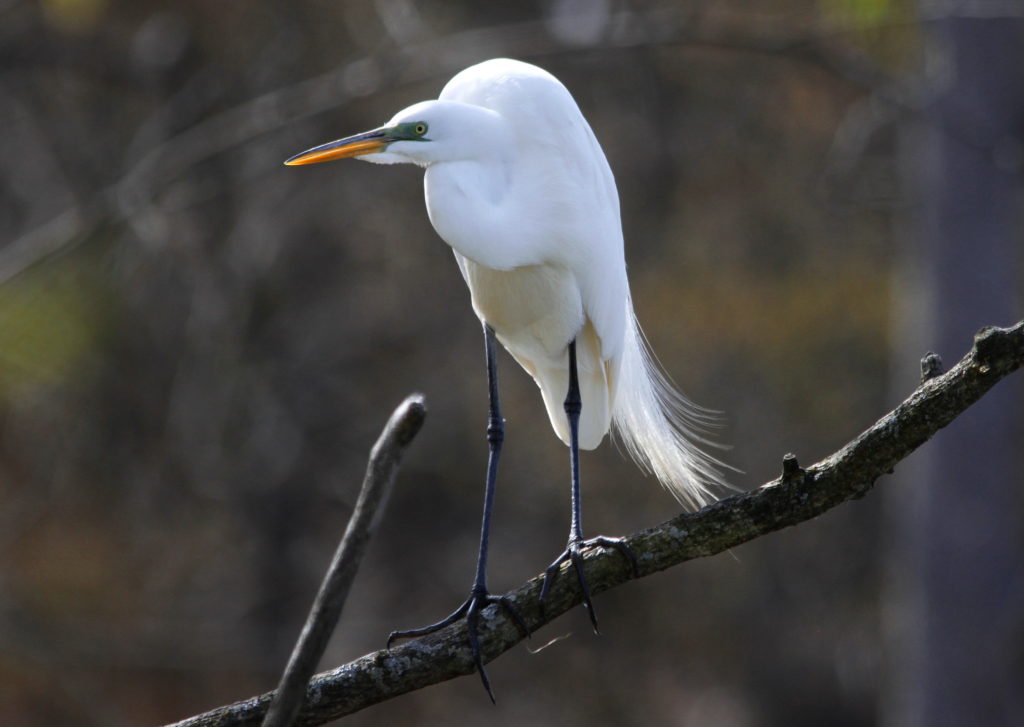 No shortage of Northern Mockingbirds around us now. The holly bush in our yard is bare once again so it's not often they come in for a stop.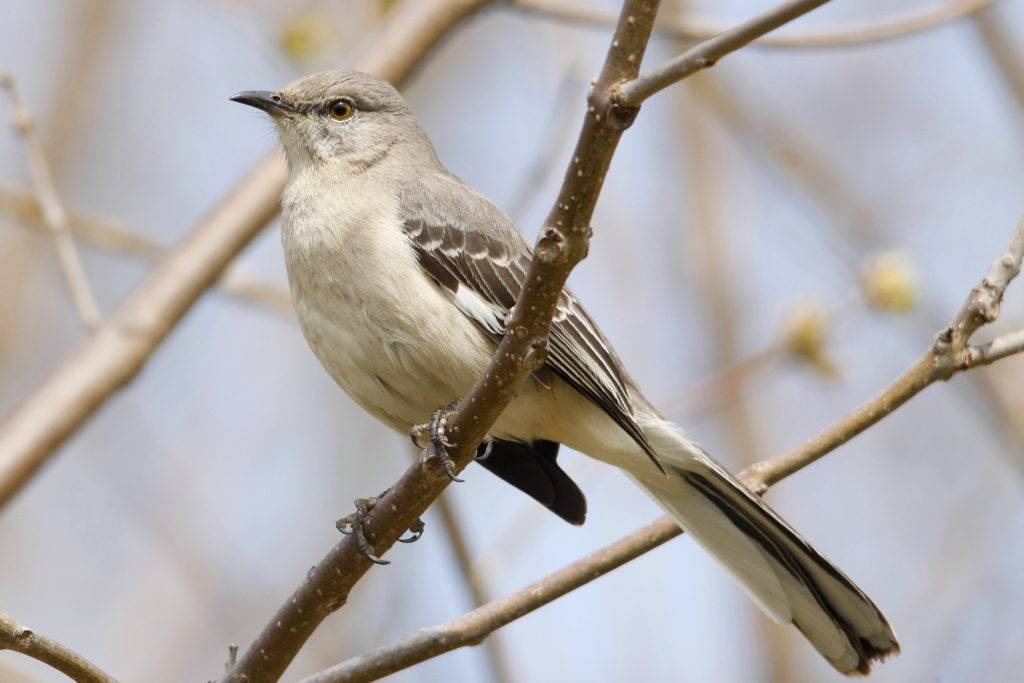 Tree Swallows are back, claiming nest boxes in most of the parks. We're monitoring a number of nest boxes in our area now.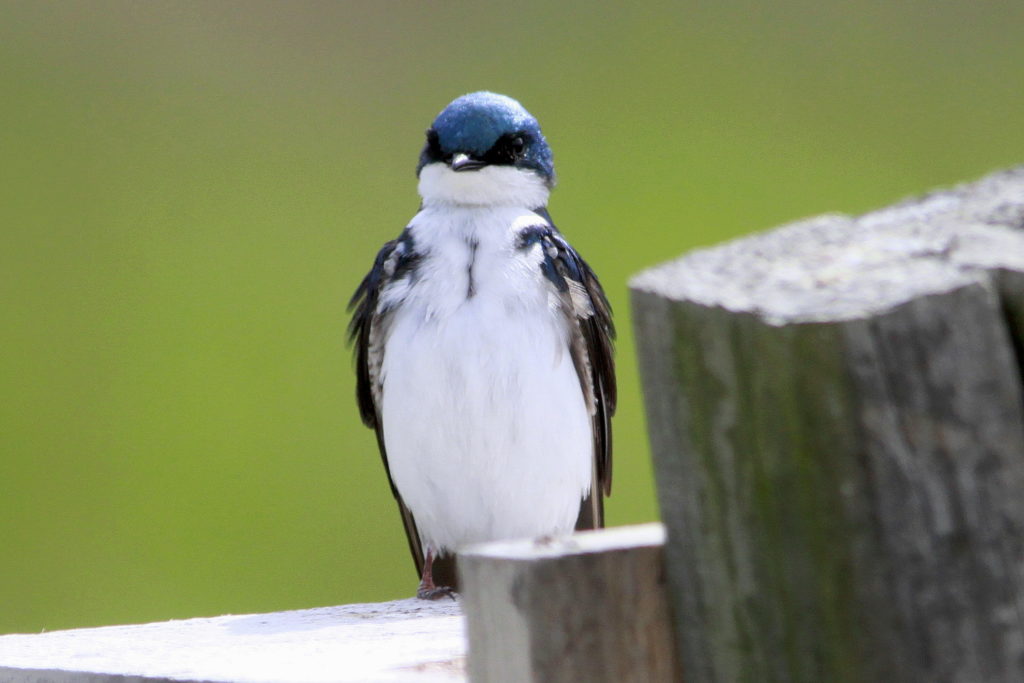 This White-crowned Sparrow has been in our backyard for almost 2 weeks now. He's bopping around, singing his song and we enjoy every day he's here because any time now he will move along, heading further north to nesting grounds.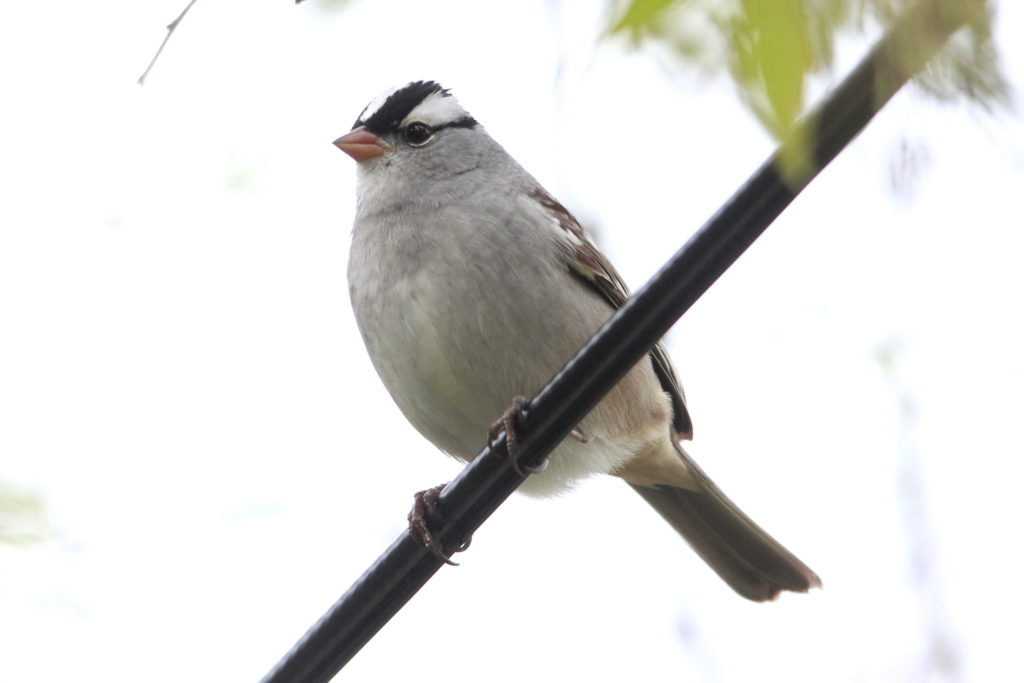 A pair of White-breasted Nuthatches are visiting us many times every day. Not uncommon for a lot of people but it is for us. Most years we see the odd one in fall migration and that's it. We haven't had any overwinter with us in over 5 years. With a pair, obviously they are going to nest close by. We've also got a pair of Red-breasted Nuthatches still coming in. They overwinter every year with us but are usually gone by March.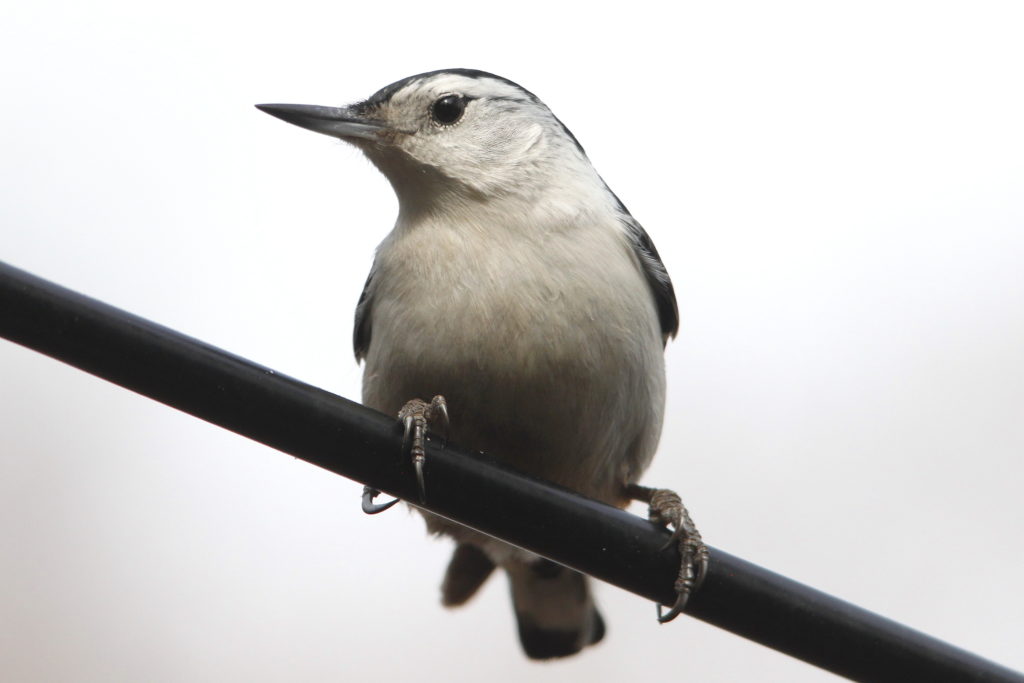 No shortage of Red-winged Blackbirds anywhere. They are our first real sign of Spring. The females just started showing up in the last couple weeks while the males started coming in late February. I love these fierce birds, standing up to just about anything that nears their nest, no matter the size.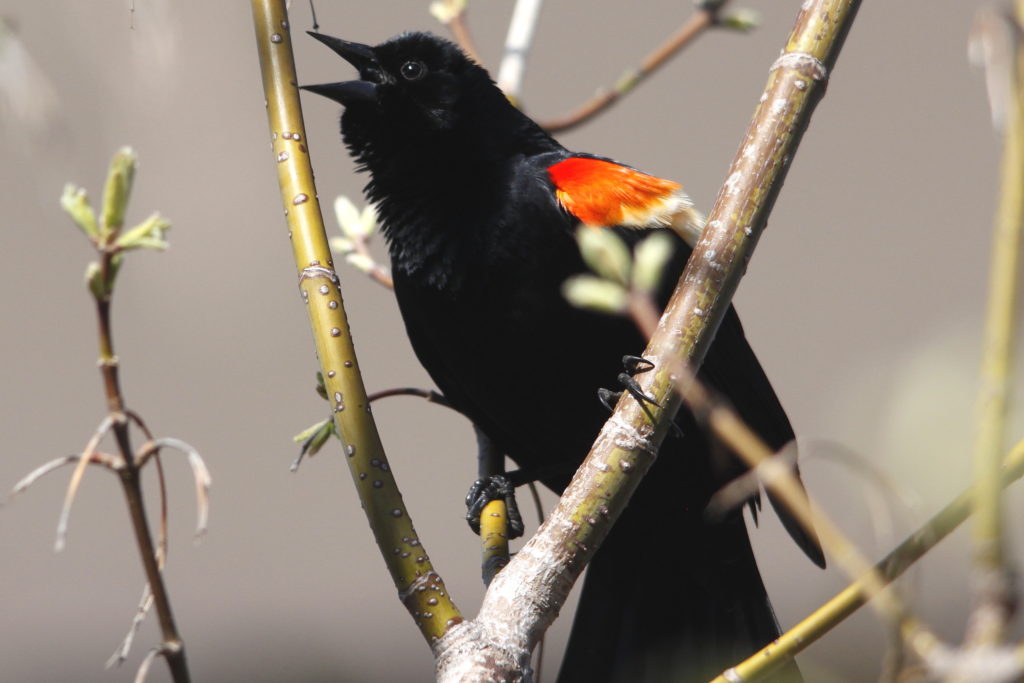 A few days we were treated to the sounds, and a few sightings of Field Sparrows. Their call is unmistakable much like that pink beak of theirs.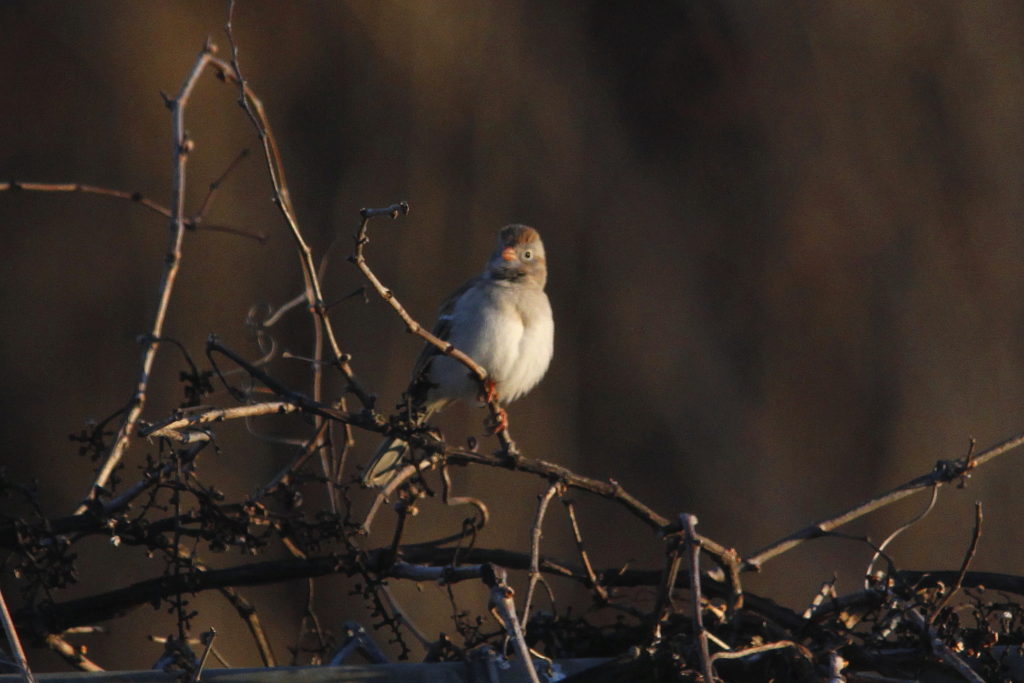 Local Eastern Screech Owl occasionally showing from this nest box. We never see young since first seeing it a few years back. The Owl does disappear through the warmer months so this may have been one of the last views until later in the fall.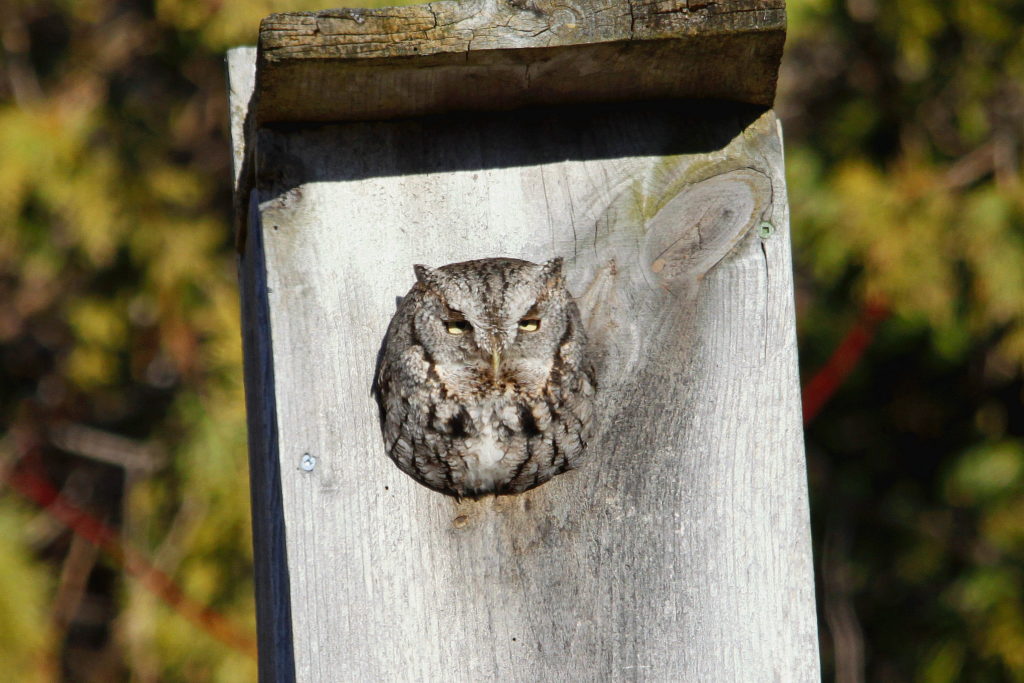 And probably the coolest story around here is the appearance of this male Downy Woodpecker. As you can see, he is banded. My wife noticed the band while we were having coffee on the back deck. It was my mission that afternoon to get the band numbers with my camera. About 70 photos over the next 5 hours, I finally got the band and reported it.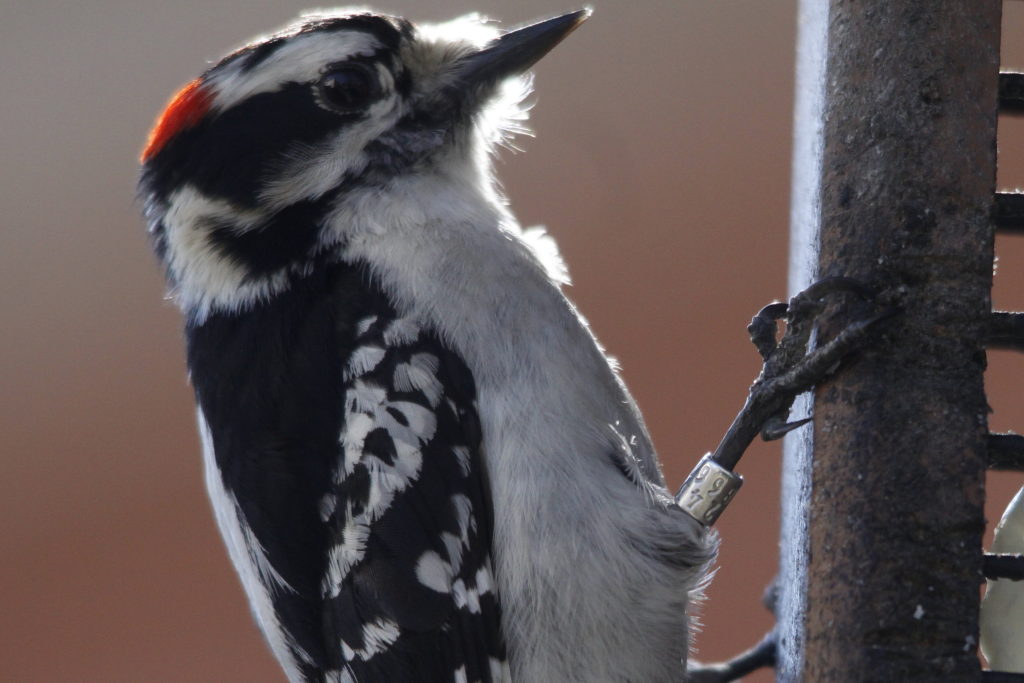 The bird was banded in November 2014, in a woodlot about 3 kms from us. It was a 2012 hatch bird (or earlier). He's at least 5 years old. A little survivor. And testimony to the positives of banding birds. Everyone is delighted to hear about the encounters with banded birds that are still alive. The kicker is the bander is a friend of ours! She was thrilled to learn about the Woodpecker finding our pure suet feeder.
Dark-eyed Juncos are still with us which is another unusual sighting for May.  They are also showing in the parks, so it's odd to see one and then seconds later spot any of the Warblers we've been encountering such as Yellow-rumped, Black-throated Green, Nashville, Yellow and Black & White.
Black & White Warbler.  They race around the trees in similar fashion as Nuthatches.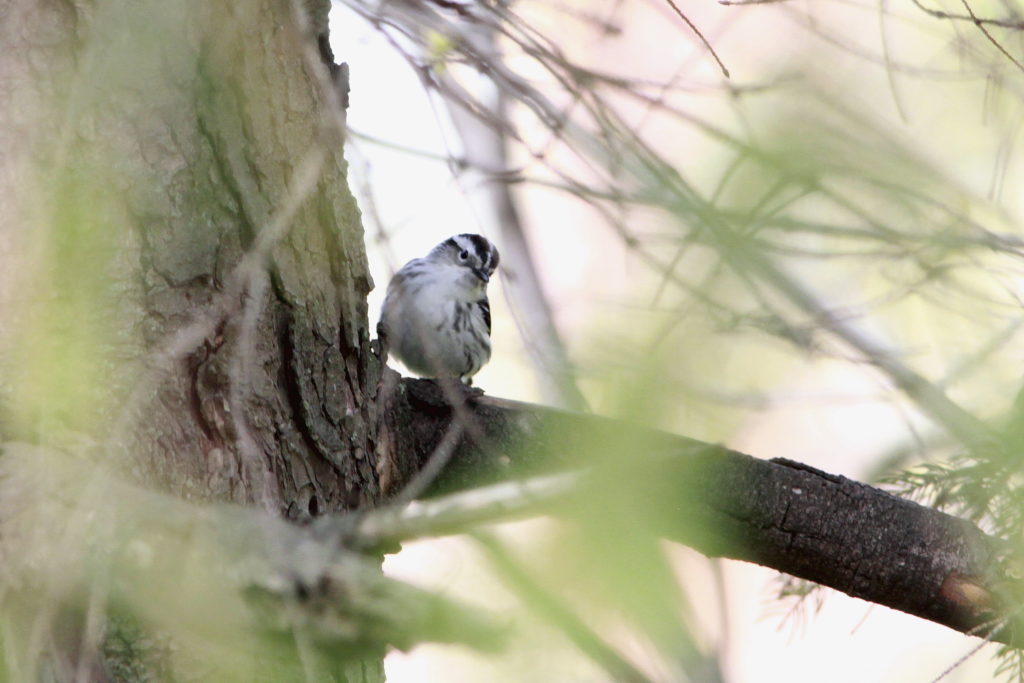 Black-throated Green Warbler.  Now that's one heck of a black throat!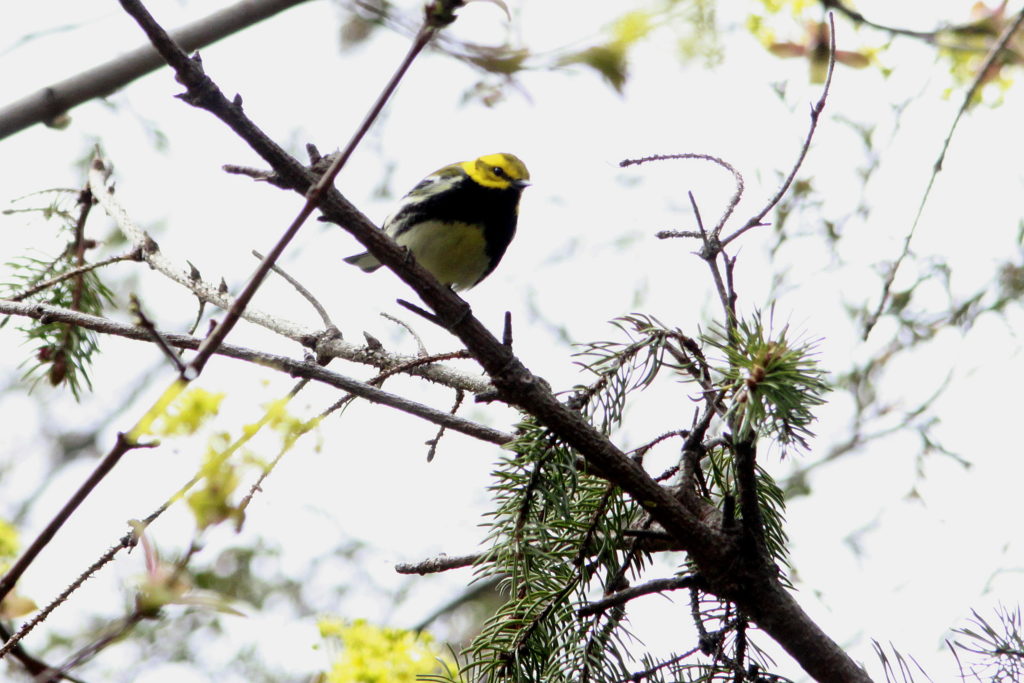 As always, we appreciate those who stop in for a read of our blog entry. Enjoy the remaining weeks of Spring… and the birds passing through!