Good day!  Is it too late to wish you all a "Happy New Year"?
Here we are in January 2017.  The backyard so far for this year has been average, but let me tell you about how it ended in 2016.  I guess the title gives it away though.  Yes, we had a visiting Eastern Screech Owl to our little piece of land in Toronto.  But let me rewind a bit…
39 months prior to his visit, I had bought a hand made Wood Duck box which could also be shelter to Great Crested Flycatchers, American Kestrels and Eastern Screech Owls.  I wasted no time getting it set up down back where I thought would be a great spot.  3 years passed and nothing other than the occasional Squirrel taking refuge from a storm.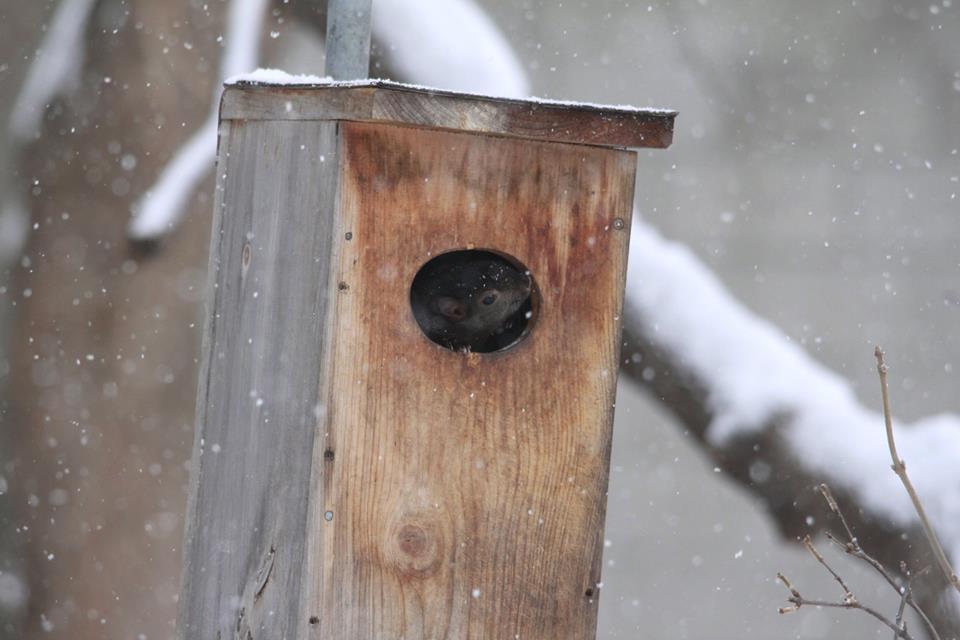 One day a juvi European Starling a couple hours in it.  Some how he found the box, went in, and just sat there watching the big new world around him.  It was comical to witness.  I guess he felt safe in it?  But then he left, joining all the other young Starlings with their parents and that was it.
September 2016 I decided to move the box.  I picked one of the few trees actually on our lot to use.  Unfortunately it would have the box face north/west which is supposed to be the worst direction to face a box due to winds and storms.  But that's where I could put it.  I thought about all the Owls I've seen out there in the wild, not every cavity faces that recommended south/east direction.  So why not take the chance?
The box went unnoticed until December 19th when I happened to be looking out our kitchen window while I was getting ready for work.  I saw a grayish lump at the entry hole.  First glance I thought a Squirrel must have found it.  But my brain said "open the shutters and get the bins".  I did just that and to my joy and surprise it was an Owl!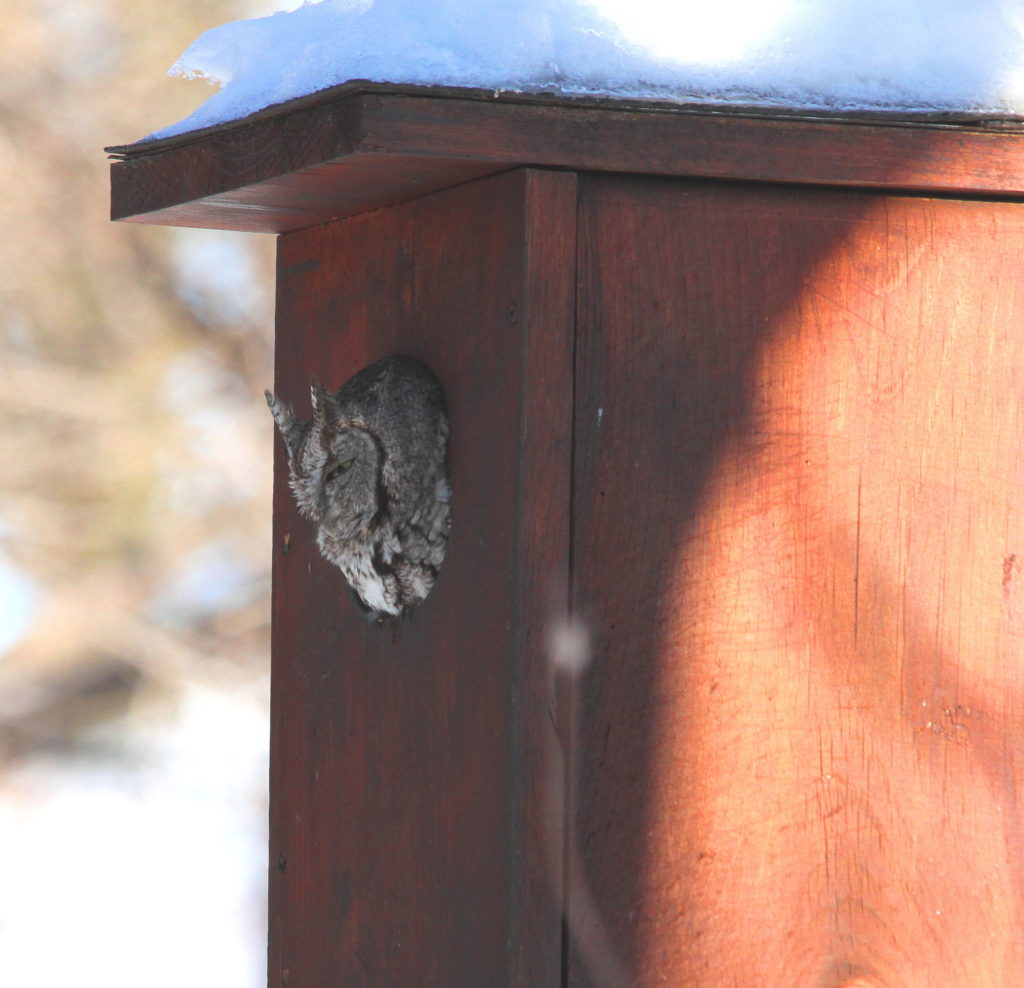 I can't share my exact words of excitement on this blog. It was a colorful spree, repeated over and over again, in a positively excited manner. I also made a quick call to my wife, informing her of our visitor, so she got the news first hand before discovering it on social media.
For the photo, I made my way out the front of the house, slinking up the side, and then hopping up on our back deck. I was well away from the box and did not want to disturb the Owl. Unfortunately others took notice to our new visitor, who did not like him nearly as much, and gave him some serious hell. A couple Squirrels just went crazy on him. They were running up the tree, which made the Owl retreat into the box. Then they would shove their head in the box, then quickly back out. Why the fuss? What's a Screech Owl going to do to a Squirrel?
Then I had to go to work. I wished the Owl luck in my absence and hoped the Squirrels would back off.
The next morning I was at Rona (similar to a Home Depot or Lowes store for any non-Canadian readers). I bought stove piping to wrap around the tree, hoping to help deter the Squirrels. I figured 16″ worth would be good to keep the Squirrels from running up the tree. And that worked.
We watched the house over the next few days and saw nothing. We had high hopes but as the days passed, they did fade.
Then I noticed a gray Squirrel in the box. *sigh* The Squirrel was using the next tree over, climbing high up in it, going to over hanging branches, then taking a big leap to this tree, and then coming down into the box. Gotta give it kudos for some clever thinking on how to get into that box.
I will admit it did frustrate me but what's done, is done. It now had the box, and was quickly filling it full of leaves and even some insulation it gathered from who knows where. I don't have the heart to evict the Squirrel now.
Here it is on this snowy morning, snapped this through our window just now.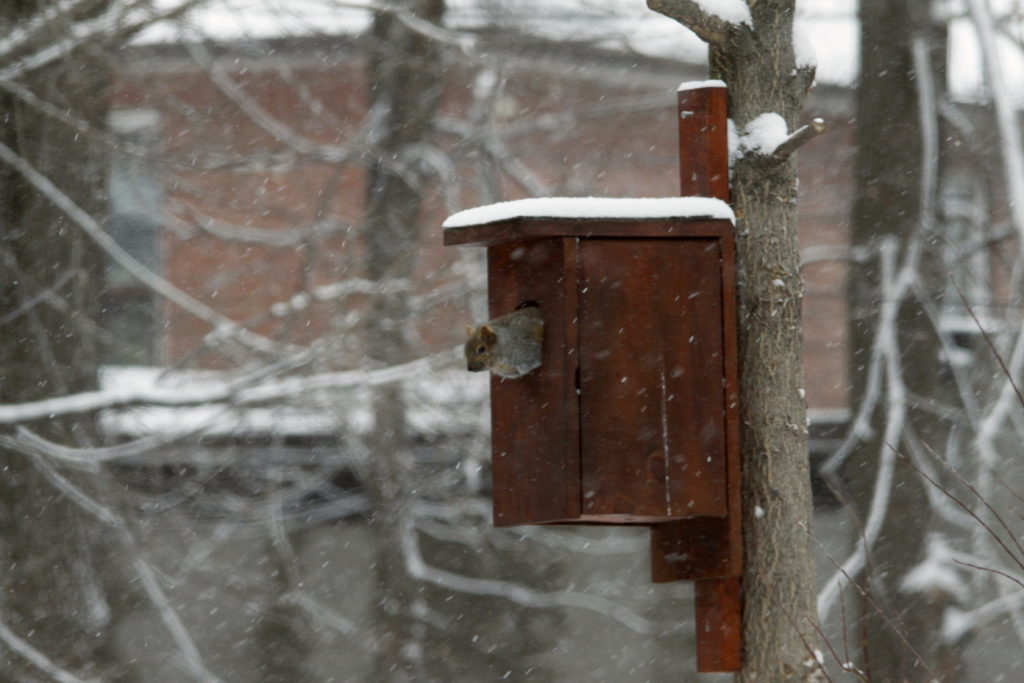 In no time though, I had gotten a new Screech Owl box, and set it up in another spot about the yard. The box is more suited for Screech Owls with a 3″ entry hole. It's actually got some ventilation with small slots just under the roof. It's got drainage underneath in case water ever got inside. And it's also got slight grooves along the inner wall to help young Owls find their way out of the box, if we were ever blessed with such a thing as nesting Owls. The Wood Duck box is missing a couple of these things. The new box is well away from trees no matter how things look in the below image. I've used the stove piping underneath it. It faces south/west, which is better than north/west. And it's got a large grove of tall cedars on the north side for added shelter, blocking those winds.
Wish us luck!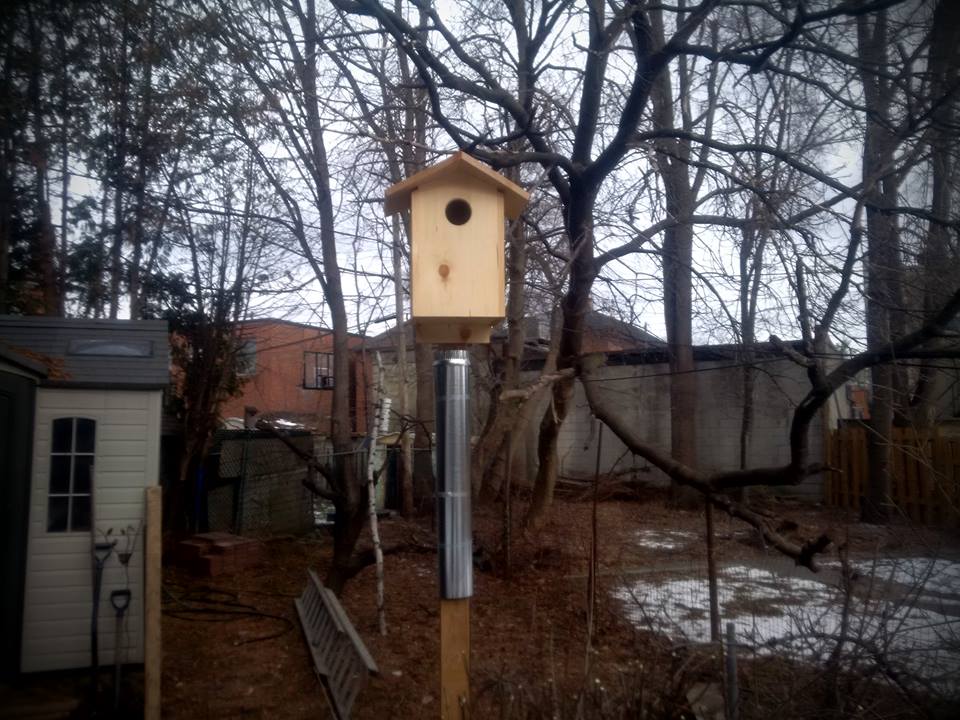 What's funny is that a few weeks prior to this encounter, I was doing nocturnal Screech Owl searching in some spots not too far from our home. I went out after dark, visiting some old wood lots, playing a Screech Owl call, and over a 2 night period I had 6 individual Screech Owls through 4 different areas!
It's quite an experience for someone who enjoys the birds. The Owls will call back, sometimes even flying in to see who is in their territory. It is at this point, once you have an Owl responding to your calls, that you should stop playing them. I don't move. I just listen and try to view the bird if it's near by. I may also try for photos even though it's quite difficult. I won't use flash. I do try and use natural lighting, if there is any with the moon, or if street lights aren't too far off. I have to tweak my camera settings, cranking up the ISO as high as I can go (which isn't that high on my old Canon Rebel T1i), using manual focus and if I get anything, I still have to manipulate it quite a bit once I have it on the computer. The pics aren't for anything more than record shots, sharing with friends about the experience. People are more apt to pay attention with an image attached than reading one of my long scribes. Speaking of long scribes, is anyone still here reading this?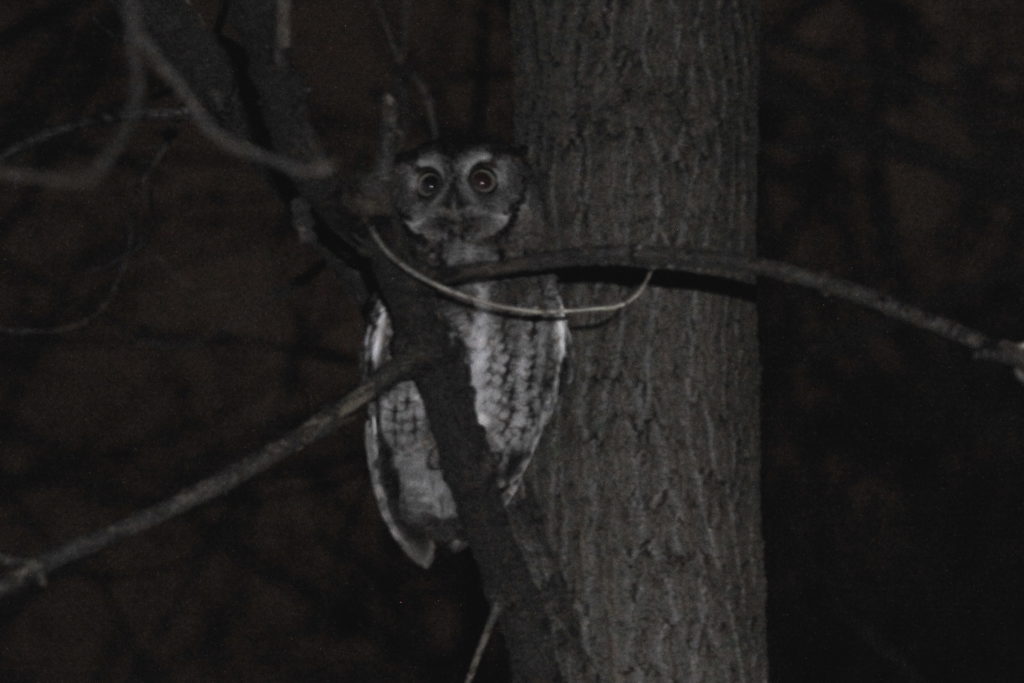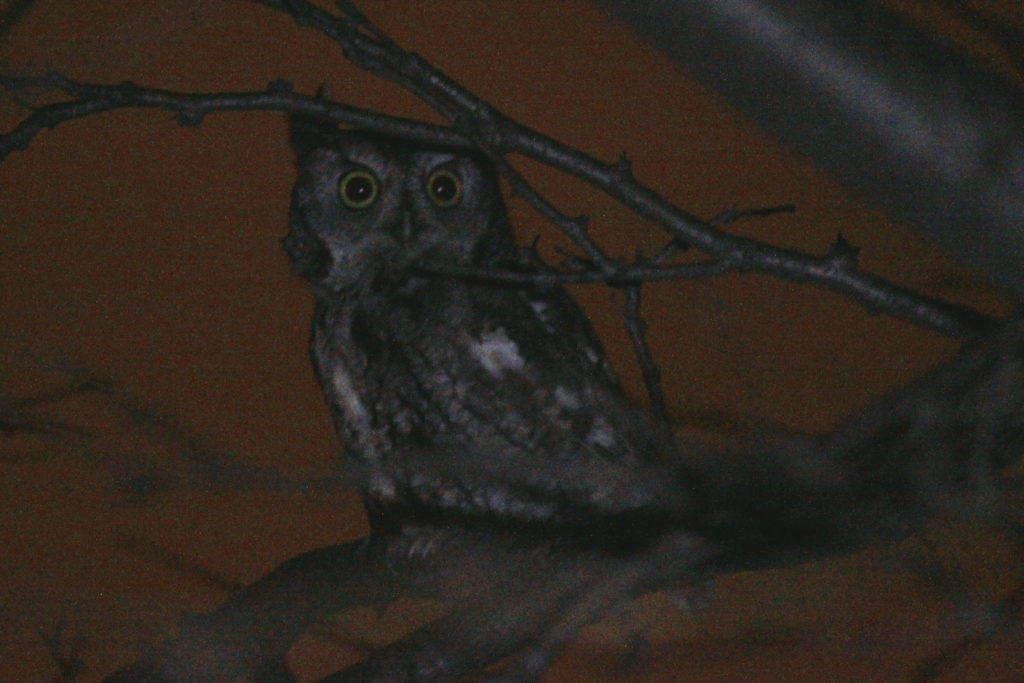 About a week and a half after this night Owl adventure, I chanced upon a roosting Screech Owl in another area. Total surprise, almost missing this bird in a line of cedars along the path. #7! I use a 500 mm lens so trust me when I say that I was not in the Owl's face so to speak.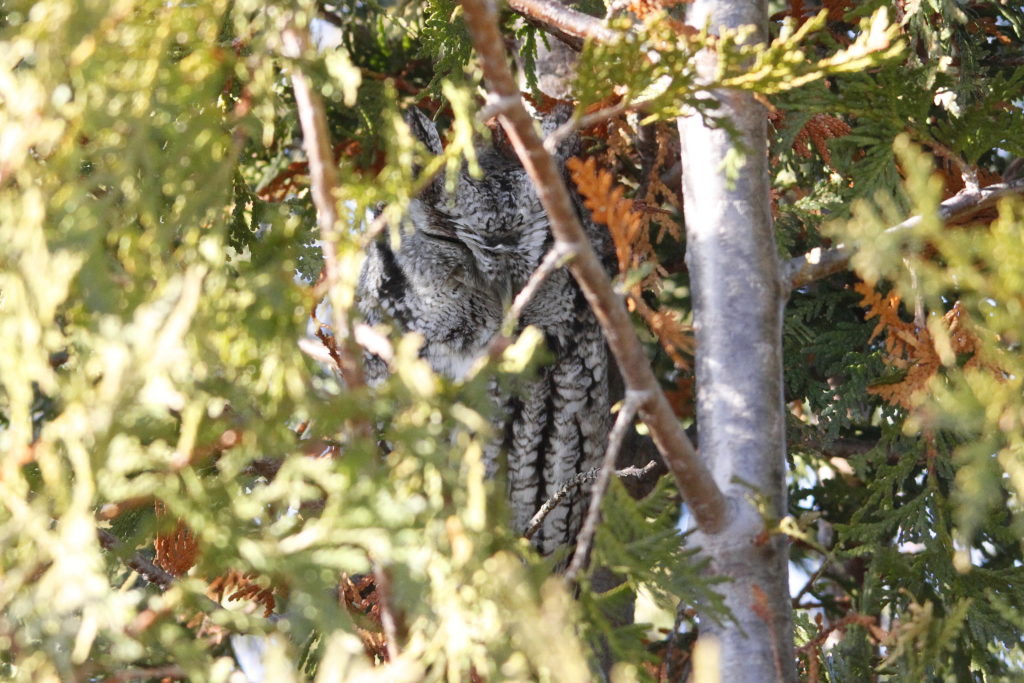 Then of course ours 10 days later, making #8.
Screech Owls really are in abundance about the Toronto area!
Here are some daytime finds throughout what I see is all from 2012 (I had quite a good year for them).  Now, is it me or have these Owls chosen trees with color matching to their plumage?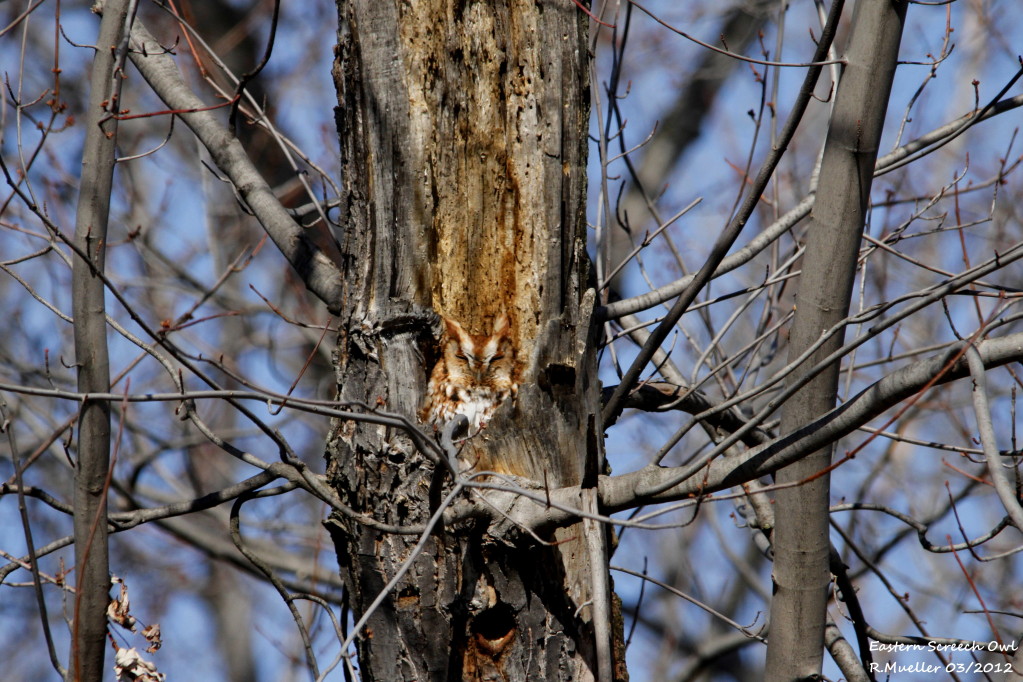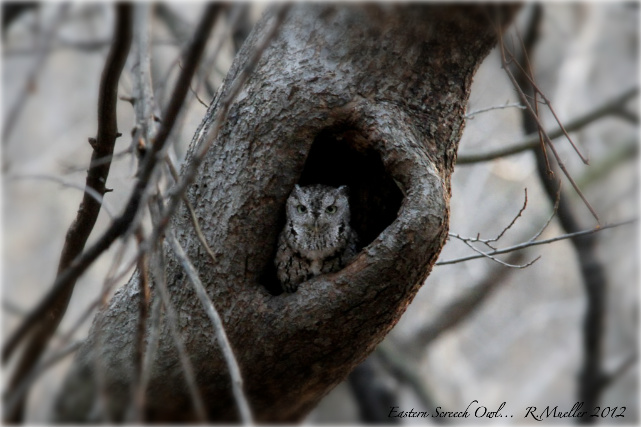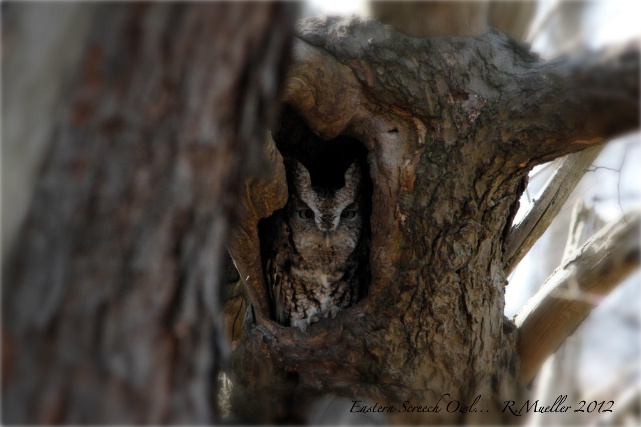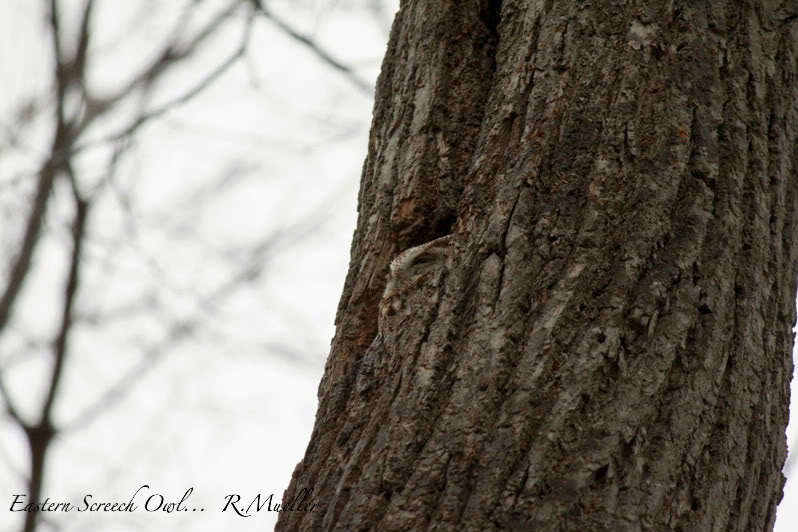 People often say they never see Owls. Sometimes they are there, right in front of you, and you just don't realize it. Here is a link to a video I took a couple winters ago. The other birds told me where a Screech Owl was roosting. You can't see the Owl in this video but this may help you in future outings. Just listen to the birds around you.
Screech Owls are a nocturnal species of Owl. So if you do ever find one during the day, please be quiet, keep your distance, and don't linger. It's a blessing to see any Owl in the wild. Please respect them.