Ah Summertime.  A favorite time of year for most people spending more time outside and being social.  For birders, some of us embrace the slow down after Spring migration.  Others crash and burn, missing the Warblers and others that have long passed through, and are always ready for more birds.
A one afternoon only rare visitor being this Scissor-tailed Flycatcher at Marie Curtis Park in Mississauga a couple weeks ago sure gave many people the rush once again.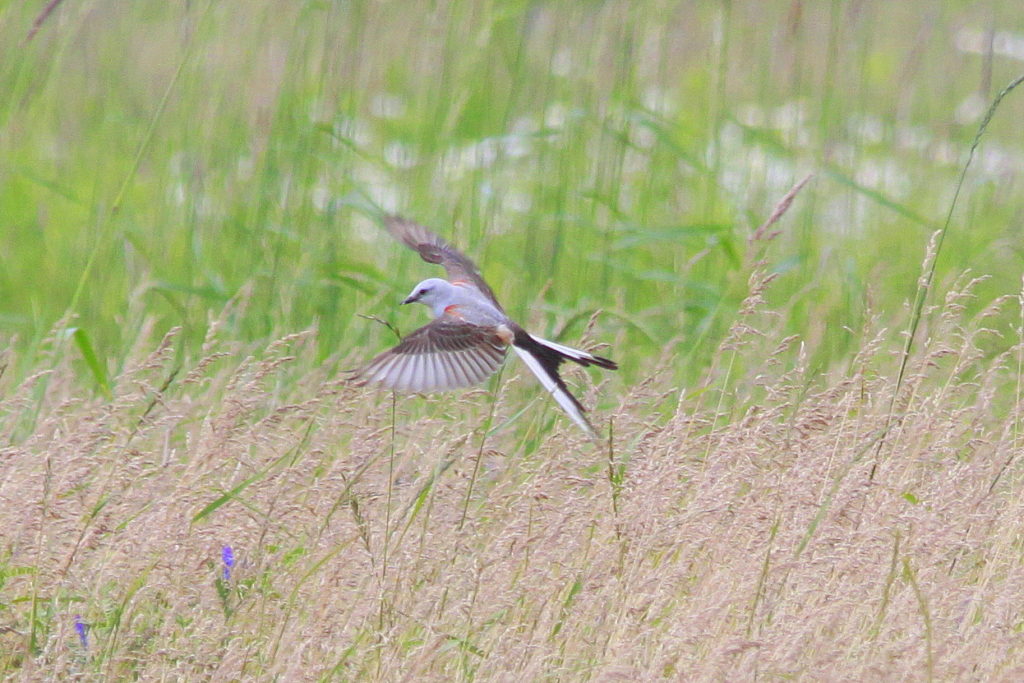 Even closer to home, not quite a rarity, but not a very common sighting for us is the Yellow-billed Cuckoo.  We have at least 2 pairs nesting near our house.  It appears to be a great year for them in Toronto.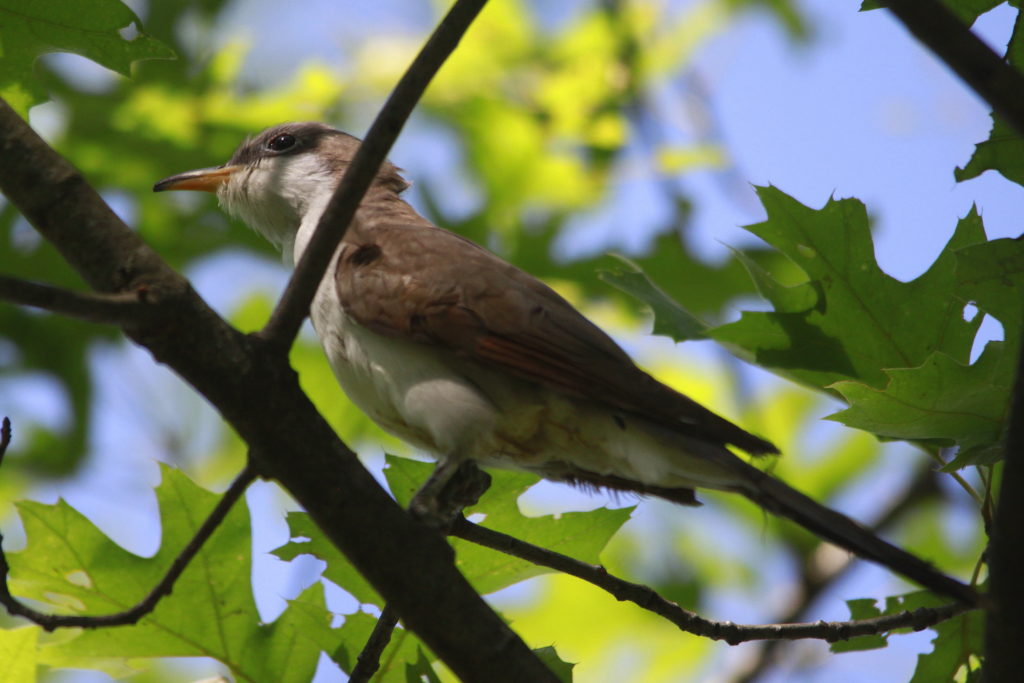 Indigo Buntings are also once again nesting right near our home.  So close, but they've yet to venture into our backyard.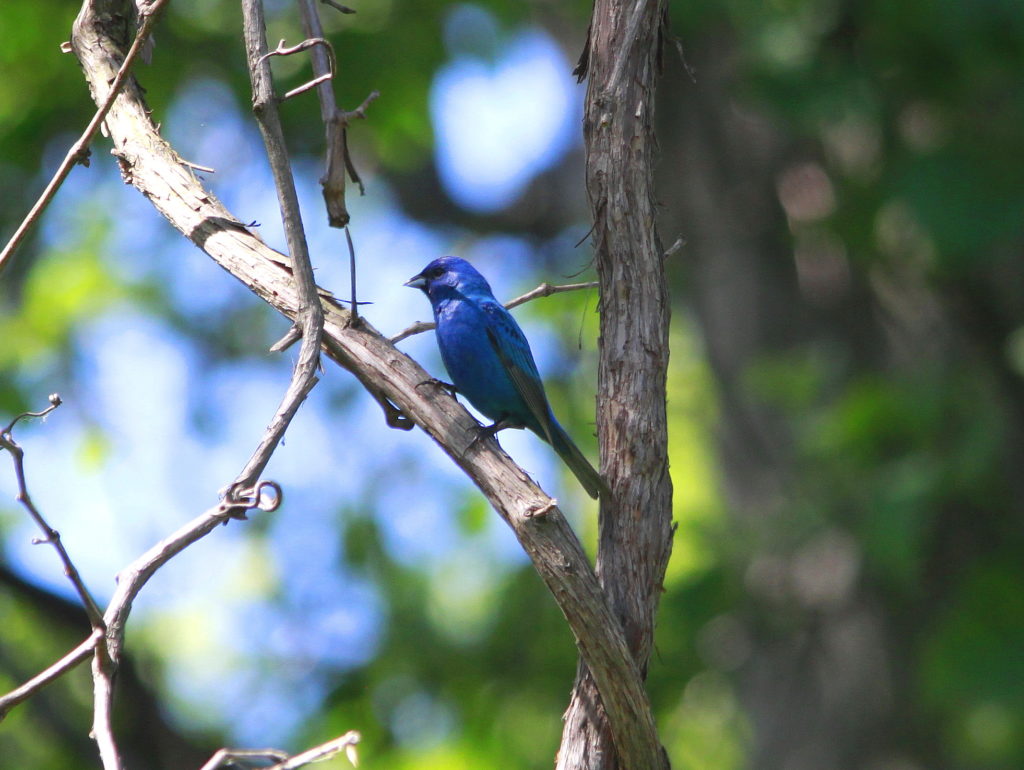 Sadly we had another pretty blue bird come visit our backyard.  A Budgerigar.  Warmer weather often brings us these exotics that have most likely escaped from their owner's home with open windows and doors.  My list grows every Summer with Budgie and fancy Doves sightings coming to our backyard.  Some I've been able to catch and help but most fly off after a short visit here.  The Blue Jays really do not like these odd visitors and have no problems showing their disapproval.  This poor girl felt their wrath and fled for her life.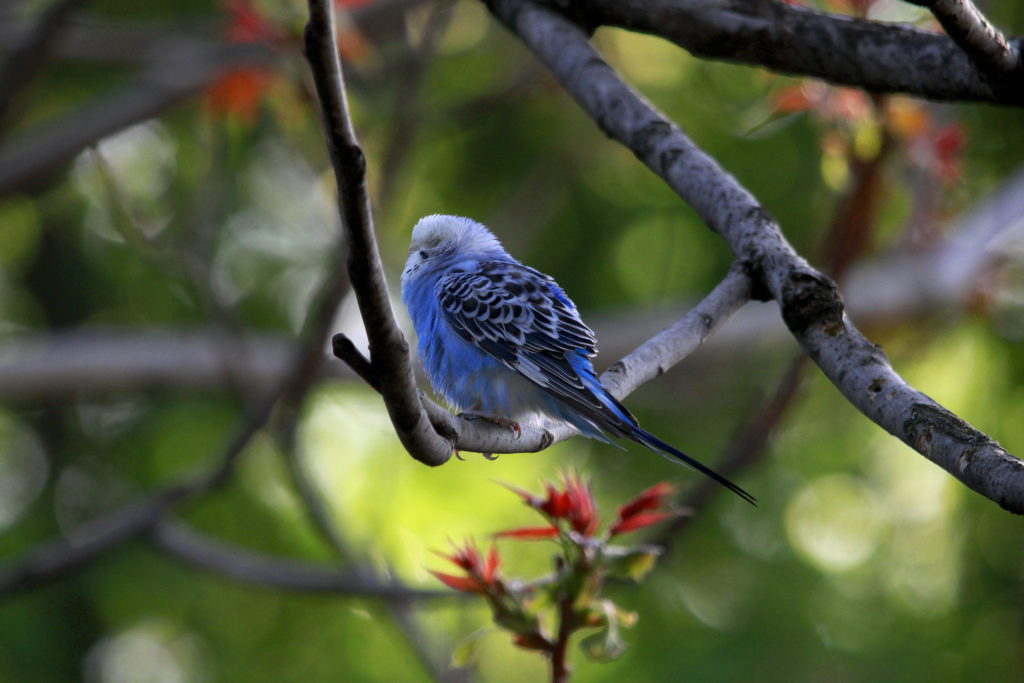 Summers for myself, have become quite busy with monitoring though.  I've been assisting in Peregrine Falcon fledge watches at a couple sites in the west end of Toronto for about 6 years now.  A watch can last anywhere from 1 to 2 weeks.  Some years I am able to give a fair amount of time, other years not quite as much.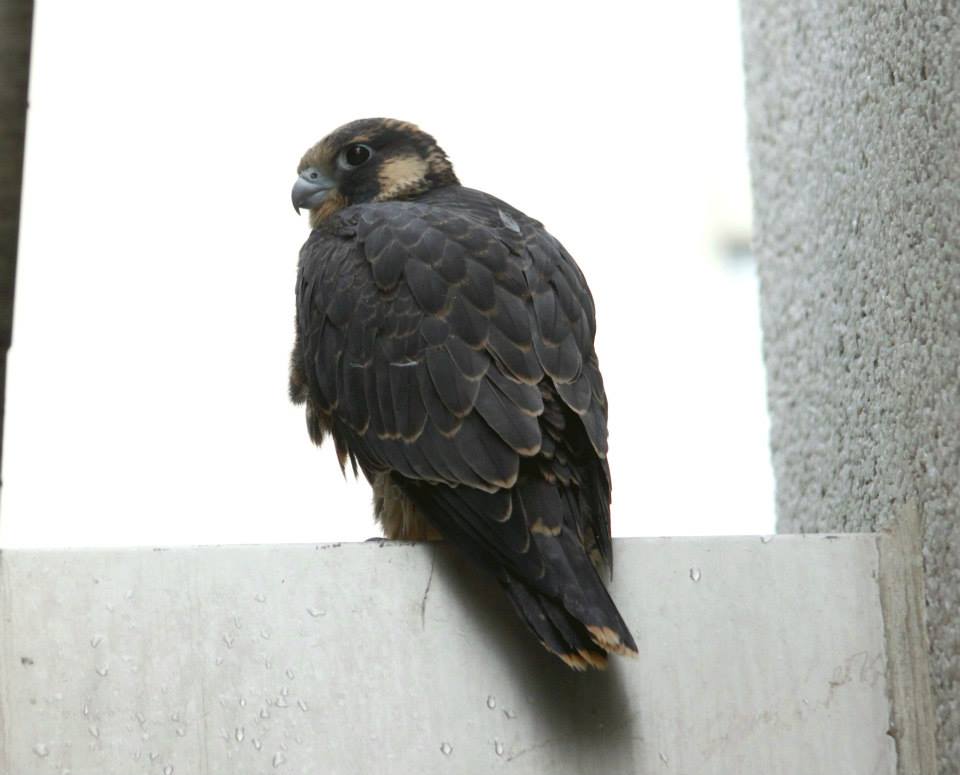 This year the watch was done in 7 days.  We had one fatality due to a window strike, a few minor rescues as the young birds came to ground or ended up in some kind of mischief in their first flights.
This is Falk.  There are moments where we are powerless, watching these young birds learn and explore the area, not realizing that reflective glass is a killer.  Too often it is a recovery and not a rescue after they hit the glass.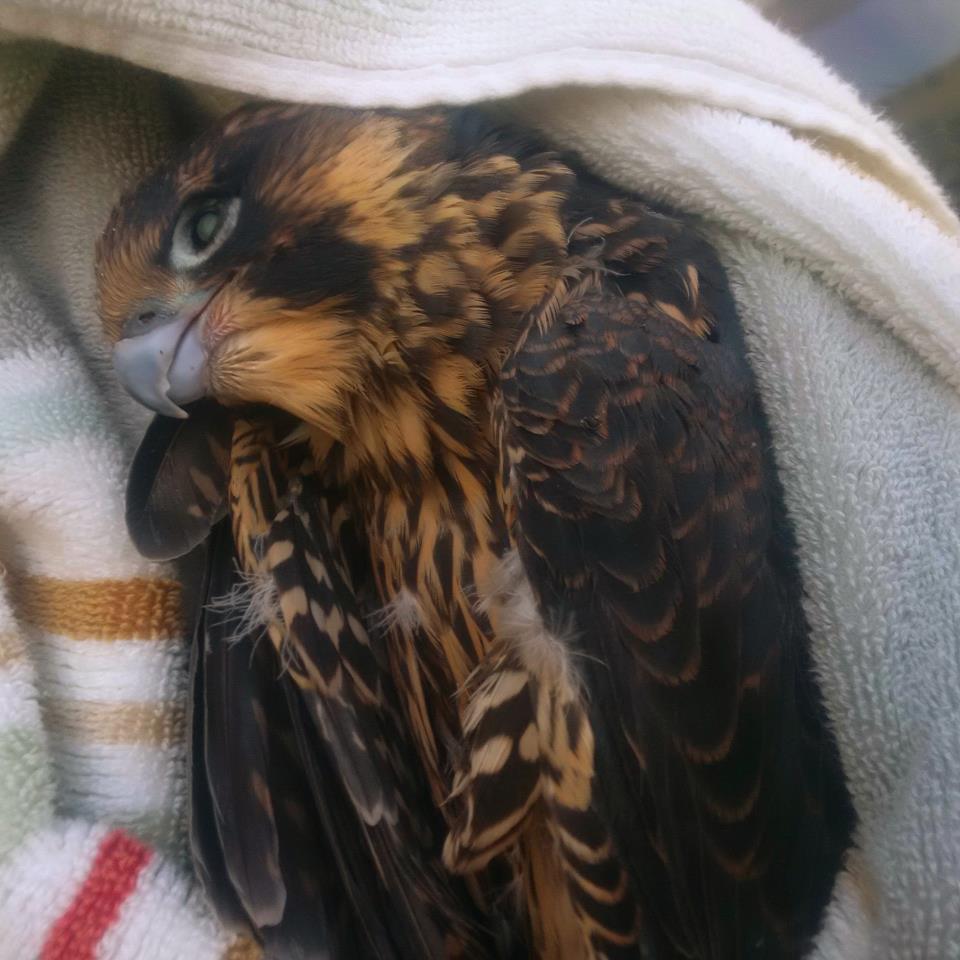 This is Apollo.  He was rescued from a nearby condo garden fountain his first day of flight.  Three days later he landed on a balcony and could not figure out how to get back out to his family.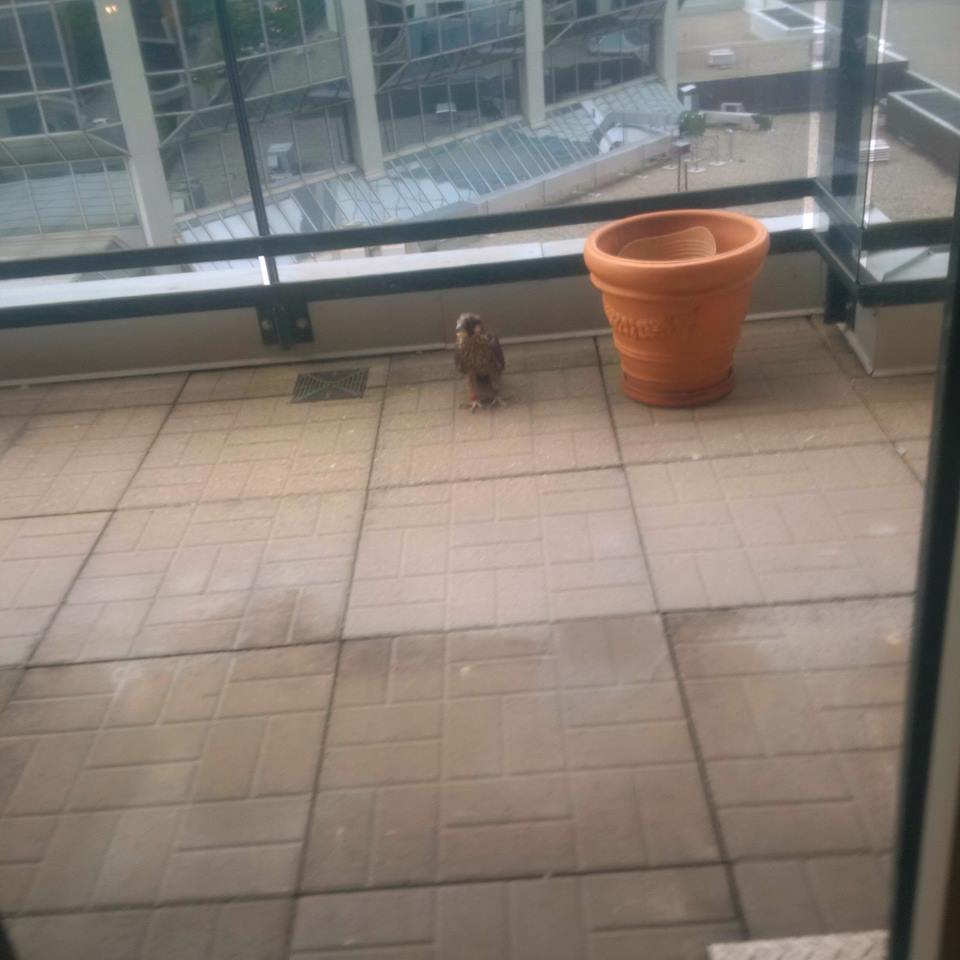 For the 2nd year now I've been participating in nest box monitoring in an area not far from us.  I've birded the area for about a decade now and have volunteered to help take care of the boxes.  This involves cleaning the boxes every Spring before the birds arrive and every Autumn after they have gone, ensuring the boxes are in overall good condition for the birds to nest in and they have proper predator protection.  We document the species, how many eggs, how many hatch and fledge, how many do not hatch or do not make it out.  Our goal is to attract Eastern Bluebirds which once nested here many years ago.  So far though we are only getting Tree Swallows but since I started taking on this project, spending more time on the boxes, we have gone from 7 nesting pairs in 2016 to 13 nesting pairs this year.  It's a roller coaster of a ride with ups and downs throughout the season.
Embrace the triumphs which would be finding an empty nest at the end of season.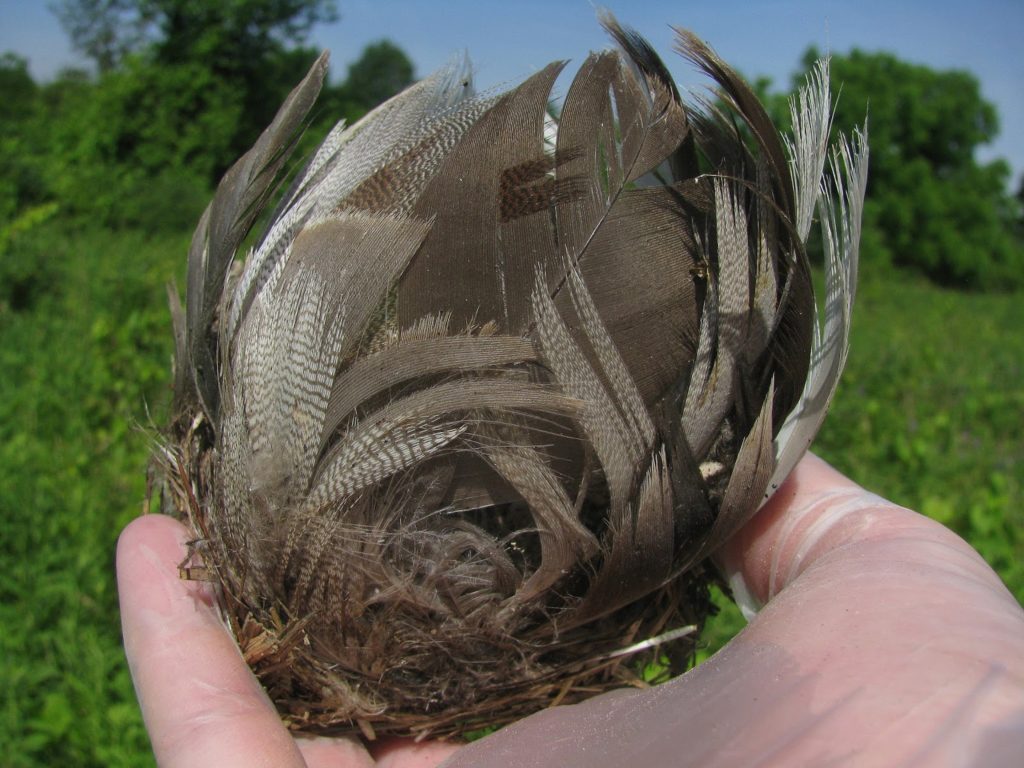 Accept the tragedies.  Sometimes things just happen and we don't know why.  Finding 5 young Tree Swallows all dead in this box still remains a mystery.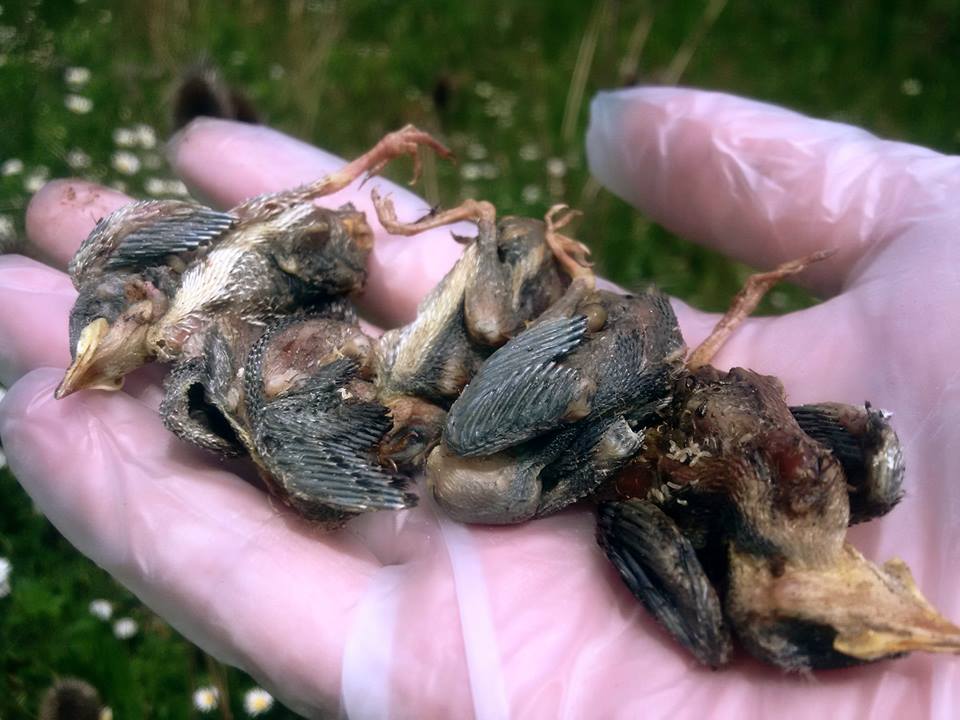 Since doing the nest box monitoring, I am more attentive when I see boxes elsewhere in my travels.  Of course I don't tamper since I don't know who set them up.  But I discovered a nest box trail near our home last year.  In total approximately 80 boxes were set up a very long time ago.  Most of the boxes were beyond repair.
Some of the boxes birds were trying to use.  I took it upon myself to make any necessary repairs of claimed boxes.  I took a few salvageable boxes home to clean up and make any repairs, then returned.  It was nice to see the birds (Tree Swallows) were using two of these boxes I gave some extra attention to.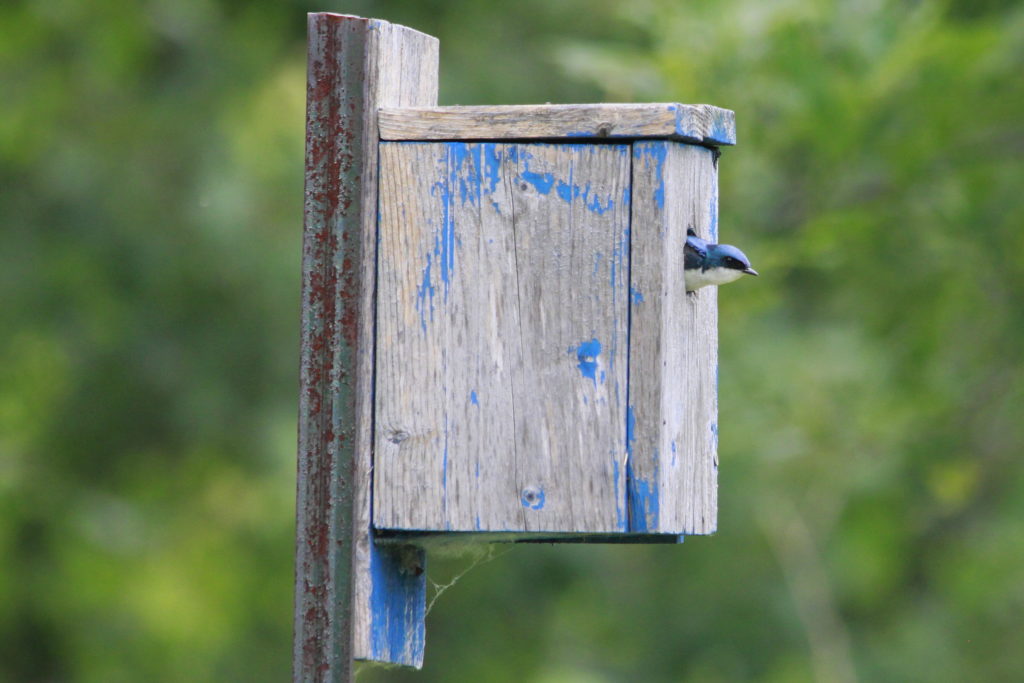 Then I discovered two other nest boxes in my travels also needing attention.  To my joy and surprise, both these boxes contained Eastern Bluebirds!  You don't hear of many nesting Bluebirds in Toronto.  The boxes only needed minor repairs which I easily took care of on site.
I took the Bluebirds to an emotional level and it was one of the most grueling and dramatic things I've ever encountered.  From the two pairs, both had a nest of 5 eggs each.  Somewhere along the way, the male was found dead inside the one nest box, laying on top of the 5 eggs.  The female abandoned the nest.  The other nest, 2 of the 5 eggs hatched.  Then just days before fledge, the female was killed.  I found her remains not far from the box.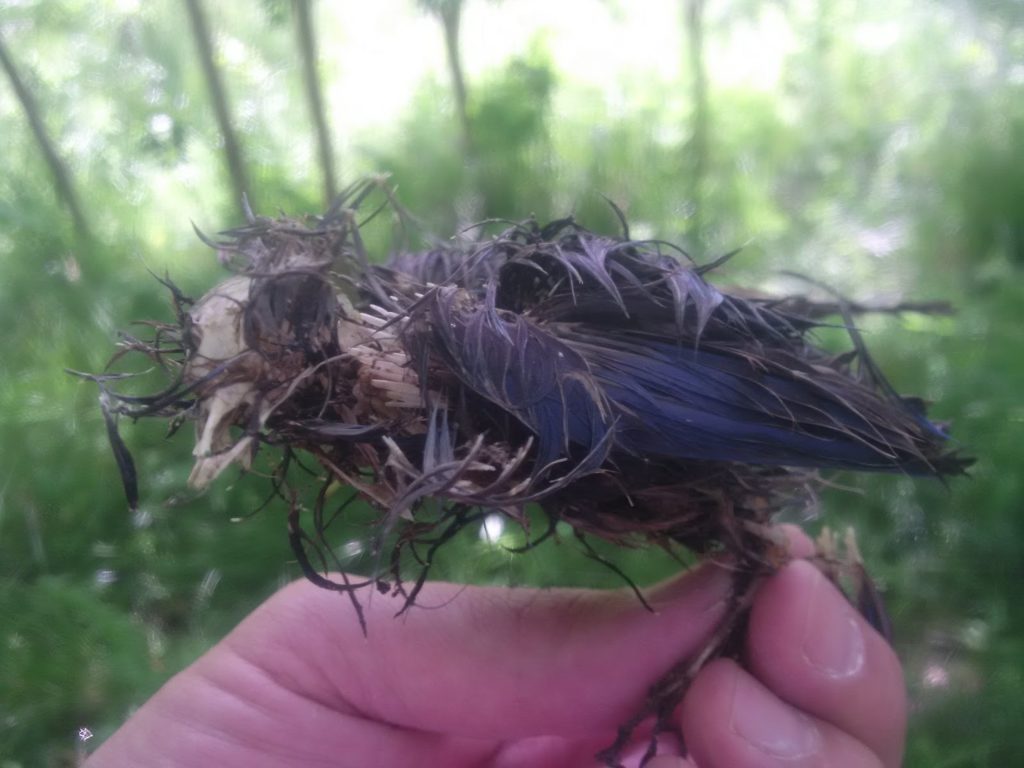 I was still seeing the male in the vicinity and thankfully he stayed with his children, caring for them in the final days and the 2 young birds successfully fledged.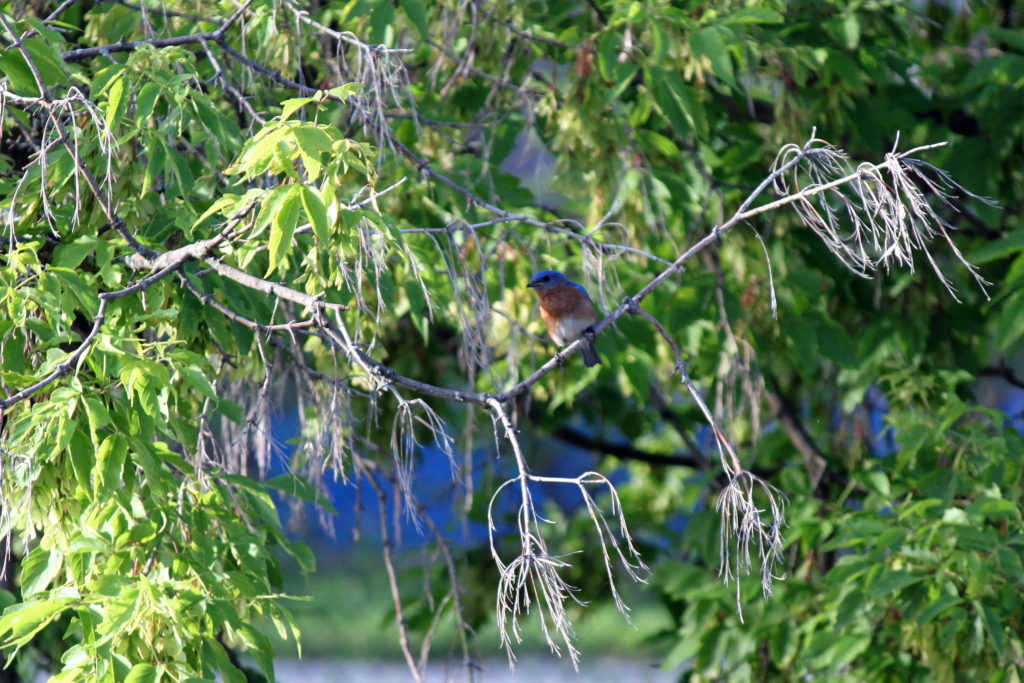 One thing I have learned is that you cannot just set up nest boxes wherever and then walk away thinking you did a good thing.  It is your responsibility to look after them, for the birds, and if you cannot, then they should be taken down.
Funny that a few years back my Summers were very low key.  The monitoring is only done every 10 to 14 days over three months.  Each outing eats up a morning of my time and that's not bad.  The involvement throughout seems to be much more though.  I will be glad when this season is done but will be longing for it come next Spring.
I started a nest blog this year about my finds throughout, it can be viewed here for anyone interested.
As always, I thank those who have stopped in here to give our blog entry a read.  See you all next month!