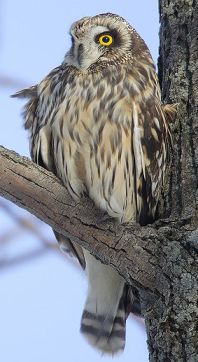 Bird Studies Canada is entering its seventh season of Short-eared Owl monitoring in Ontario.
North American and European researchers are working together to learn more about this poorly-understood species, which appears to be declining across its global range and is classified as a species of Special Concern in Canada.
Bird Studies Canada has been using satellite and radio telemetry to track large- and small-scale movements of Short-eared Owls in Canada for two seasons. With funding from TD Friends of the Environment and Ontario Ministry of Natural Resources – Species at Risk Stewardship Program, BSC will continue the program this winter.
Birders are asked to report any sightings of Short-eared Owls this winter; please include the date, location, time, number of owls seen, and the type of habitat in which they were observed.
If you would like to report a sighting, or if you're interested in volunteering to monitor known roost sites across southern Ontario (or know of a site that hosts wintering Short-eared Owls), please contact Hazel Wheeler, 1-888-448-2473 ext.165, hwheeler@birdscanada.org.
Data from this study will allow the determination of seasonal habitats occupied by the owl, and identify important breeding and wintering sites. Updates on our satellite-tracked owls are available through our Owl Tracker.
Source: www.birdscanada.org