Hello again!  Hope you are all enjoying your summer.
Around here, it's juvenile bird time in the yard!  I've been having great fun watching & listening to families of birds at my few summer feeders & in my trees.  I've been watching juvenile Red Breasted Nuthatches, Black Capped Chickadees, Crows, Starlings, Grackles, Bluebirds, Chipping Sparrows & Purple Finches.  I'm expecting the arrival of juvenile Evening Grosbeaks any day now ….. the highlight of my summer!
I'm beyond thrilled this summer to have a small family of Eastern Bluebirds nearby!  They didn't nest in my yard but somewhere nearby in my neighbourhood and now, I'm lucky enough to watch them flitting around catching bugs.  The adult female likes to perch on the corner of my back neighbour's eavestrough and hunt from there.  The adult male and one of the juveniles like to perch on the street light post at the end of my driveway.  One day last week, the adult male came down and landed on my back fence for a nice pose.  🙂  Every year, I'm so hopeful they'll choose my birdhouse for nesting.  Fingers crossed!
I usually have Tree Swallows nesting in my birdhouse but this year, I messed up:  we forgot to clean out the house last fall so no one used it this year.  I'm so sad!!  First time in 10 years no one nested in my birdhouse.  Interestingly tho', during the neighbourhood fledge week, I had over a dozen Tree Swallows going into & seriously squabbling over (at least, it looked like squabbling to me!) the bird house.  I've never seen them do this before since normally Tree Swallows completely vanish until the following year right after fledging.  And it wasn't just my birdhouse either:  people reported the same activity all over town.  I have no explanation for it.
Here are some photos of other feathered visitors to the yard in recent weeks:
I found this adult male White Throated Sparrow in my flowerbed last week …. he was completely missing all of his tail feathers.  I don't know what happened to him but he was fine at the time.
And this is my little pal, Chip.  He's one of at least 5 Eastern Chipmunks that adopted my backyard this summer.  Chip will come and sit on my feet or run around me until I give him a snack.  He's adorable and thankfully, he's not doing any damage to my flowerbeds this year!  Last year, the Chipmunks dug up and destroyed all of my tulip & lily bulbs.  Next to none of either left in my beds!  Cute little terrorists ……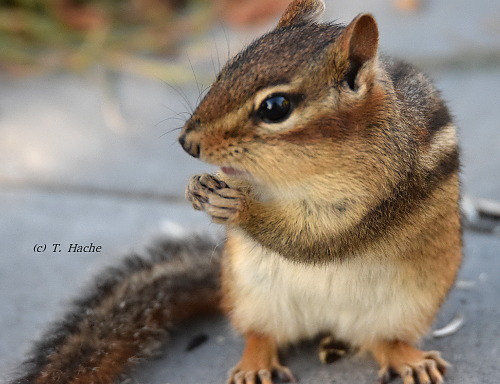 And that's about it for this month.  Enjoy your summer and I'll 'see' you in August!