Posted by Charlotte Wasylik, aka Prairie Birder,
Last week the British Columbia government approved the shooting and relocation of Barred Owls in an effort to save their endangered cousin, the Spotted Owl, which has been facing extinction since the 1980s, and now has threatened status. The loss of old growth forests and competition with the larger Barred Owl are factors that threaten the Spotted Owl's existence. Barred Owls are larger, more adaptable, and more aggressive than Spotted Owls.
In Canada, the Spotted Owl can be found only in southwestern BC; further south, the Spotted Owl is found along the Pacific coast from Mexico to Washington state. About a century ago, there were an estimated 500 breeding pairs in BC. Now, only 10 Spotted Owls remain in the wild in all of Canada.
As Gwen Barlee of the Wilderness Committee said:
This is what happens when you drive a species right to the edge of extinction and you don't want to do the right thing, which is put aside the habitat it needs to recover… .
Ian Blackburn, Spotted Owl recovery co-ordinator for the province of BC, has written:
Without [the government's new plan], it is likely that the wild population would be extirpated before we have sufficient captive-bred young to release — which would significantly hurt the chances of survival for the released birds… .
A five-kilometre radius around areas where Spotted Owls have recently been confirmed, or areas that are being considered for reintroduction from the captive breeding program, are the areas where elimination and relocation of Barred Owls are taking place. The provincial Forests and Lands Ministry has relocated 73 Barred Owls and shot 39 Barred Owls.
In 2006, British Columbia designated special management areas and implemented the first-ever captive breeding program for Spotted Owls. The Mountain View facility in Langley, BC, has 13 Spotted Owls in its captive breeding program.
Here is the range map from the Cornell Lab of Ornithology,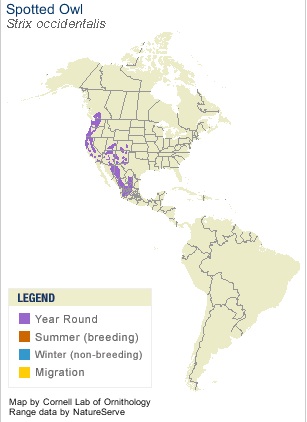 Six years ago, the United States was facing the same problem and people were posing the same arguments and questions. No matter how many Barred Owls are relocated or shot, protection of the old-growth forests is crucial to the Spotted Owls' survival and more needs to be done about that.
You can read more about the Spotted Owl and Barred Owl at these links:
:: The recent story from the Canadian Broadcasting Corporation
:: From CBC "BC Almanac" radio show, a segment on the Spotted Owl 
:: The story from CTV 
:: A blog post from the American Birding Association by Ann Nightingale