On the day before Valentine's Day, GROWLS (Gabriola Rescue of Wildlife Society) held a wonderful event in celebration of Bald Eagles. Aptly-named Love is in the Air: An Eagle Affair, the day included a tour of eagle nests and a talk by provincial biologist Ian Moul about the Gabriola Eagle Nest Monitoring Program. That part of the day was introduced by Gabriola's very own Member of Parliament, the Honourable Sheila Malcolmson, long-time crusader for the coastal environment where Bald Eagles live and breed. Sheila urged us all to conduct our lives in a way that is "compatible with the eagles' lives."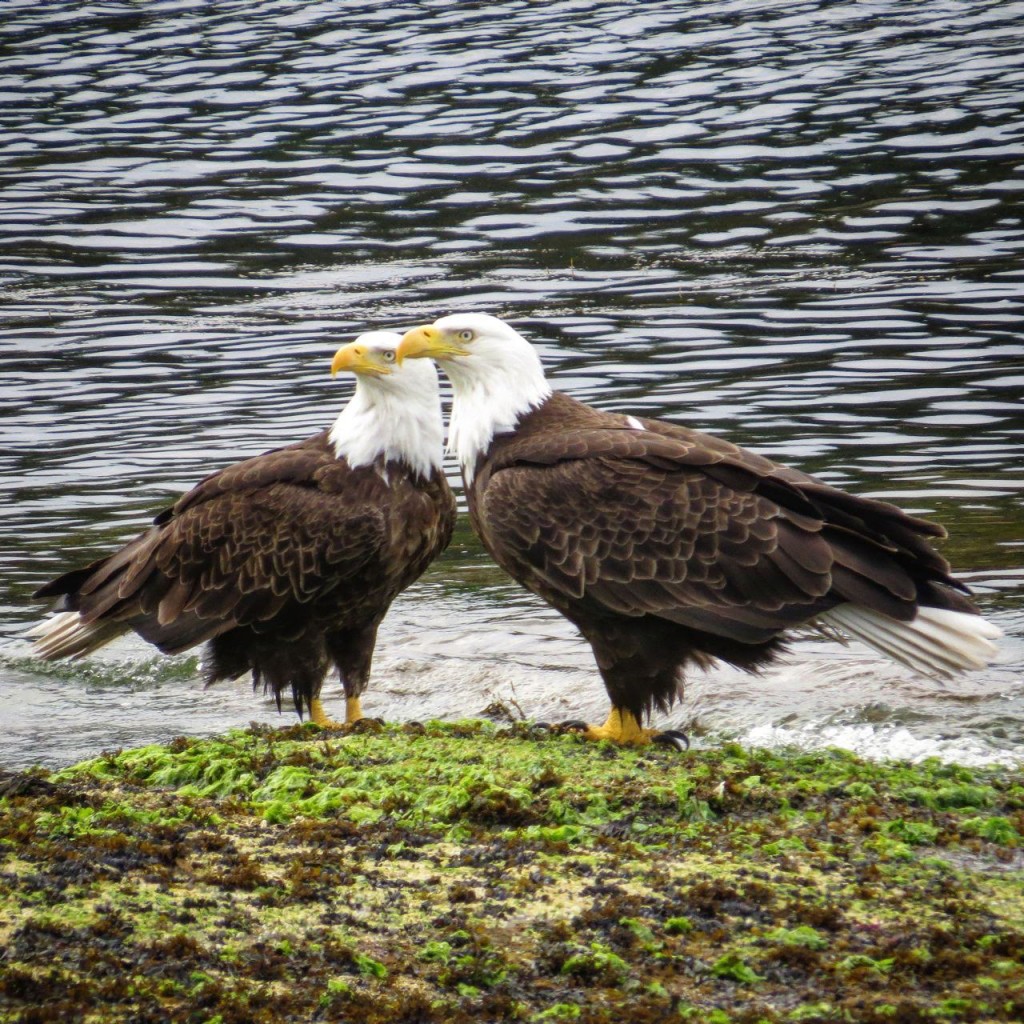 On Gabriola, home to about 4000 people, we have 23 recorded nests and 49 known nest trees. GROWLS has been monitoring Bald Eagle nests for over 25 years with the support of the BC Federation of Naturalists' Wildlife Tree Stewardship (WITS) initiative, whose purpose is to protect nesting habitat. Through their Community Mapping Network we know that there is a Bald Eagle nest every kilometre of coastline. Knowing where nest trees are is the first step in protecting Bald Eagle nesting habitat. Under the BC Wildlife Act, Section 34, these nest trees are protected by law, year-round. Removal or modification of a nest tree without a permit is punishable by a fine of $100,000 or one year in prison or both. If you live in British Columbia and have a concern about a protected tree call the Conservation Officer at 1-877-952-7277.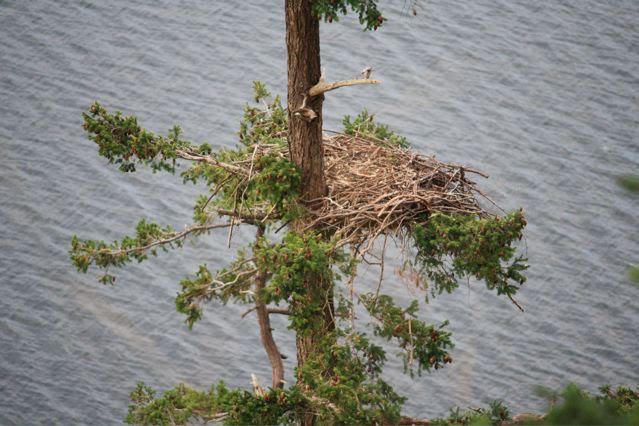 Bald Eagles (Haliaeetus leucocephalus) are not, of course, bald. Even when young their heads are well-covered in brown feathers, their dark brown bodies mottled with white. By about five years of age, adulthood, they have white heads and tails, dark brown bodies and wings, and bright yellow legs and bills. From afar, the head might look bald but it certainly isn't. The Bald Eagle has, in fact, 7000 feathers! (Thank you for this tidbit, GROWLS!) The adult female weighs about 12 pounds; the male is smaller by 25%.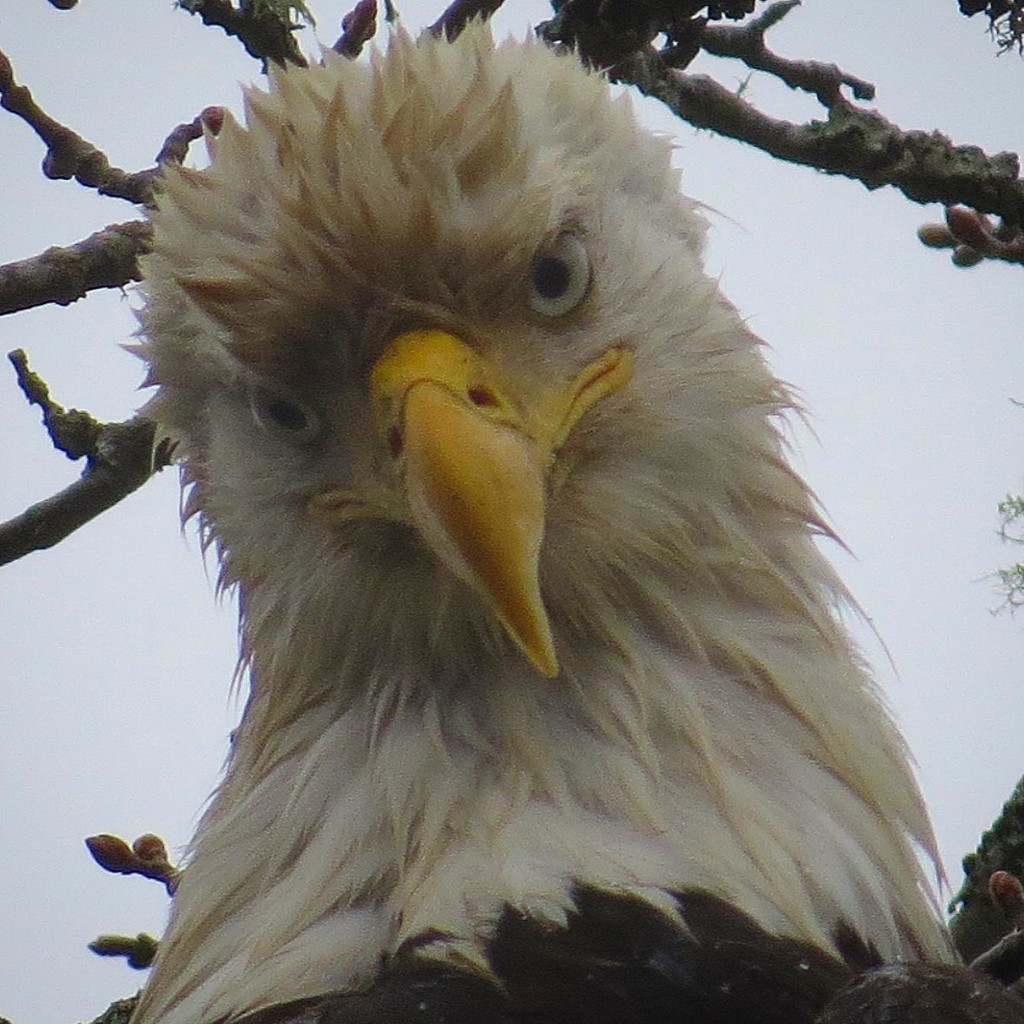 These majestic birds, national emblem of the USA since 1782 and spiritual symbol of First Nations peoples, live along the coast and inland on lakes, reservoirs, rivers, and marshes. Although once endangered because of hunting and pesticides, they have flourished since being protected by law.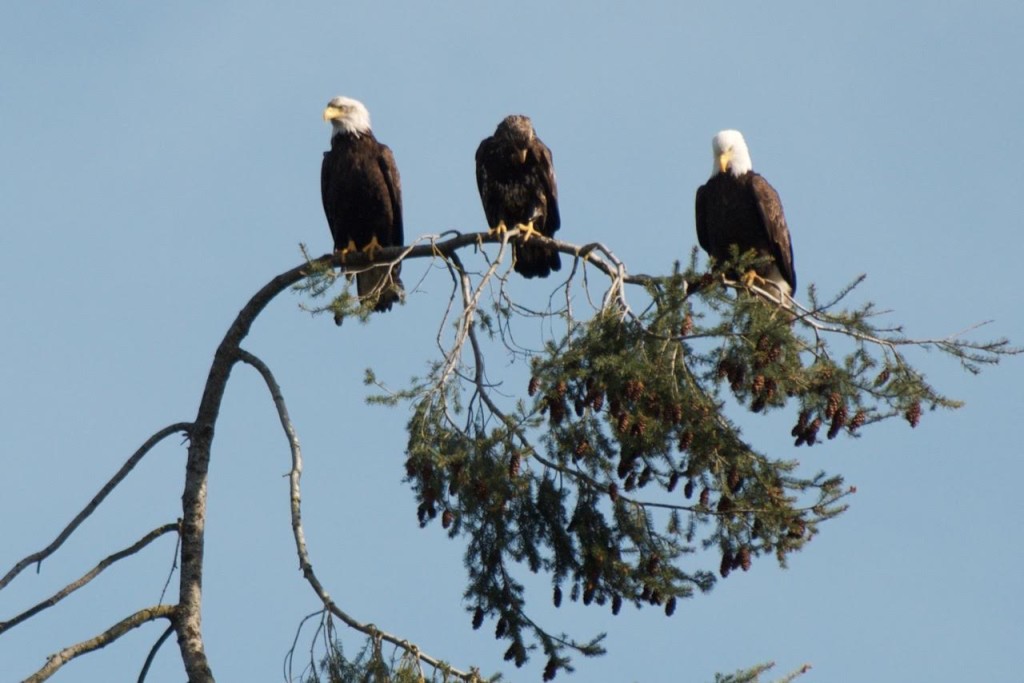 The call of the Bald Eagle is surprising, given the size and strength of the raptor.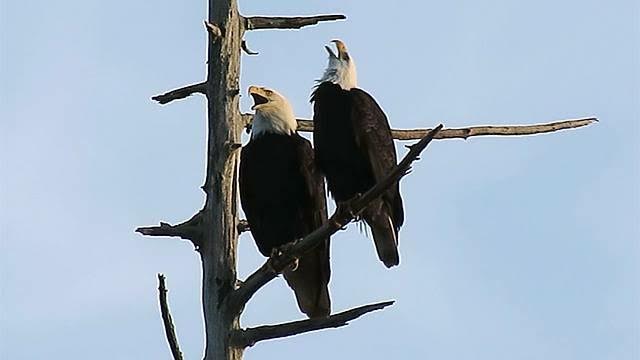 You can listen to these two eagles calling here: Eagles calling  (Thank you to Les of Wandering Sole Images for use of this video. To see more of his amazing nature videos, click here: https://www.youtube.com/user/Hulio7271)
That Bald Eagles breed during February probably has nothing to do with Saint Valentine – but one never knows for sure. Their preferred breeding home is a big gnarly Douglas Fir with a view of the ocean, their primary food source. Unfortunately, there are few stands of "old growth" trees left due to logging and development; the ones that do remain are gradually being lost to natural decay or are being removed because of their danger of falling on homes.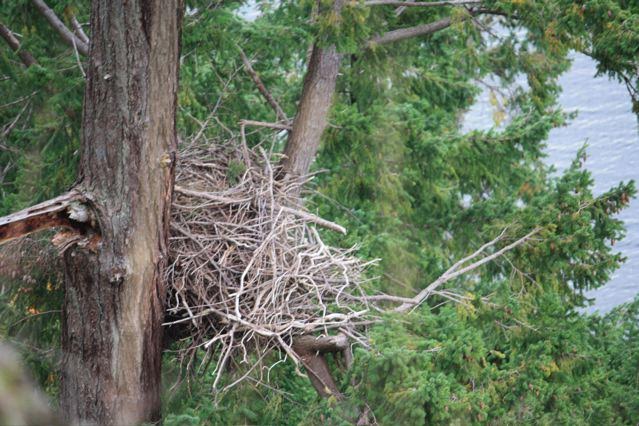 At certain times of the year Bald Eagles will scavenge, in great numbers, in garbage dumps. But most of the time they eat fish, often preferring to nab a fish from another creature rather than do their own fishing. They'll also hunt and eat mammals (rabbits, squirrels, raccoons, cats) as well as gulls and waterfowl.
Once mated, at four or five years of age, Bald Eagles get down to the business of procreation. Nests are carefully constructed of sticks, grasses, weeds, moss, and sometimes feathers. A wonder to behold, the largest one on record (in Florida) was 2.9 meters in diameter and 6.1 meters tall. They can weigh up to one metric ton.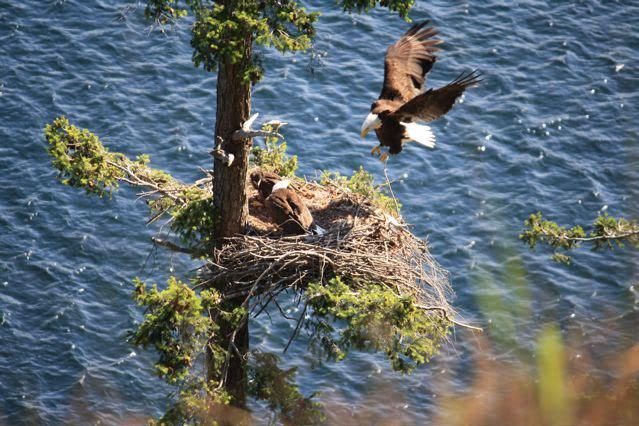 Unlike most birds, Bald Eagles lay their eggs two or three days apart. If food is plentiful all is well, but if not, the second egg or weaker ones may be eaten in order to maximize the chances of survival of the healthiest one. Nest success rates can vary between 26% and 75% depending on location.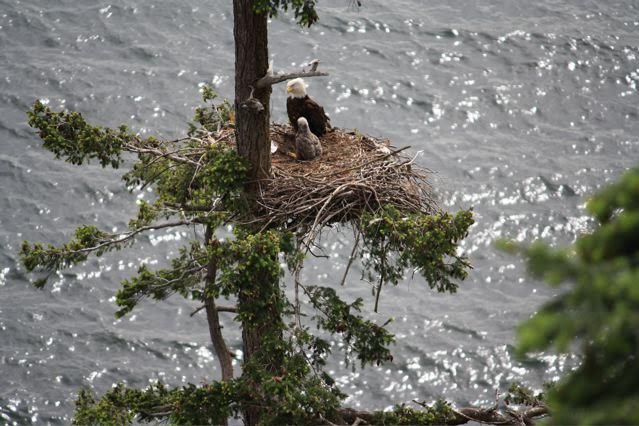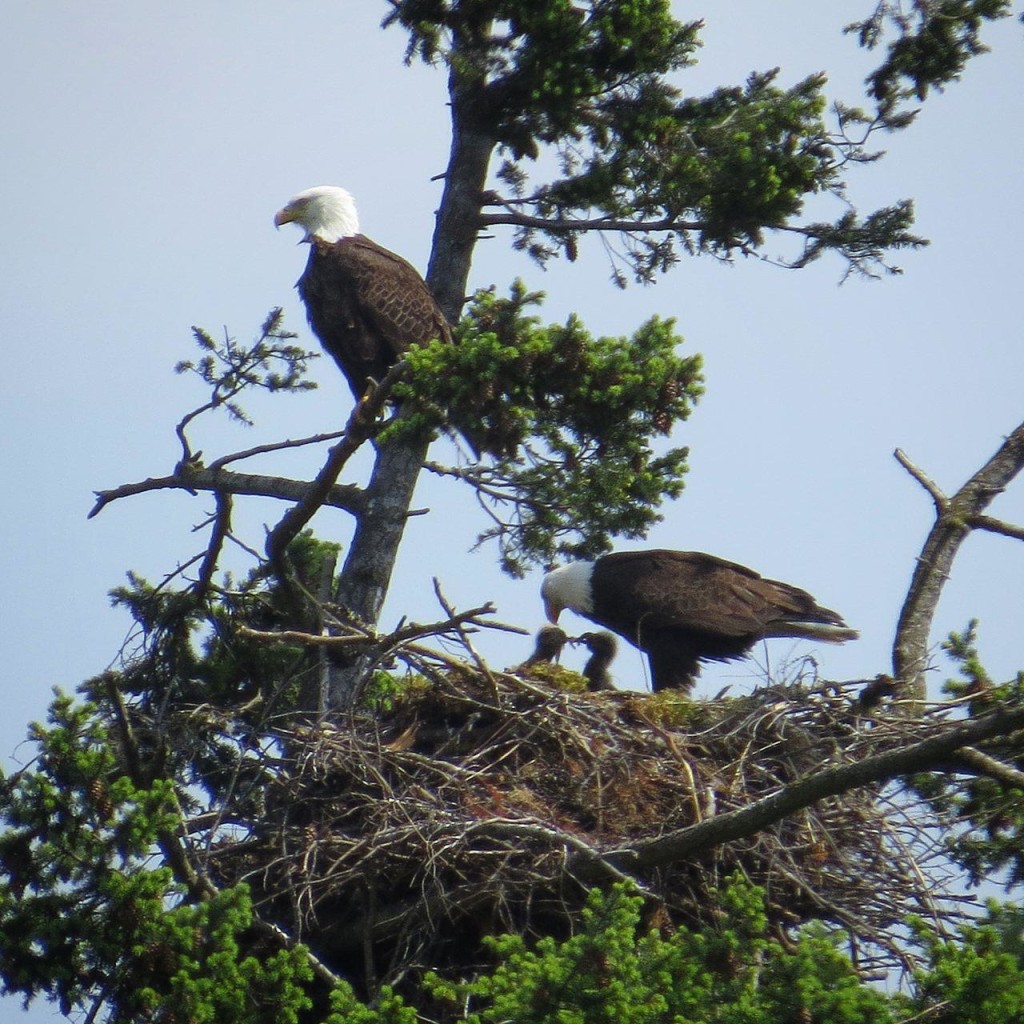 Between first-year mortality rates, habitat loss and destruction, electrocution on power lines, and dwindling salmon populations, the life of a Bald Eagle is no piece of cake. Want to help? Here are a few things you can do:
Do not feed the eagles! (It's not good for them or for the ecological balance of their habitat.)
Never disturb nest trees (whether known to be in use or not) from January through August

No branch clearing
No burn piles
Minimal noise (eg loud machinery)

Building a house? Make use of the BC Develop with Care Guidelines. Click here: http://www.env.gov.bc.ca/wld/documents/bmp/devwithcare/
Participate in habitat protection: contact WITS at wildlifetree.ca
If you have a potential nest tree on your property, designate it a "Wildlife Tree" by contacting the Ministry of the Environment at 1-866-433-7272
Arrange for your power provider to install 'bird diverters' on power lines to help stop electrocutions. There are a variety of types of diverters. The one pictured here reflects sunlight in the daytime and glows in the night, acting as a visual deterrent. Several years ago, at the request of GROWLS, BC Hydro installed a series of these diverters along a Gabriola road where several eagles had been electrocuted. Since then, no eagles have been electrocuted along this stretch of road, as far as we know. Research in other places demonstrates their effectiveness. (http://www.conservationevidence.com/actions/265)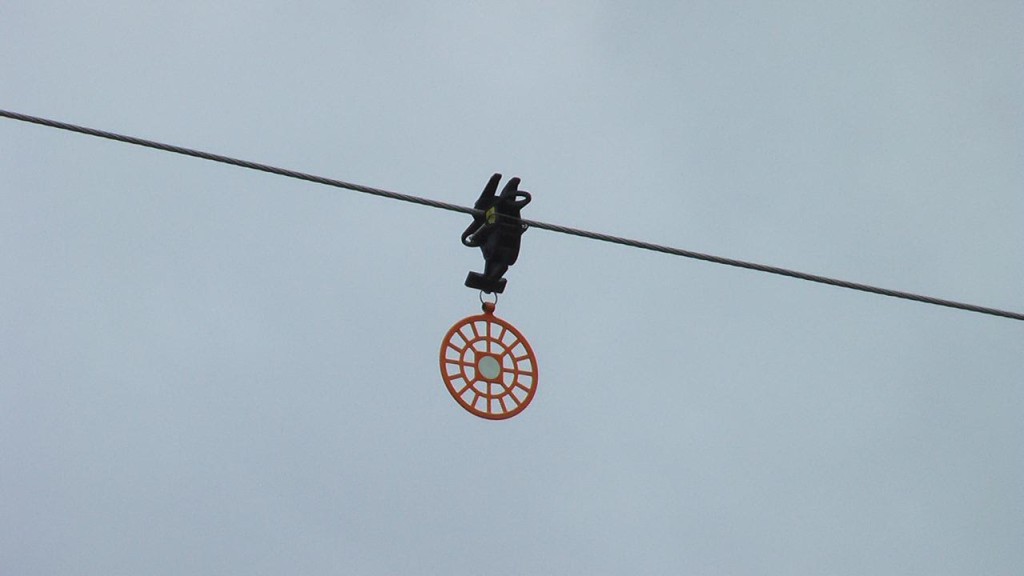 A HUGE THANK YOU to all the GROWLS folks for your tireless commitment to and passion for Bald Eagles and all the non-human living things that share the island with us.