Sunday, September 13/09 will mark the start of the 11th year of the British Columbia Coastal Waterbird Survey from Bird Studies Canada.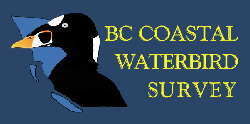 The focus of the program is to record monthly counts of seabirds, waterfowl, and other coastal birds to identify patterns in abundance and assess population trends. Volunteers cover the coasts of mainland BC, Vancouver Island, and the Gulf Islands, extending as far north as Prince Rupert and Haida Gwaii.
The BC Coastal Waterbird Survey aims to coordinate the efforts of people who care about waterbirds. Anyone who can identify coastal waterbird species in their area can participate in the BC Coastal Waterbird Survey. The goal of such coordinated collective efforts is the conservation of coastal waterbird populations in British Columbia.
The coastlines of British Columbia are of international importance for waterbirds, especially during winter when vast numbers of loons, grebes, cormorants, herons, swans, geese, ducks, shorebirds, and gulls can be found feeding and roosting in bays, estuaries and along the rocky inter-tidal beaches of the BC coast. Thousands of individual birds of many different species use the sheltered near-shore waters, the expansive wetland areas and estuarine habitats to roost, to feed, to over-winter and to stop and restore their fuel supplies during long migratory journeys.
An analysis of the last 10 years of Coastal Waterbird data is almost complete, and we will be reporting results soon. This Citizen Science database provides a valuable monitoring tool to better understand changes in distribution and abundance of BC's coastal waterbirds. Thanks to all our volunteers!
For more information, see the Bird Studies Canada website or Volunteer for the Coastal Waterbird Survey