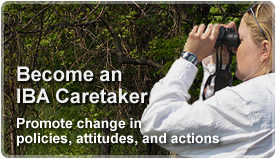 A new video showcases Canada's Important Bird and Biodiversity Areas Program, highlighting some of Canada's cherished bird species, the special places they call home, and the dedicated volunteers – or IBA Caretakers – who are working to help safeguard Canada's Important Bird Areas (IBAs). 
  
Canada's IBA Program is a global BirdLife International initiative to identify, monitor, and conserve the world's most critical sites for birds and biodiversity. There are nearly 600 IBAs in Canada. BirdLife co-partners Bird Studies Canada and Nature Canada jointly manage the country's national IBA Program, in collaboration with regional partners across the country and with the support of hundreds of volunteers nationwide.    
There are many ways to get involved! To support Canada's Important Bird Areas Program, join the network of Canadian IBA volunteers, participate in a Citizen Science monitoring program at an IBA, connect with IBA Canada on Facebook, or donate to the national or regional program partners.