The term "biodiversity" appears frequently in journals and popular media. In most cases, it is used to describe the number of species in a region. Scientists now realize that it also includes things like the intactness of the entire ecoysystem, large scale migration, predator-prey dynamics, genetic variability of species and local adaptations.
Previous conservation programs have been overly focused on the number of species in an area, an approach which favours tropical forests with their higher number of species packed into a smaller area.
With the new definition of biodiversity, northern forests such as Canada's boreal gain substantial prominence in the conservation of hundreds of species – even more so when including the effects of climate change.
The Boreal Songbird Initiative and Ducks Unlimited have just released a 20 page bulletin entitled 10 Cool Canadian Biodiversity Hotspots. The report highlights ten locations throughout our boreal forest that provide more detail and insight into its special biodiversity and conservation values.
Biodiversity and The Boreal Forest
More than 25% of the world's never-before harvested forest lies within Canada's boreal, including at least seven of the world's top ten largest blocks of unfragmented forest.
Canada's boreal encompasses millions of lakes and ponds and in fact holds more surface freshwater than any other place on Earth.
Four of the world's top ten largest lakes are found in our boreal, including Great Bear Lake—arguably the world's largest pristine lake.
The boreal forest is rich in free-flowing, undammed rivers—more than there are remaining in the rest of North America combined. While river biodiversity is imperiled by dams, pollution, and over-use in most of the world, those in Canada are among the last strongholds for migratory fish populations.
Canada's boreal forest is estimated to hold more than 208 billion tonnes of carbon in its trees, soils, peatland and under permafrost – equivalent to 300 years worth of our country's annual greenhouse gas emissions at 2010 levels.
As climate change continues to impact the planet, Canada's boreal forest becomes even more critical to protect. It will become increasingly important as a refuge for species forced northward by inhospitable climates farther south.
The best insurance for maintaining the resilience of plant and animal communities to climate change will be the preservation of intact, interconnected ecosystems and robust populations. Species that must shift ranges northward to survive will have their best opportunity to so do when unimpeded by fragmented habitat full of human-made barriers.
Bird Canada will be featuring each of the 10 amazing locations from the report in a series of blog posts during the coming weeks. More than 300 bird species occur regularly in the boreal forest. Breeding season brings the total up to an estimated 1-3 billion. When adults and young begin their fall migration, the number of birds relying on the boreal reaches 3-5 billion. Many species are highly specialized in their habitat choices, and rely exclusively on intact forest.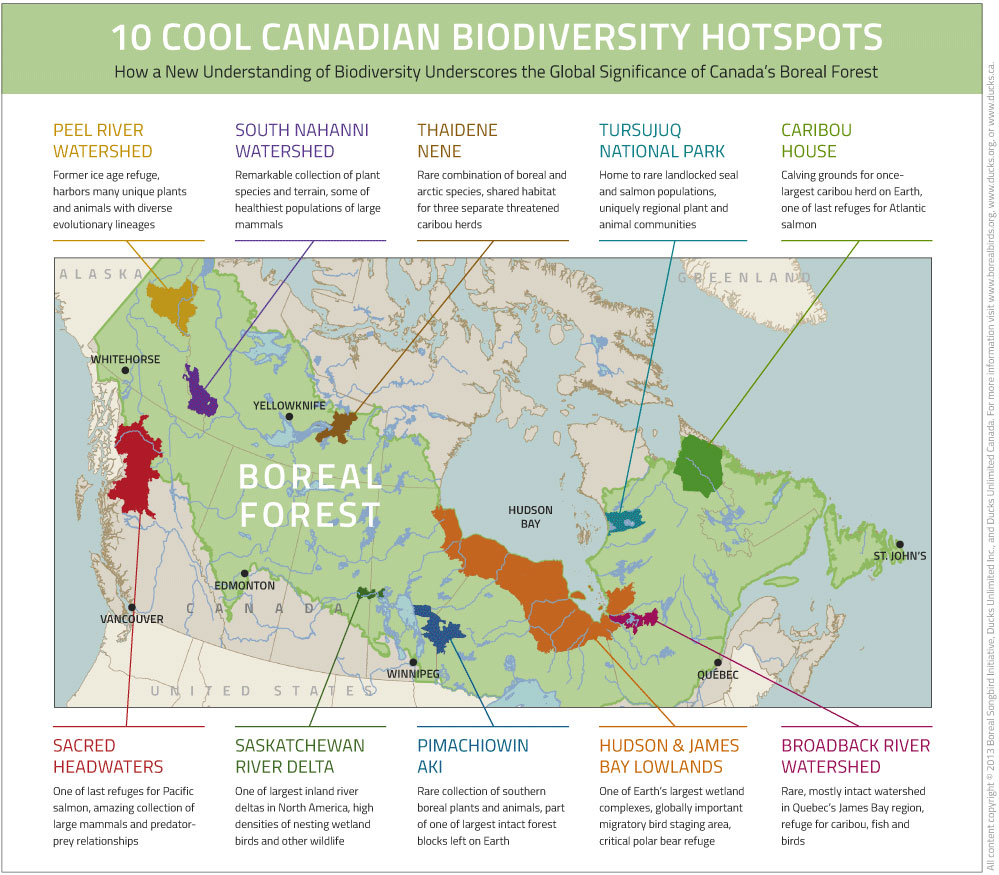 Careful land-use planning now, that conserves large parts of Canada's boreal forest, is imperative to provide the best likelihood of survival for countless species and preservation of the boreal's diverse ecology.