Shorebird Surveys, Coastal BC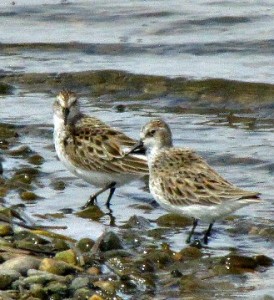 Bird Studies Canada and Simon Fraser University are collaborating on a hemispheric-wide effort to study potential causes of declines of Western Sandpipers. Because they use many distinct migratory sites in the Salish Sea region, British Columbia is in the unique situation of supporting a large proportion of the Western Sandpiper population each year. This study aims to census about 20 sites in the Salish Sea and Vancouver Island, and northern Puget Sound Region. To cover this number of sites simultaneously, we are seeking help from volunteer birders.
If you're skilled at shorebird identification and accurately estimating flock sizes (or are willing to learn estimation skills), please consider volunteering. A time commitment of three to four hours on April 28, and during two to three days on the weekends of July 19 and August 16, is required. Training will be available. The survey sites will focus on the following areas: Metro Vancouver, Victoria/Capital Region, Tofino, and Eastern Vancouver Island. If you're interested in participating or learning more, please email David Hope (dhope@sfu.ca) or Karen Barry (bcprograms@birdscanada.org) with the subject line "WESA Survey," and state which area you'd be willing to survey.
Caretakers for Ontario IBA's
Bird Studies Canada is seeking expressions of interest from dedicated individuals or preferably groups (e.g., naturalist or birding clubs) to steward Important Bird Areas in Ontario. IBA Caretakers are locally-based stewards who act as the eyes, ears, and feet on the ground at IBAs. They engage in or coordinate a wide variety of activities, including outreach, advocacy, site assessment, bird monitoring, site rehabilitation, and any other conservation activity that is tailored to their particular interest or the communities in which they are located.
With birds beginning to return to their summer breeding grounds, and with many of them passing through IBAs along the way, there couldn't be a better time to get involved in this rewarding program. To learn more about the IBA Program and the role of Caretakers, please visit the IBA Canada website, where you will find resources such as manuals, forms, maps, and data. To discuss involvement in this program, please contact us (iba@birdscanada.org). Don't live in Ontario? Links to opportunities in other provinces are noted on the website. We gratefully acknowledge the generous support of the Ontario Trillium Foundation for making this project possible.