Posted by Bob Lefebvre, Calgary
For the past six years, I have participated in the Calgary May Species Count. The area I cover is about an hour's drive SW of the city, in the Longview area. The territory is prairie on the east side, and it gets more and more rugged in the foothills to the west, ending at the edge of the 80-km count circle near the entrance to Kananaskis Park. There are some different types of habitat from the places I usually bird in the city, and I enjoy the challenge of identifying and counting as many of the bird species there as I can.
The count is held on the last weekend of May. I arrive on the territory by 5:30 am, and spend thirteen to fifteen hours birding, most of it driving. There are a lot of stops at some good regular spots, a lot of stops to listen, and a few short walks.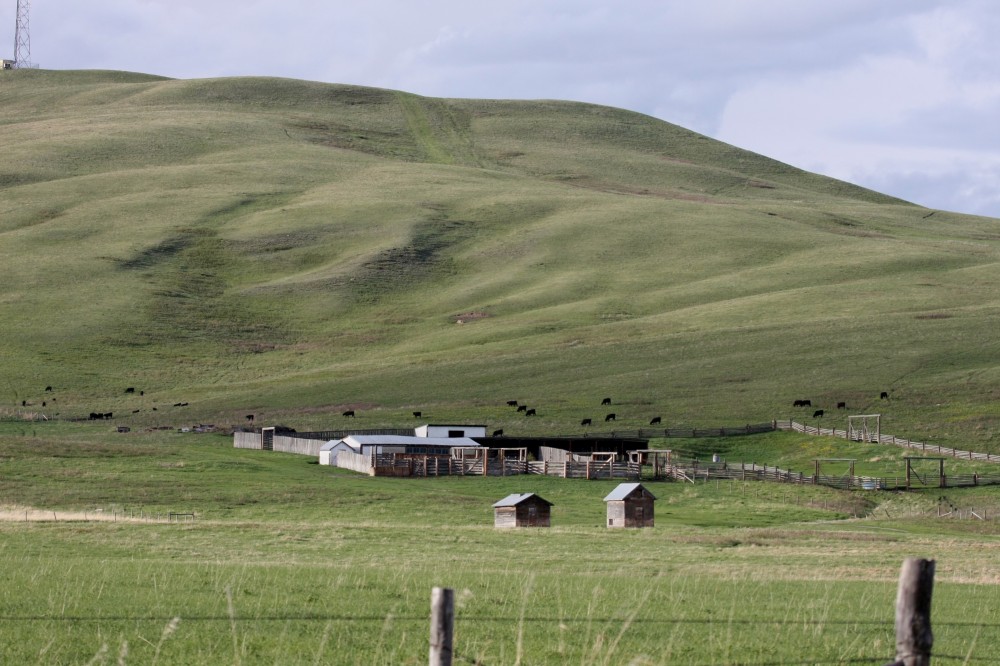 Rolling prairie near the east end of the territory.
In the prairie section I have had birds like Western Meadowlark, Vesper Sparrow, Brewer's Blackbird, and once, a pair of Bobolink.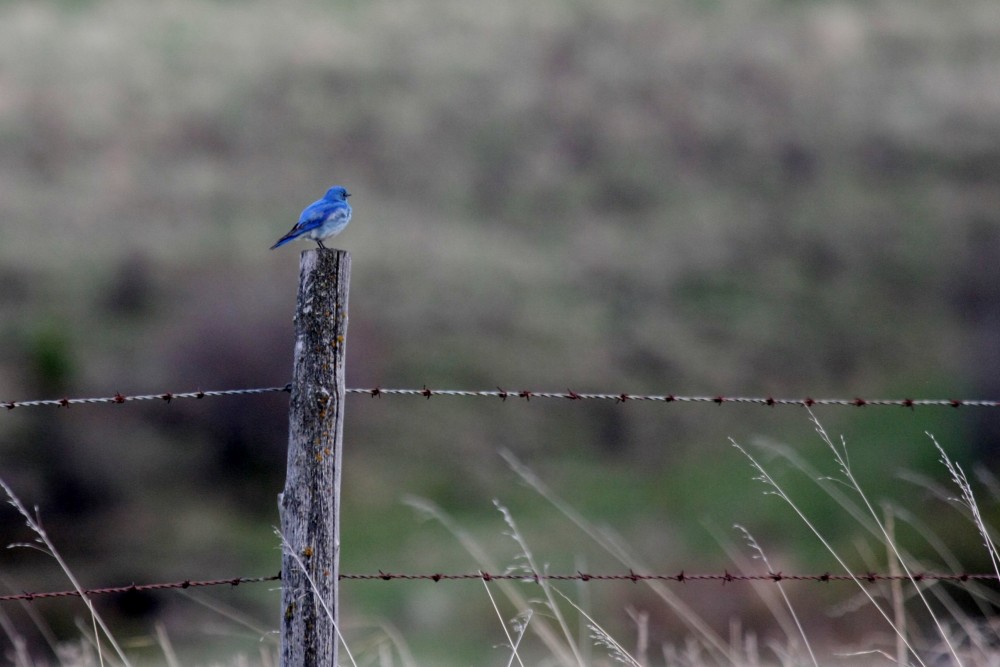 Mountain Bluebirds nest in boxes put up along the road by volunteers.
Many of the boxes are occupied not by bluebirds but by Tree Swallows.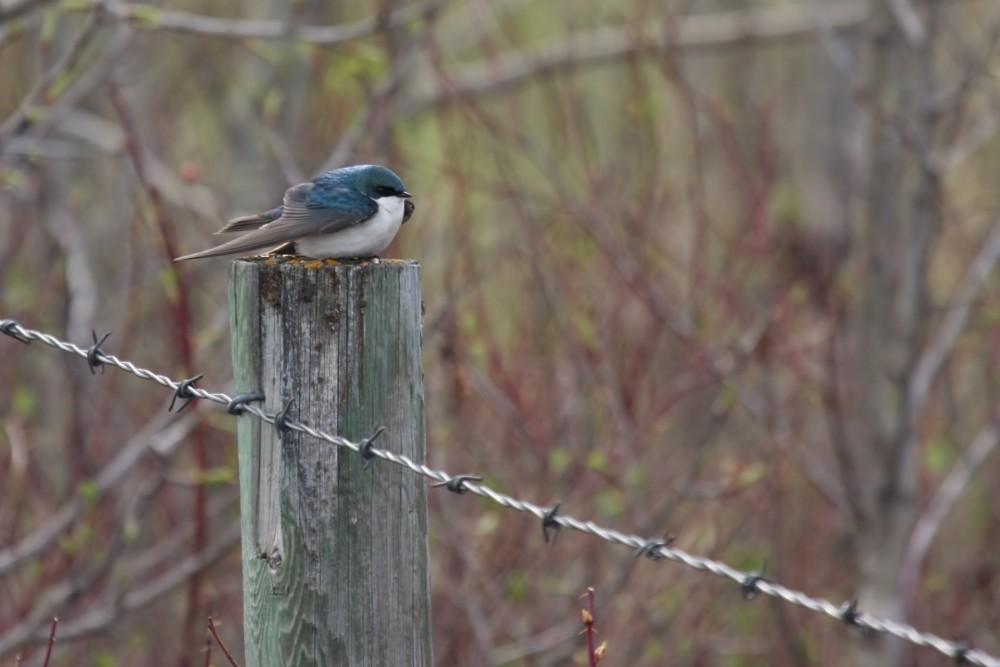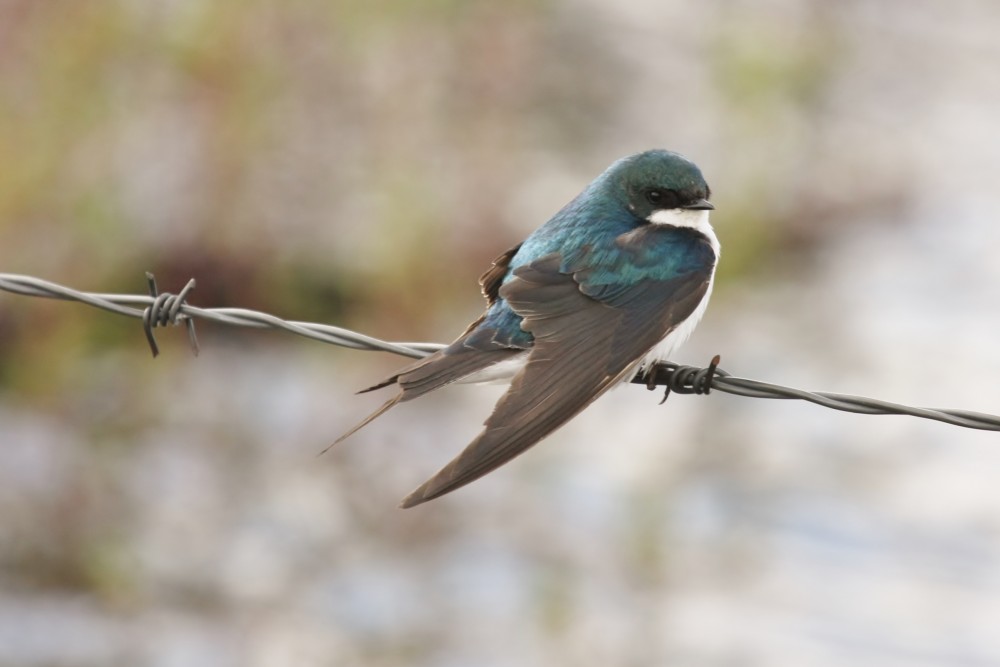 Mourning Doves near a prairie ranch house: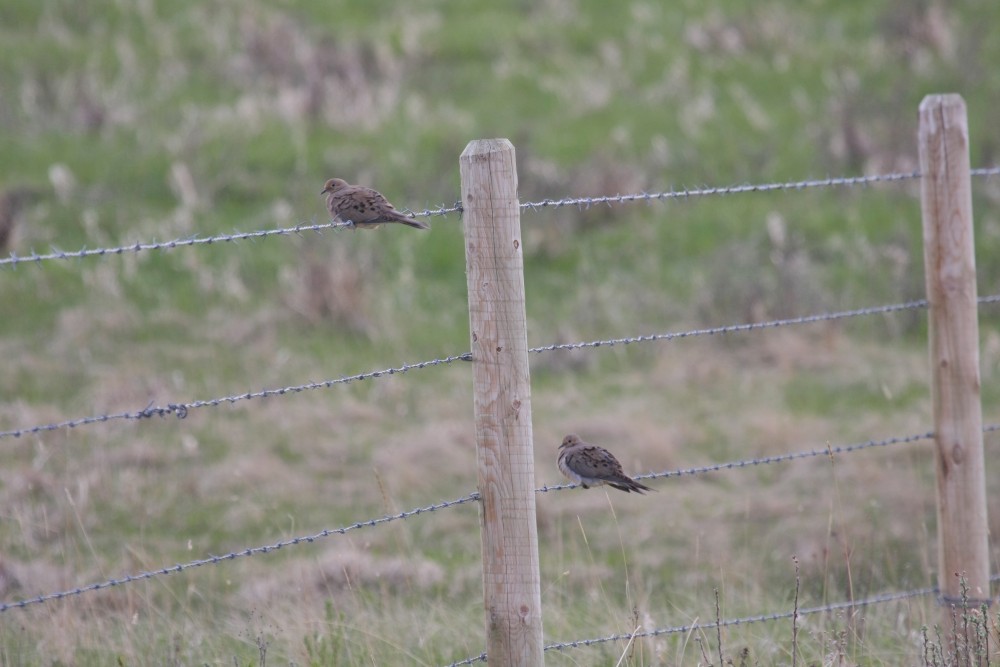 This Red-tailed Hawk landed on an old granary that had Barn Swallows nesting in it. Ten Barn Swallows dive-bombed it to try to drive it off (they were successful). This spot is on a flat grain field right at the east end of the territory, but you can see the snow-capped mountain peaks not too far to the west.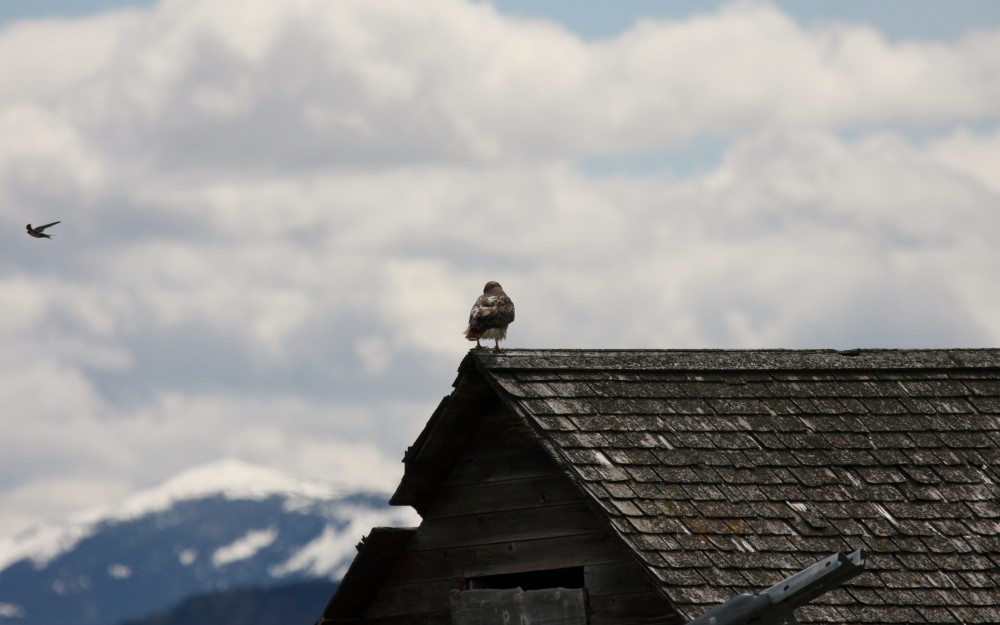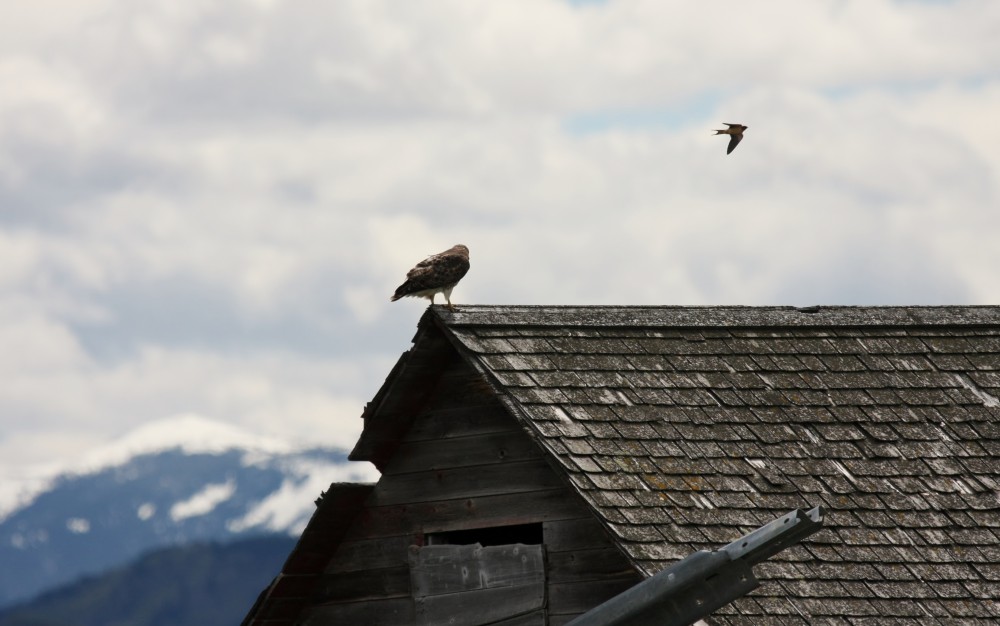 I saw quite a few Barn Swallows this year. This one was preening and sat still long enough for a picture.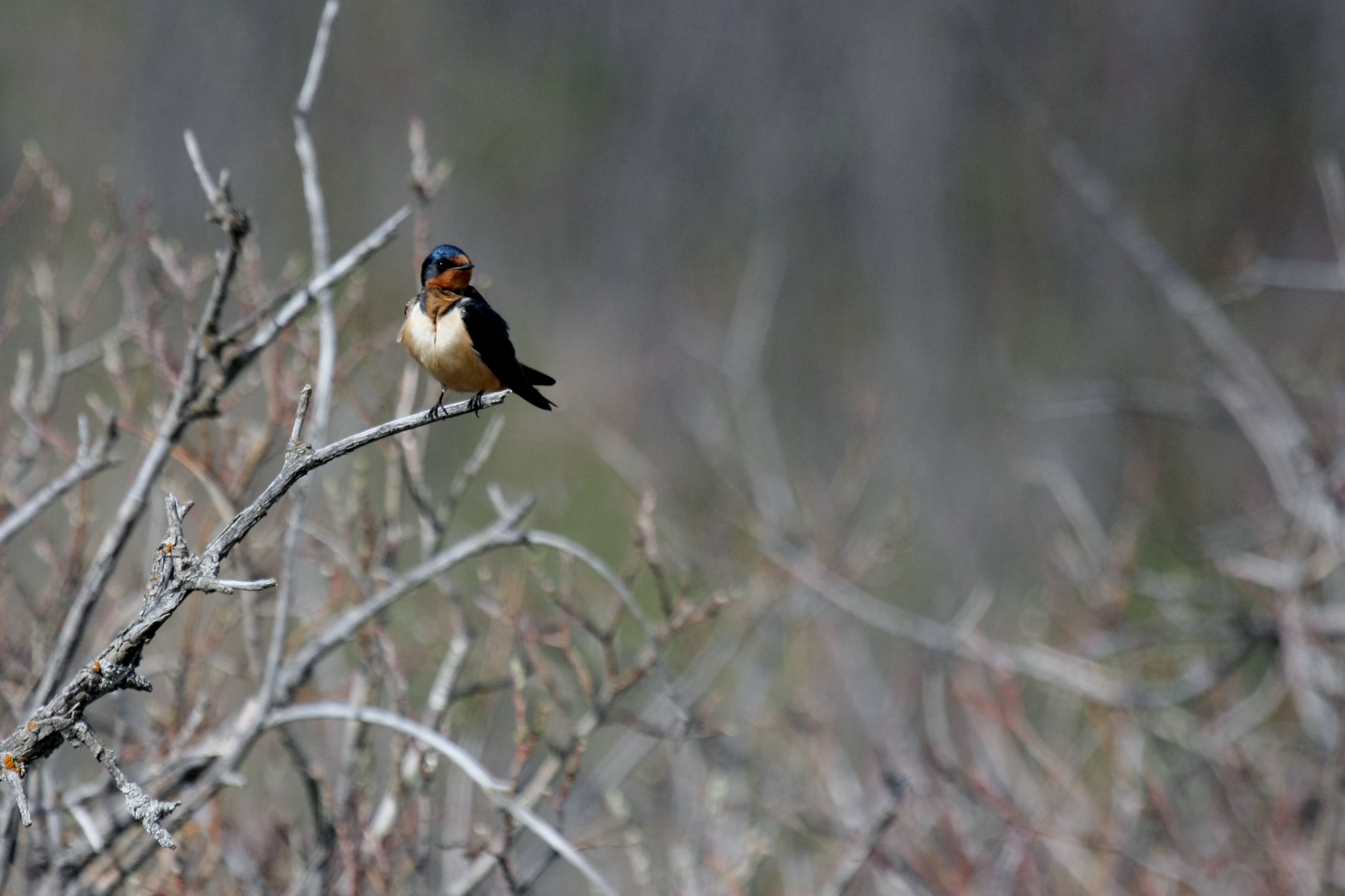 There are only a few small ponds in the area so I don't get a lot of waterfowl and very few shorebirds.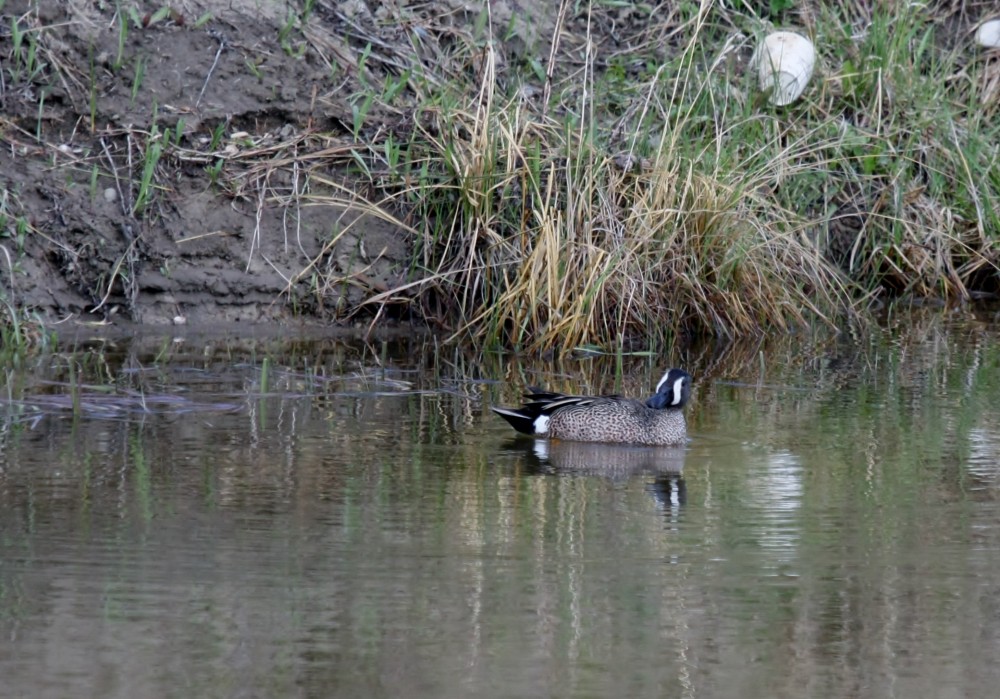 Blue-winged Teal.
This Killdeer might have been impossible to see if it hadn't moved.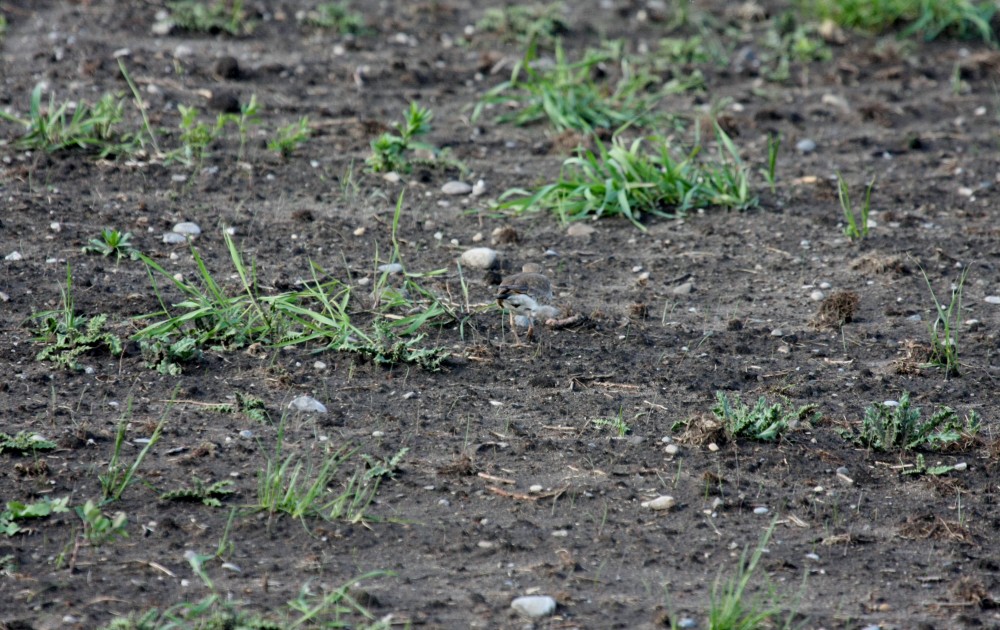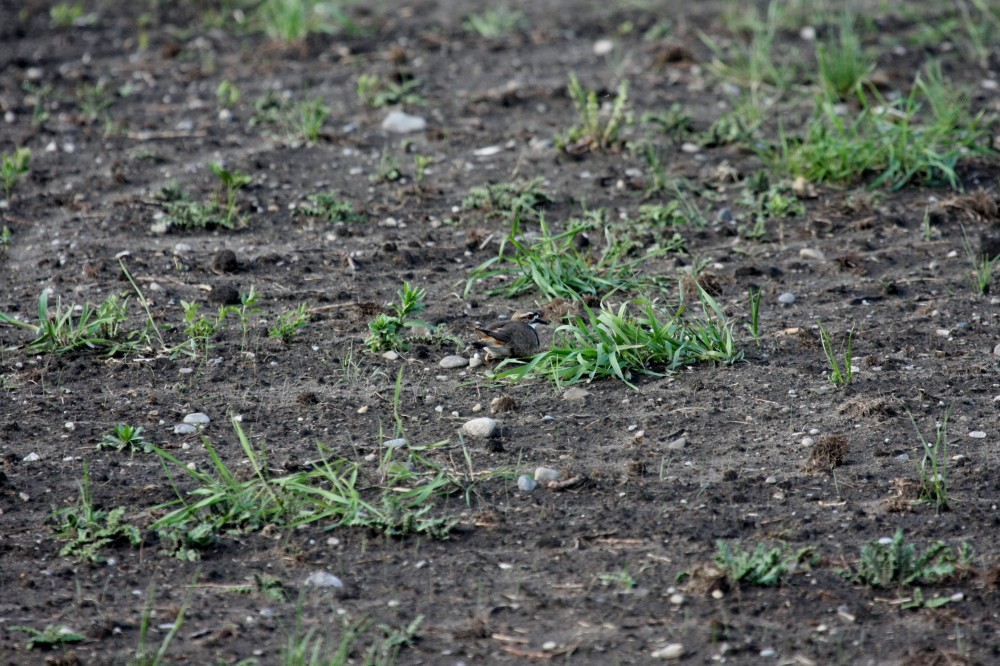 There are always lots of Wilson's Snipe around, at every little wet spot. I heard them calling so much this year that as I drove back to the city, I was imagining I could still hear them.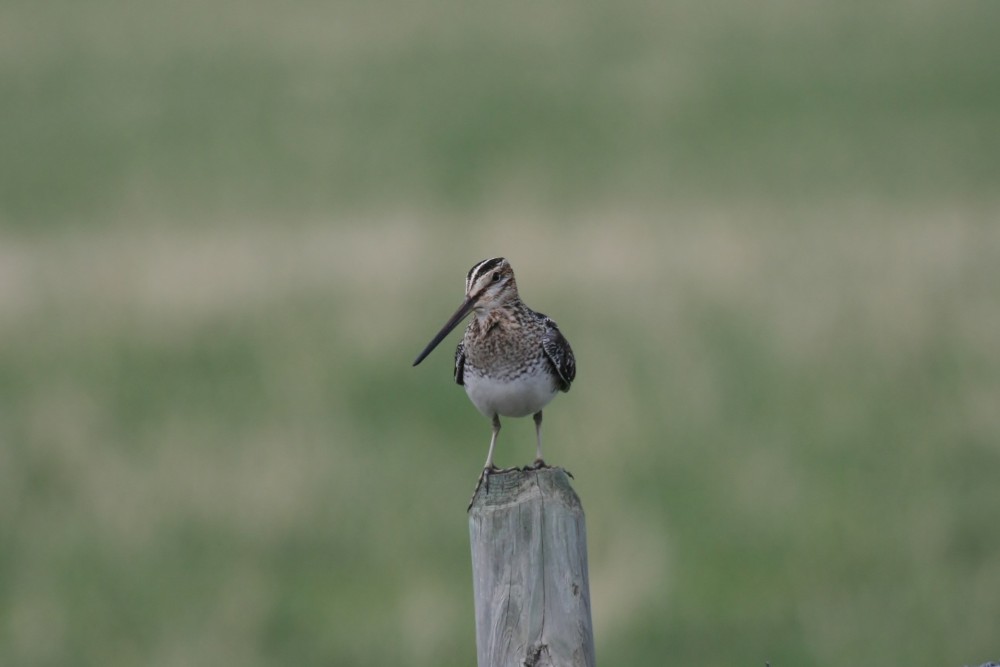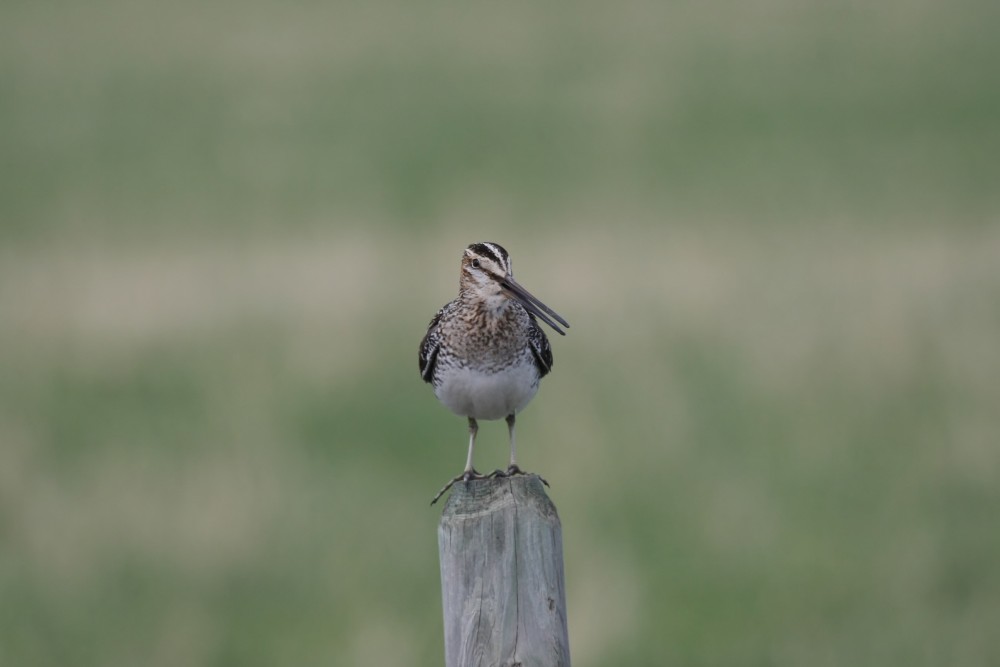 As you go west, you often see snow on the foothills.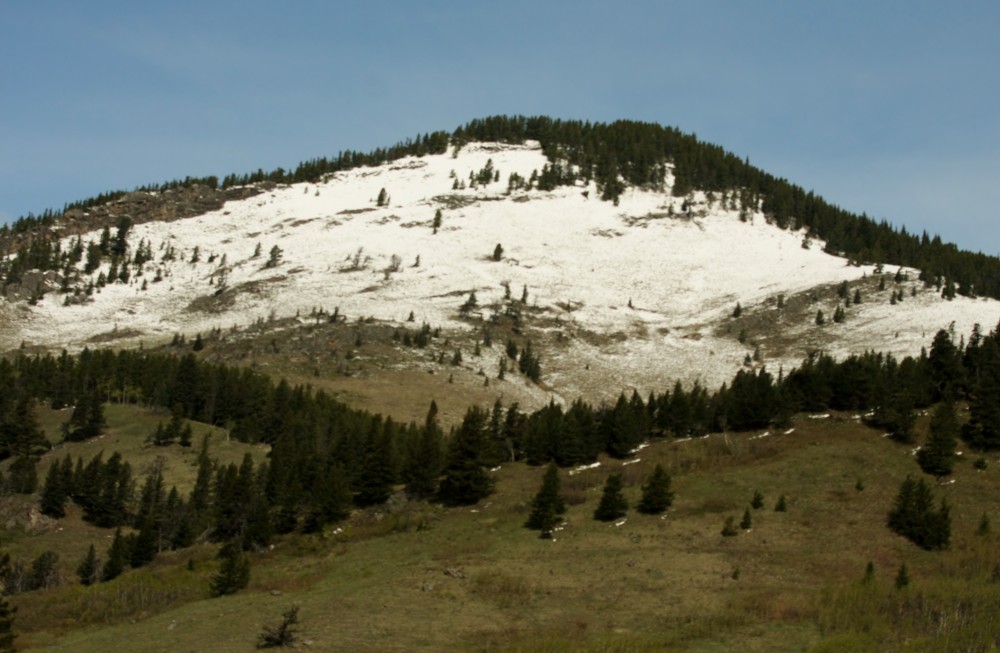 At these higher elevations, I usually get Ruffed Grouse, Mountain Chickadee, Ruby-crowned Kinglet, and these Gray Jays.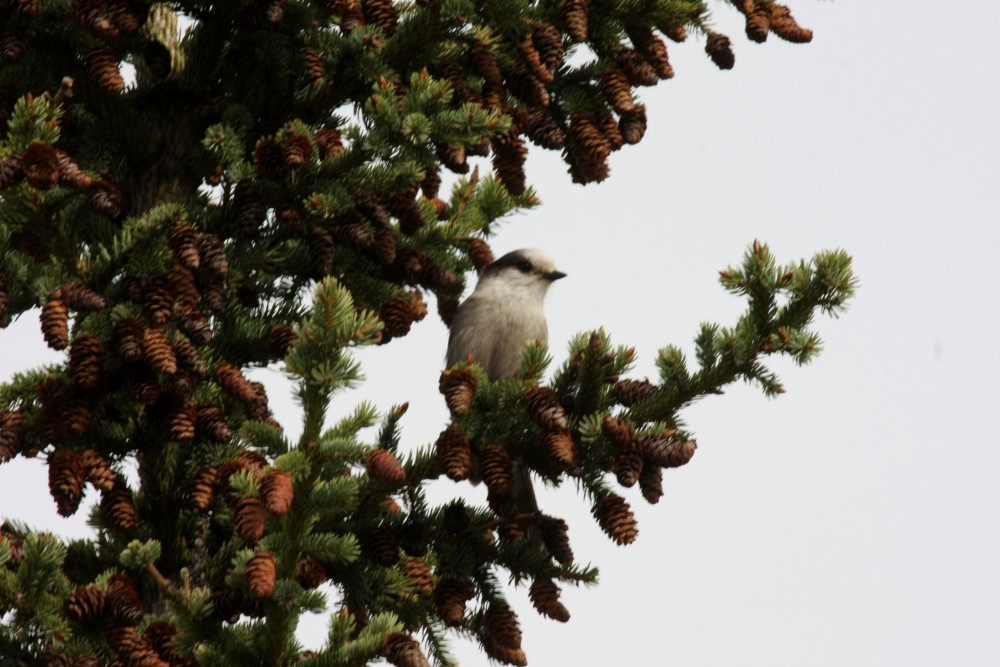 This Hermit Thrush flew across the road in front of me. It took a while to track it down in the bush and get a photo. Note the rufous tail.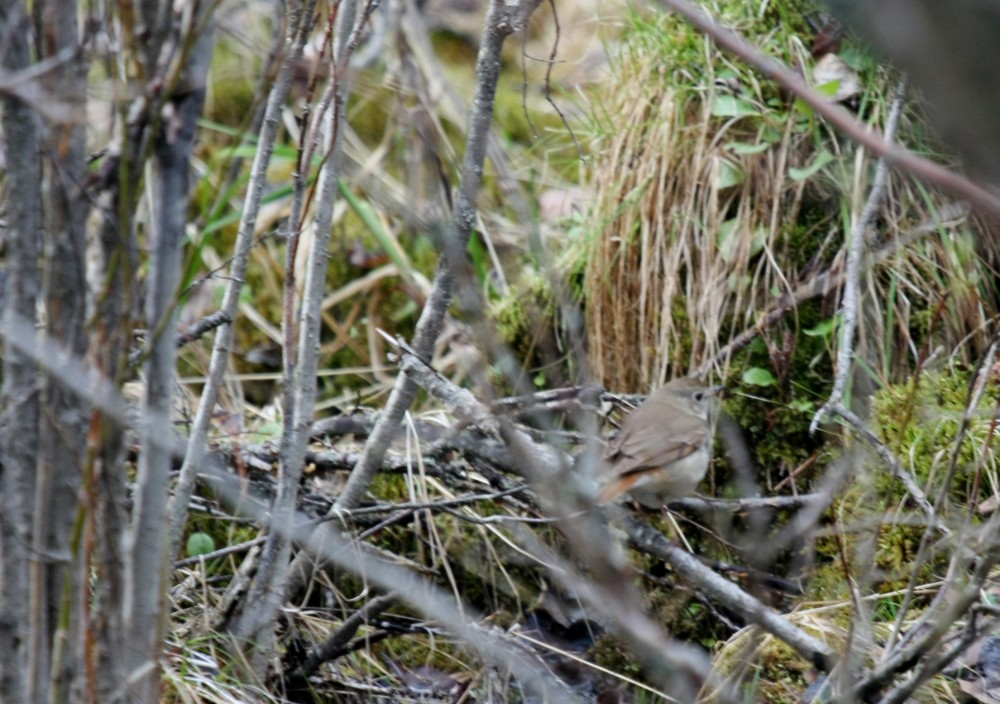 I usually see a few Swainson's Thrushes too.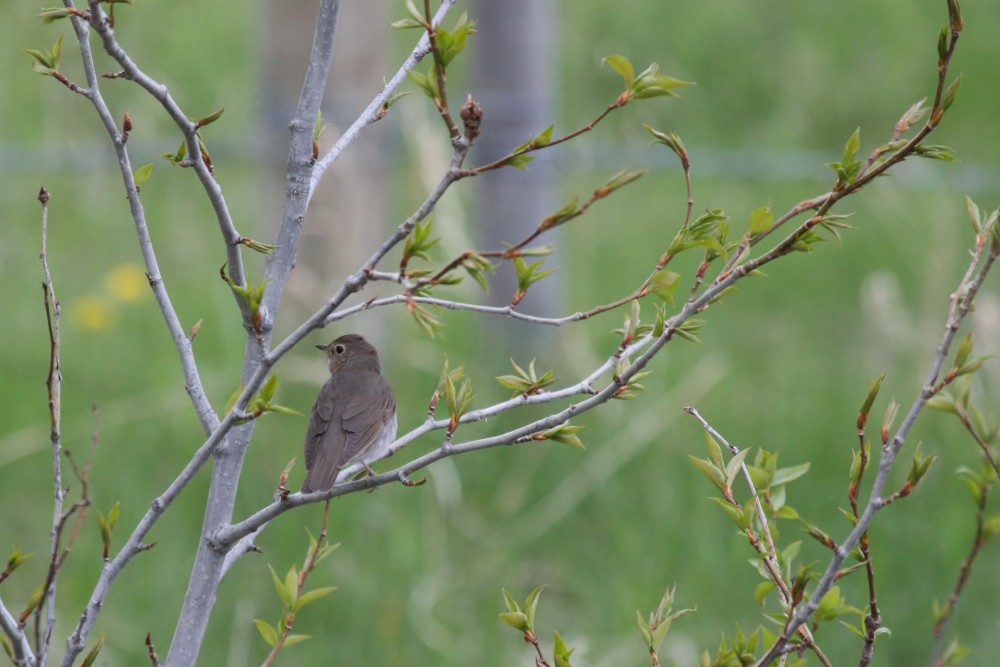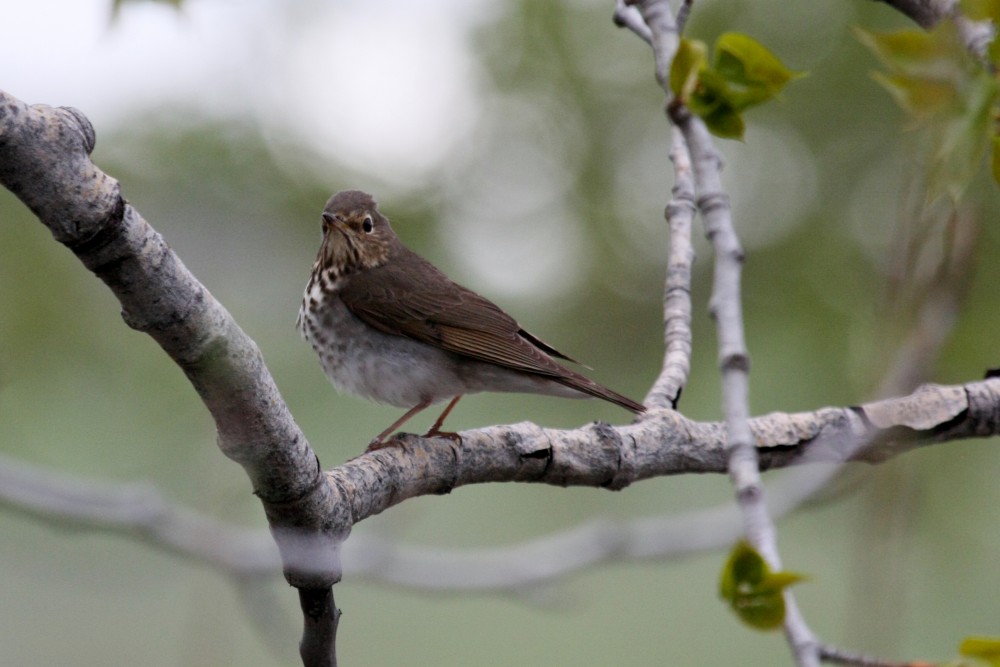 Yellow Warblers are the most common warbler in all parts of the territory, and can be found anywhere near water.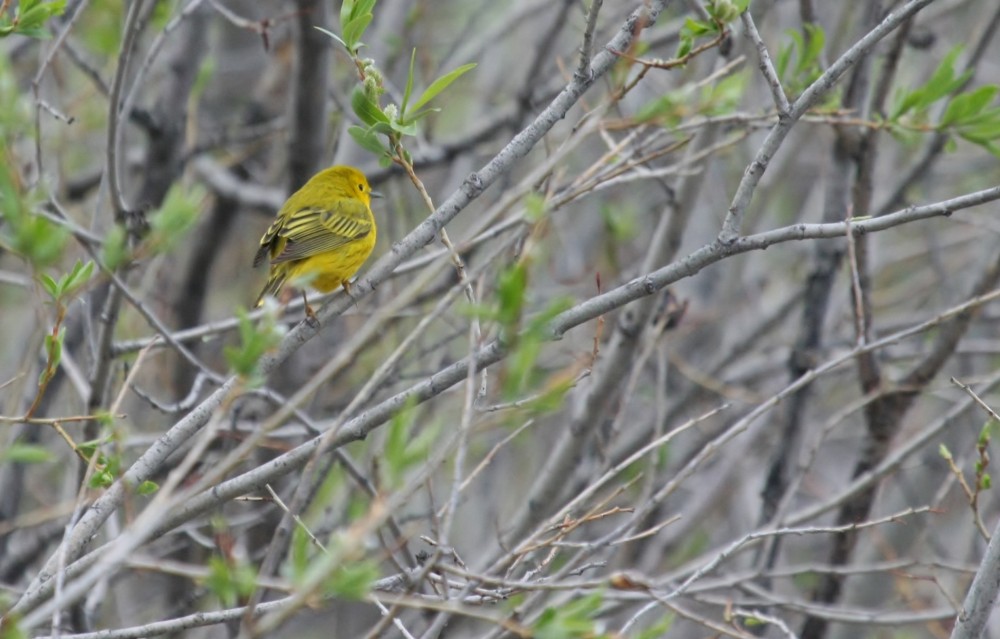 On the May Species Count we also keep track of mammals. I usually see Moose, Elk, and White-tailed Deer. The most common mammal here is the Columbian Ground Squirrel, which is larger and redder than the Richardson's Ground Squirrels we are used to seeing in Calgary.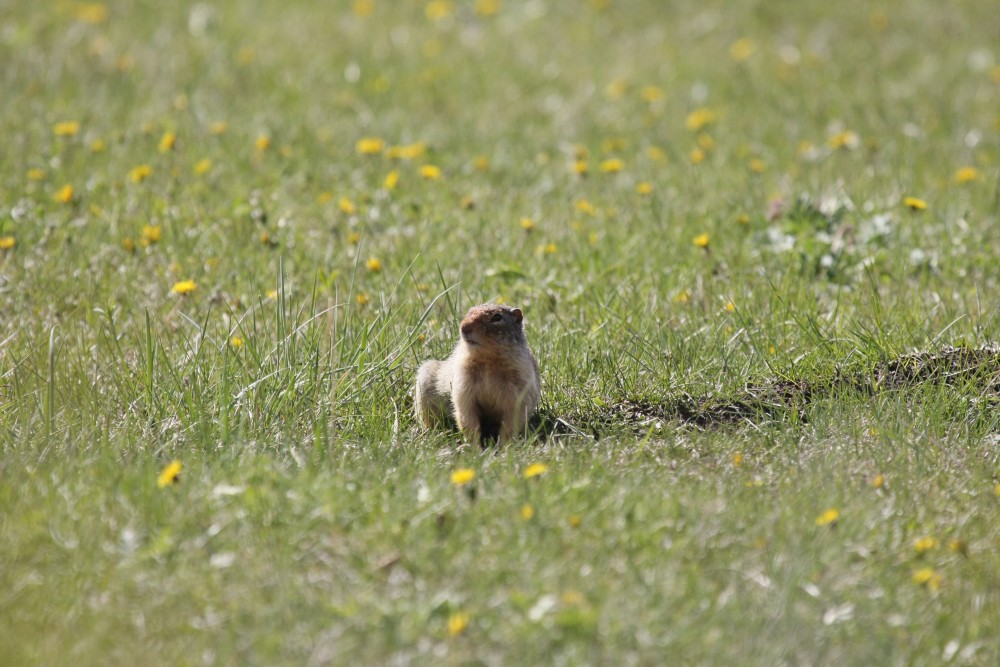 The first year I did the count, I saw something moving on a high hillside, and it turned out to be a male Bighorn Sheep. As birders do, I checked that spot again the next year, and the sheep was there again! Then I didn't see it for three years, but this year it (or another very similar-looking big male) was back in the very same spot.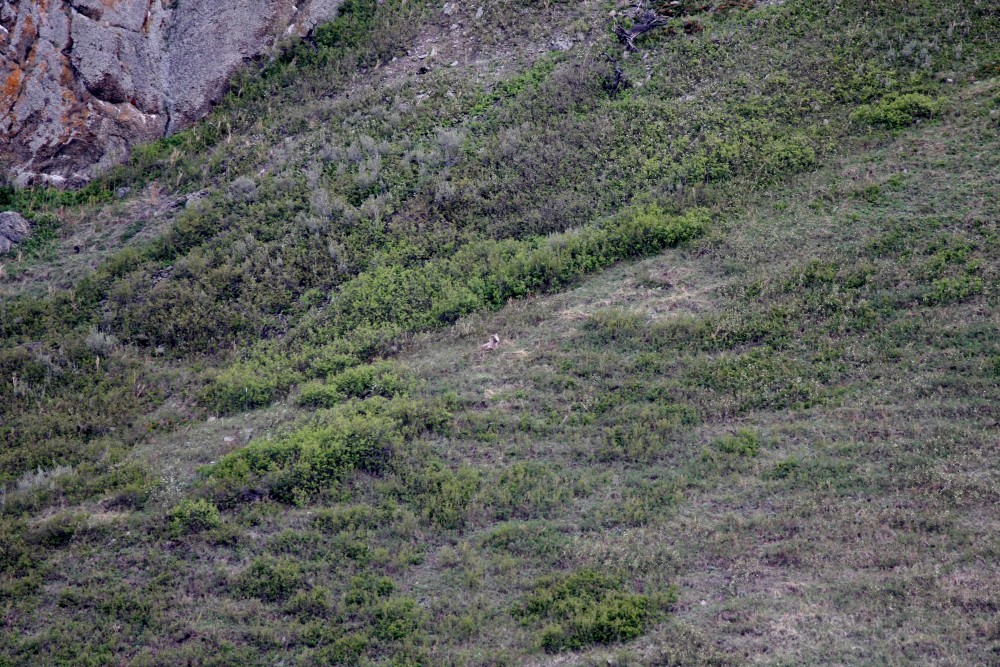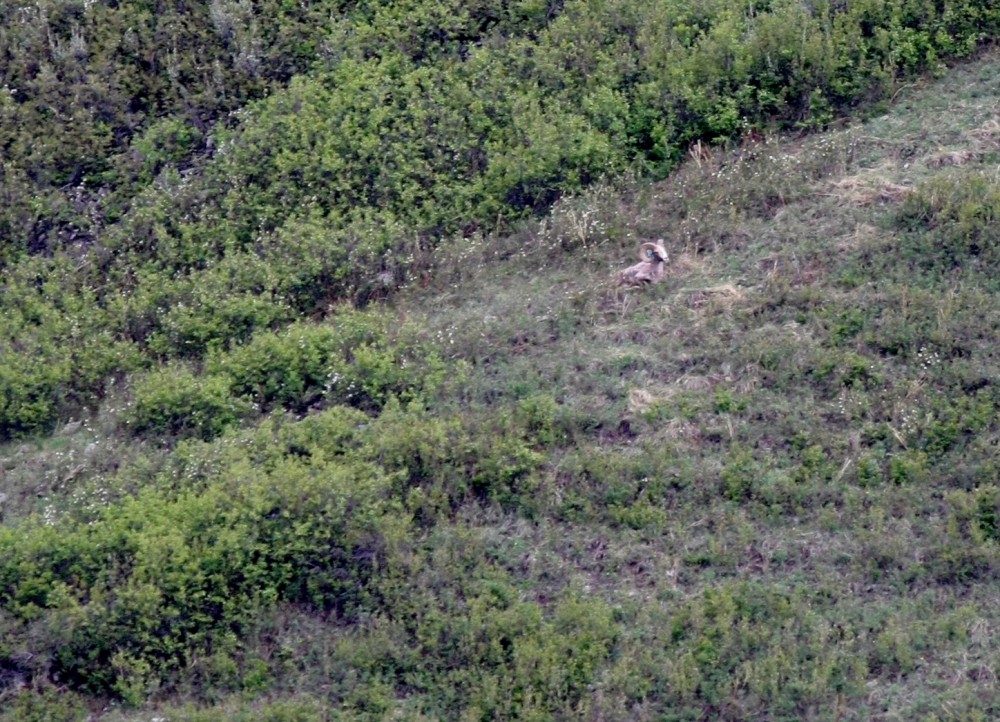 Sometimes it can be very challenging to identify and count all the birds you see. As the light faded I found about 300 swallows of at least three different species feeding over a soggy field. Here are about a hundred of them of them taking a break on a fence.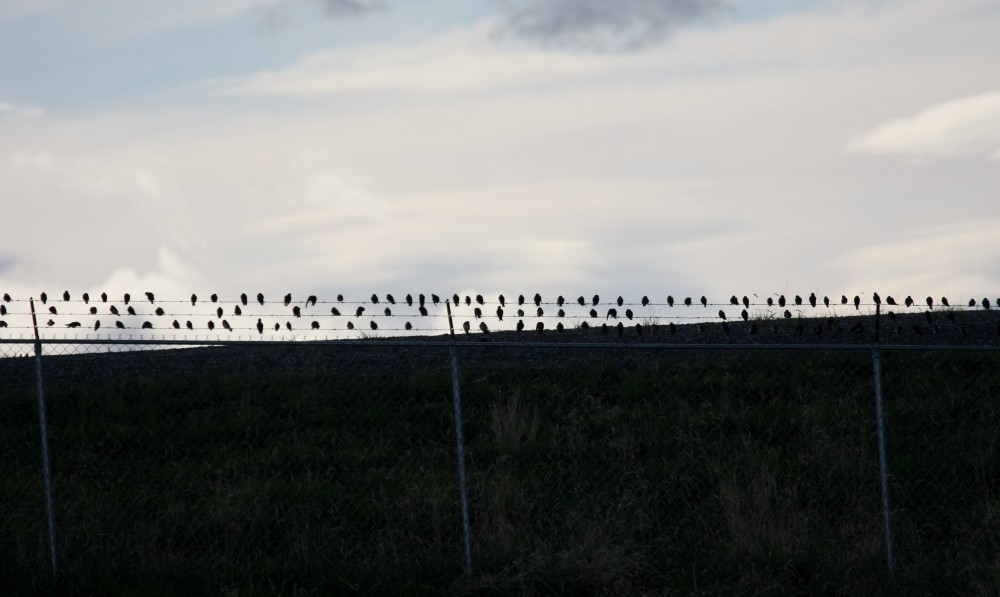 But you do the best you can, counting only those birds you are sure of.
May Species Counts are held all across the country, and often the organizers need more volunteers to help out. I've met a lot of birders who know most birds they see and hear, but who don't take part in counts like this because they are not experts and are afraid of making mistakes. But any contribution you can make to citizen science projects like this helps. The sooner you get started, the more you can contribute, and the faster you learn.  I took part in my first May Species Count when I had only been birding seriously for less than five months. I was very nervous about it – I thought I would be helping a group of knowledgeable birders in their territory, but the organizers were very short of people, and I ended up birding the Longview area by myself. I only recorded 37 species that first year, but as I became a more experienced birder and became familiar with the area, the numbers increased, and I now tally over 70 species each year, and there is no longer a long list of birds I hear but can't identify. So even if you are an inexperienced birder, get out and volunteer to help with your local May Species Count, Christmas Bird Count, or other citizen science project.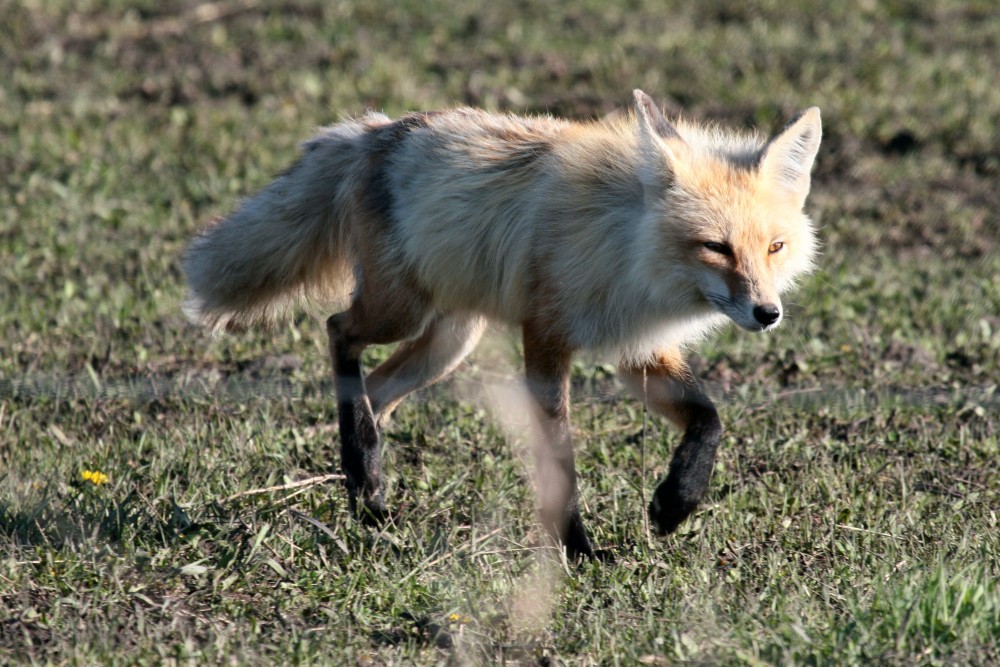 Red Fox seen on the 2011 count.