Last summer when I started exploring Facebook, I found that most provinces and states had dedicated birding groups. There wasn't one for Alberta, so I decided to start one. For the most part, being a group administrator is pretty easy. But every once in a while, something comes up that requires more attention and especially a good deal of thought, especially in a fairly large and actively growing group (more than 500 members now). Because I'm 15 and still a fairly new birder (five years), some issues and concerns are new to me. I try to follow the ABA's Code of Birding Ethics as well as the North American Photography Association (NANPA) Principles of Ethical Field Practices, and read as much as I can about what other groups and forums decide and why. I thought I'd share a recent issue and explain why I made the decision I did.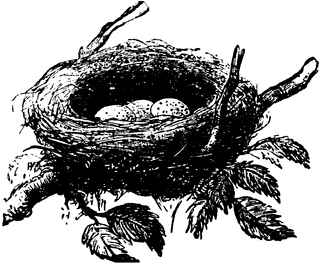 Some of the rules we have for the group, which you can find in other birding groups and forums as well, include: giving species name (if known), location (except for owls), and date of sighting. And, most recently, not posting locations of sensitive species and photographs or videos of nesting birds/eggs or eggs.
Unfortunately, the other month I had to make this last rule in the group regarding nests and eggs. With nesting season in full swing, it's hard not to notice or come across fledgling birds and nests, and most birders with cameras want to take photos of them. Especially for those who are new to birding and photography, nests and young birds provide good subjects to photograph, and the young are fun and fascinating to watch.
The problem is that most photographs of nests are taken close up, and some photographers don't understand bird behaviour well enough to know about respecting the rights of the birds. Sometimes, staying too long at a nest may make the parent birds feel the location is unsafe, or human presence at the nest may catch the attention of predators in the area. The goal is to avoid any unnecessary disturbance to the birds, parents and young; the ABA Code of Ethics says, "Keep well back from nests and nesting colonies, roosts, display areas, and important feeding sites. In such sensitive areas, if there is a need for extended observation, photography, filming, or recording, try to use a blind or hide, and take advantage of natural cover." As a member at BirdForum explained earlier this year, "it isn't so much about any photo of a nest automatically assumed to have disturbed the birds, but the worry that someone may take photographing birds in nests to be normal and acceptable, and end up going about it in a way that may disturb the birds."
A friend of mine, Utah wildlife photographer and blogger Mia McPherson, wrote a post in May titled "Please… give nests and chicks respect", in which she gave a helpful list on
Ethics on photographing nesting birds:
Do not approach too closely

If the birds show any sign of distress, back away

Don't trim leaves, twigs or branches to get a clearer shot, you may inadvertently attract predators or cause the eggs/chicks to over heat

Follow local, state and federal guidelines concerning nesting birds

Don't harass the birds to get an action shot

Don't stay a long time with nesting birds or chicks, that disrupts their normal behavior

Always remember that your scent may draw predators to the area of nesting birds or birds with chicks.
Another concern, especially for groups with lots of photography, is that members can feel pressure to get/post great pictures, sometimes at the expense of the birds. As a young birder, this balance is something I'm trying to figure out on my own too. And of course, there is the fact that those of us who are birders and photographers can use our pictures to teach and inspire others about nature. In fact, several points in NANPA's Environmental Statement are about
:: Advocating environmental protection through the use of photography
:: Participating in forums on ideas and issues in natural science, land use, and the environment, and
:: Imparting knowledge and experience of nature to children and adults through nature photography
But their most important point is probably their last one, "Always [follow] an honest path as a nature photographer, communicator, and citizen." I can't think of a better code to live, bird, and photograph by.