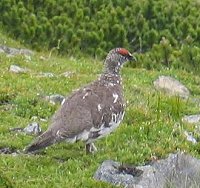 Birds of Nunavut Specialties
Gyrfalcon
Rock ptarmigan
Grey-cheeked thrush
Sandhill crane
White-rumped sandpiper
Long-tailed jaeger
Arctic tern
Lapland longspur
Solitary sandpiper
Sabine's gull
Nunavut, Canada's newest territory means "our land" in Inuktitut, the Inuit language. Nunavut covers about two million square kilometres of land and water in northern Canada, including part of the mainland, most of the Arctic Archipelago, and all of the islands in Hudson Bay, James Bay and Ungava Bay. The territory makes up 1/5 of Canada's land base.
Nunavut is north of Manitoba and east of Hudson's Bay, and is made up of the central and eastern portions of the former Northwest Territories. It shares a tiny land border with Newfoundland and Labrador on the east. It also shares aquatic borders with the provinces of Quebec, Ontario and Manitoba, and the country of Greenland.
The creation of Nunavut created Canada's only "four corners""at the intersection of the boundaries of Nunavut, the Northwest Territories, Manitoba, and Saskatchewan, on the southern shore of Kasba Lake. This is not the tourist spot it might be, as it is extremely remote and inaccessible. Nevertheless there is a marker at the point, and some have made the trek.
Nunavut is a land of rock, snow, ice, and sea. Like Canada's other territories, it can be divided into two broad geographical regions – the boreal forest in the south and the Arctic tundra in the north.
Territorial Web Links
Where Do You Want To Go Birding in Nunavut?