Guest post by Bob Lefebvre
The Northern Pygmy-Owl is an elusive creature that can be very difficult for a birder to find.  For starters, it is very small, about the size of a pop can.  But there is no deposit on them, so it seems that people leave them scattered in the remotest parts of the boreal forest.  I became very frustrated when I first went looking for these owls, but after many fruitless trips I stumbled upon an Advanced Birding Technique that I will share with you.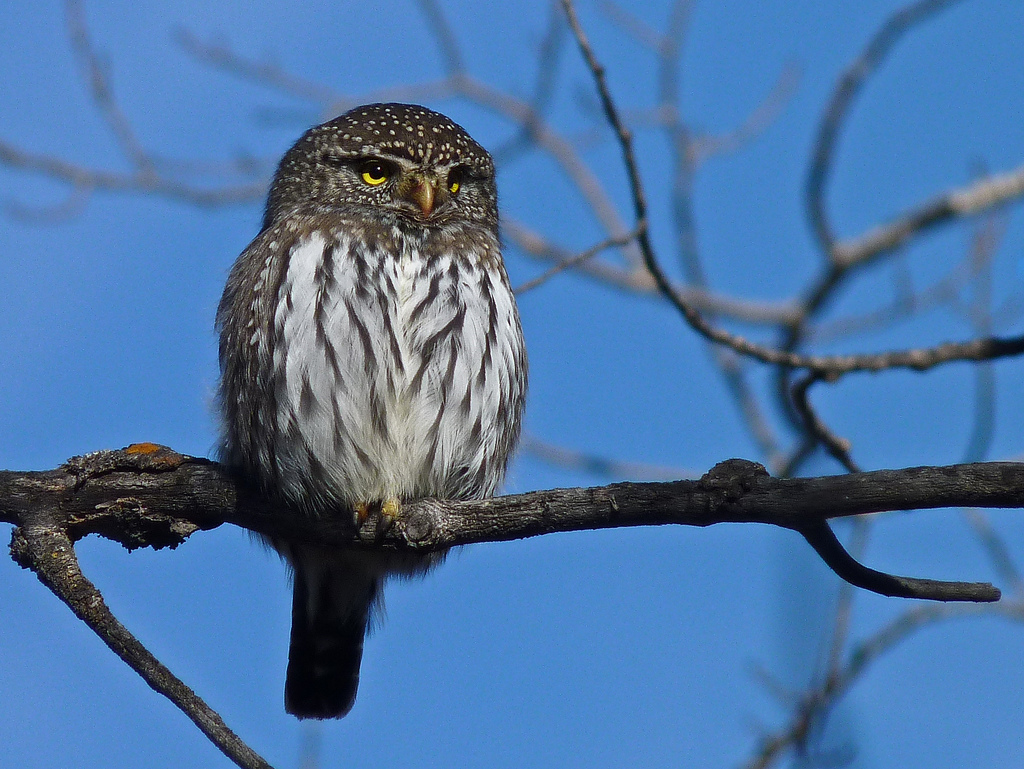 Northern Pygmy-Owl.  Photo by Anne Elliott.
Occasionally one or two of these tiny but ferocious birds sets up shop inside the City of Calgary, usually in the winter months in the west end of Fish Creek Provincial Park, where they feast on Meadow Voles and annoy the local chickadees.  Like many owls they have cryptic plumage that renders them practically invisible even when they are sitting out in the open, staring at you and defying you to notice them.  Annoyingly, they have eyes on the back of their head as well as the front, so they can stare at you mockingly whether you are coming or going.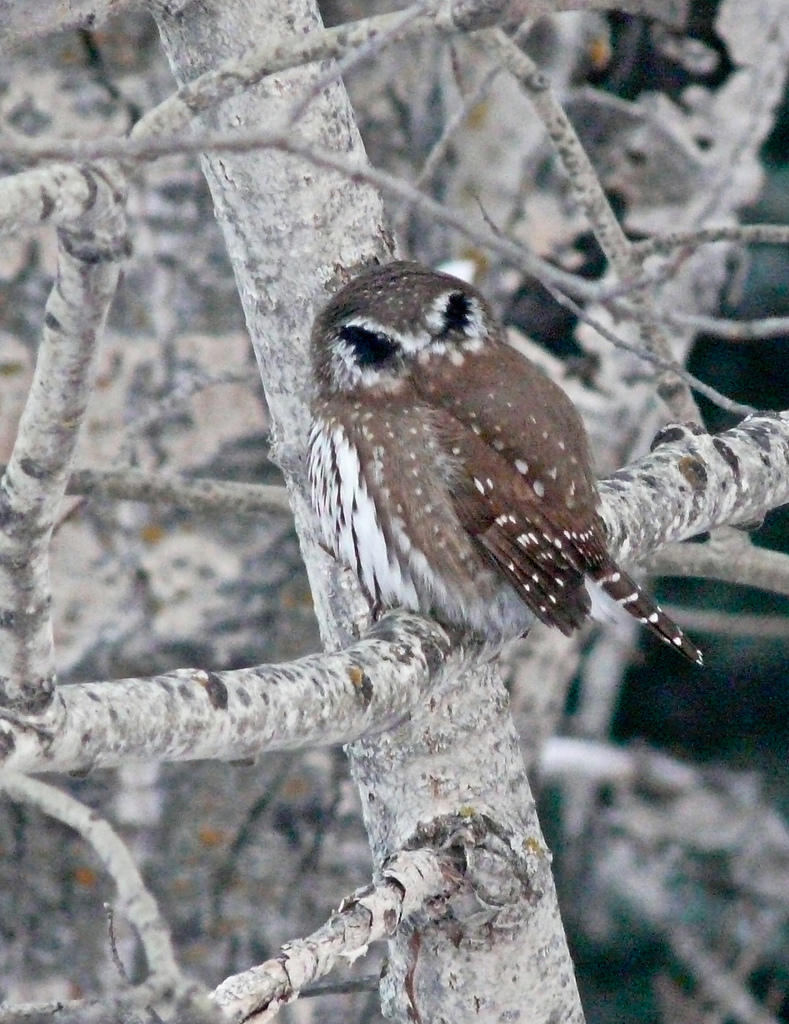 "False eyes" on the back of a Pygmy-Owl's head.  Photo by Anne Elliott.
With a Meadow Vole.  Photo by Anne Elliott.
Once, after I had become a veteran Pygmy-Owl observer, and naively thinking that they held no further mystery for me, I was in a group of about fifteen keen Nature Calgary birders, alertly scanning the trees for an owl that had been reported to be in the immediate area.  We walked directly under it without seeing it as it sat fifteen feet up in a leafless poplar tree.  Another birder who was well behind us pointed it out to us, and we sheepishly backtracked to the spot.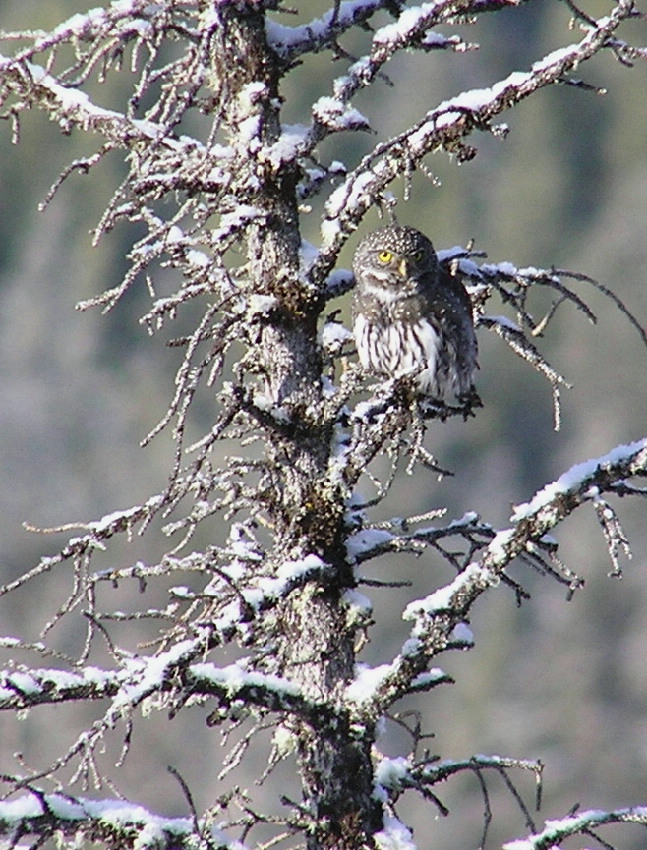 They can be a little hard to see.  Photo by Anne Elliott.
But I'm getting ahead of myself.  When I first started going out on Nature Calgary field trips, I was excited to find out that one of these owls had been reported in the Shannon Terrace area of Fish Creek Park.  I went on a couple of field trips to that area but we had no luck.  I started going to Shannon Terrace and Bebo Grove by myself or with one or two friends on the weekends, just to look for that one bird.  Later, after I had seen my first owl, I calculated that I had spent about fifteen hours looking in one relatively small area for a bird that was regularly reported there.  In my defense, I hadn't yet discovered the Advanced Birding Technique.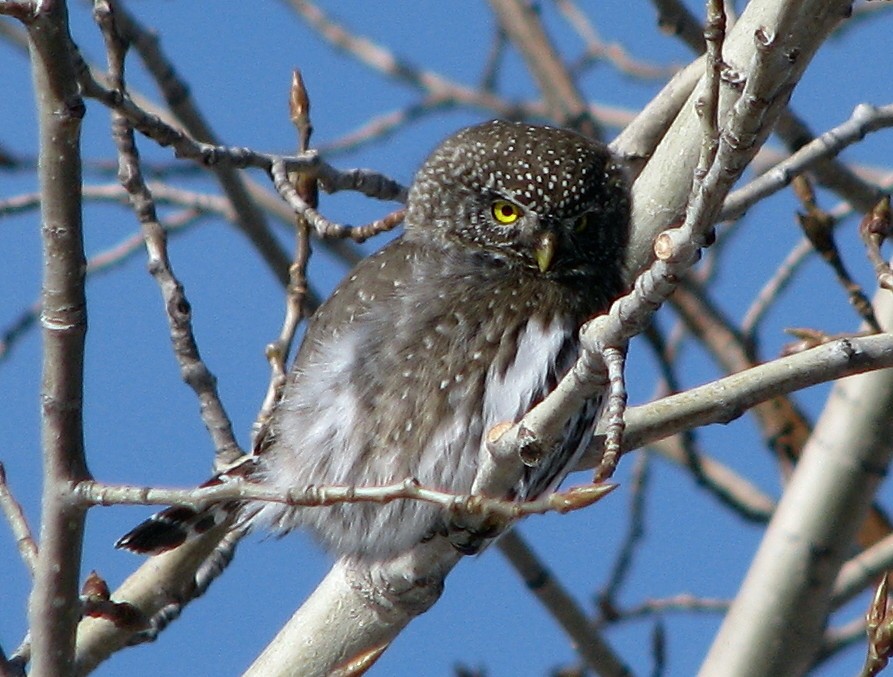 Target bird: the Northern Pygmy-Owl.
One of the problems you encounter when looking for Pygmy-Owls in the winter is that there are always a few little clumps of leaves left on the deciduous trees.  These stubborn leaves, which for some obscure reason don't have the good sense to fall to the ground before winter sets in, can look amazingly like a Northern Pygmy-Owl perched on a bare twig, which is where in fact they usually are perched.  You spend a lot of time excitedly raising your binoculars to check out every one.  After about the third trip through the same area, being fooled over and over by these false owls, you get to know them, and by the fifth trip you know every remaining leaf by heart and have given them all pet names.  But you still have to check them all, because how would you feel if a particular clump of leaves had happened to fall since the last time you were there, and the owl just happened to be perching where the leaves used to be?  Suppose another birder exclaimed "There's the Pygmy-Owl!" and you said casually, "No, that's just Mildred… I mean, a clump of leaves."
"No, it's the owl! Look!"
So you look, and it is the owl.  It might be a little hard to explain how you mistook a Northern Pygmy-Owl for a clump of leaves named Mildred.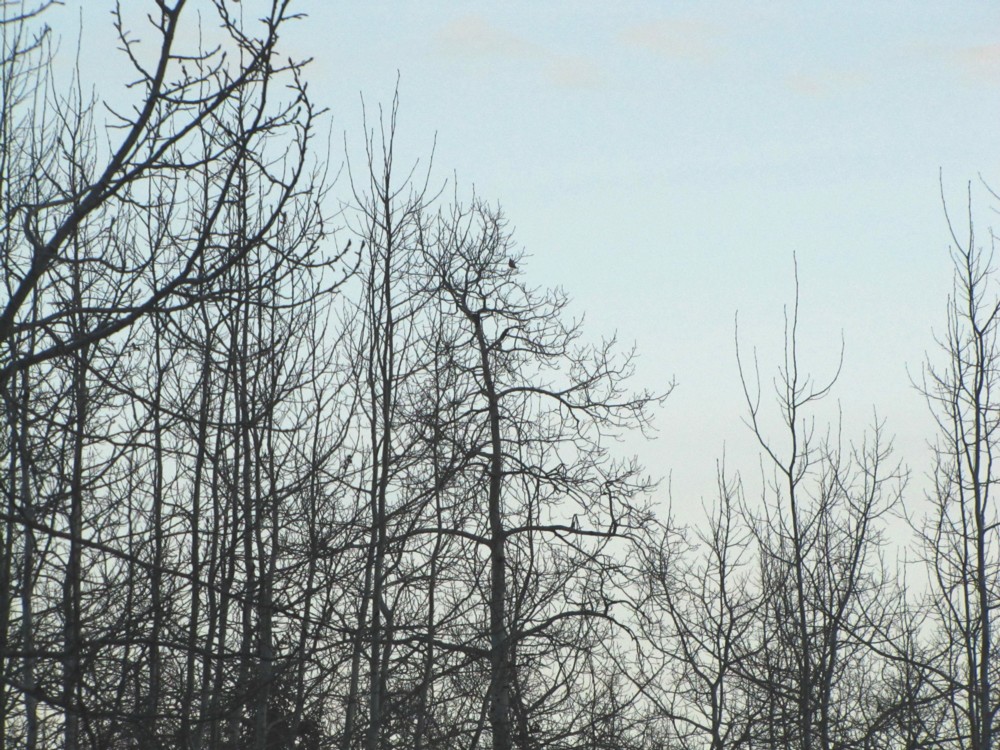 Possible Northern Pygmy-Owl.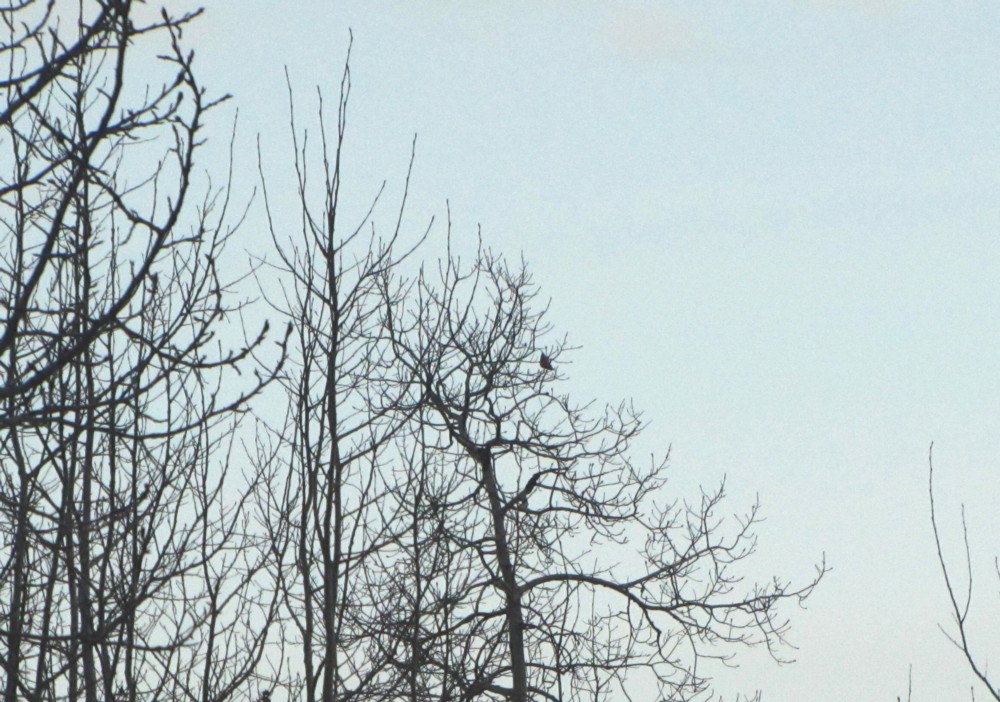 Nope, just a leaf.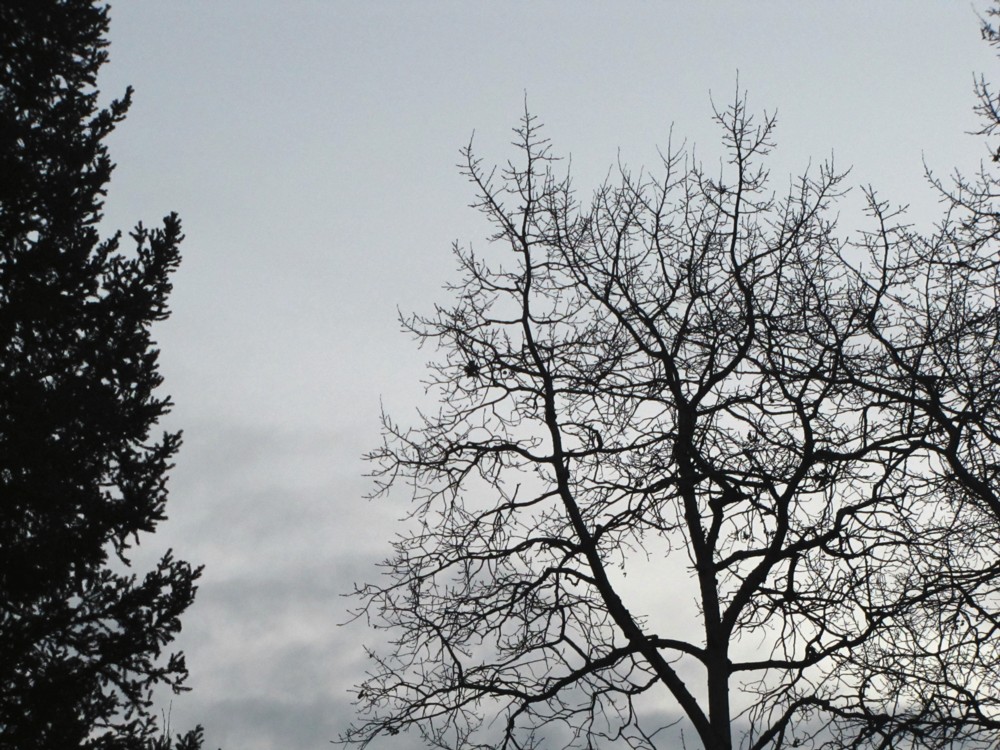 Mildred.
So it can be frustrating.  Equally frustrating is the almost birdless nature of west Fish Creek in mid-winter.  Usually when you go out to try to find a particular bird, if you are unsuccessful you nevertheless see many other birds, thus salvaging something from the wreck.  But sometimes a boreal forest can be very silent, and on one memorable occasion I walked all the way from Shannon Terrace to Bebo Grove and back, without seeing or hearing a single bird.  It's the only time I ever got completely skunked when birding.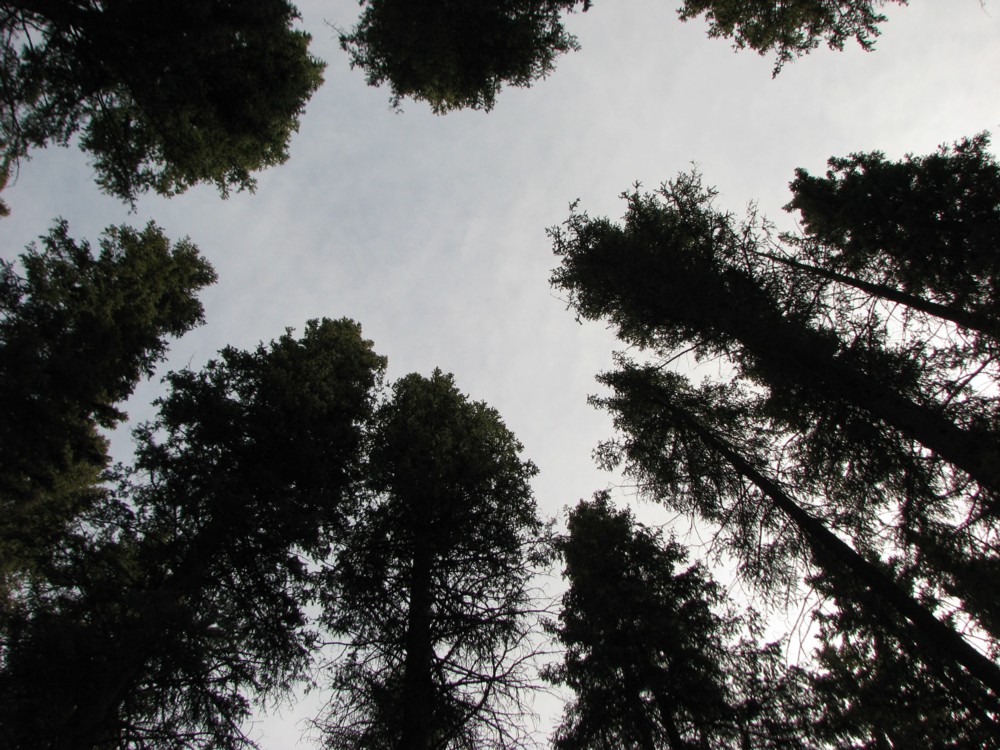 Anybody up there?  Spruce trees in Bebo Grove, Fish Creek Park.
Eventually I did find the owl, and I've seen them several times since.  Here is how I first found it, using a little-known and almost foolproof Advanced Birding Technique.
Three of us had spent a of couple of hours walking around Bebo Grove, then to Shannon Terrace, and back, with no luck.  It was beginning to snow lightly, and we decided to call it a day.  Now follow me closely here.  As I prepared to leave the parking lot, I scanned the horizon one last time from side to side using sensitive scientific instruments, namely my eyeballs, until I spotted a tight knot of people standing under a tree, bristling with camera lenses and binoculars, and focusing intently on some unseen presence up in the tree. Using simple geometry, I triangulated to the spot where all the lenses were pointing… and there was the owl.
That was my technique, and I don't see how it could be improved upon.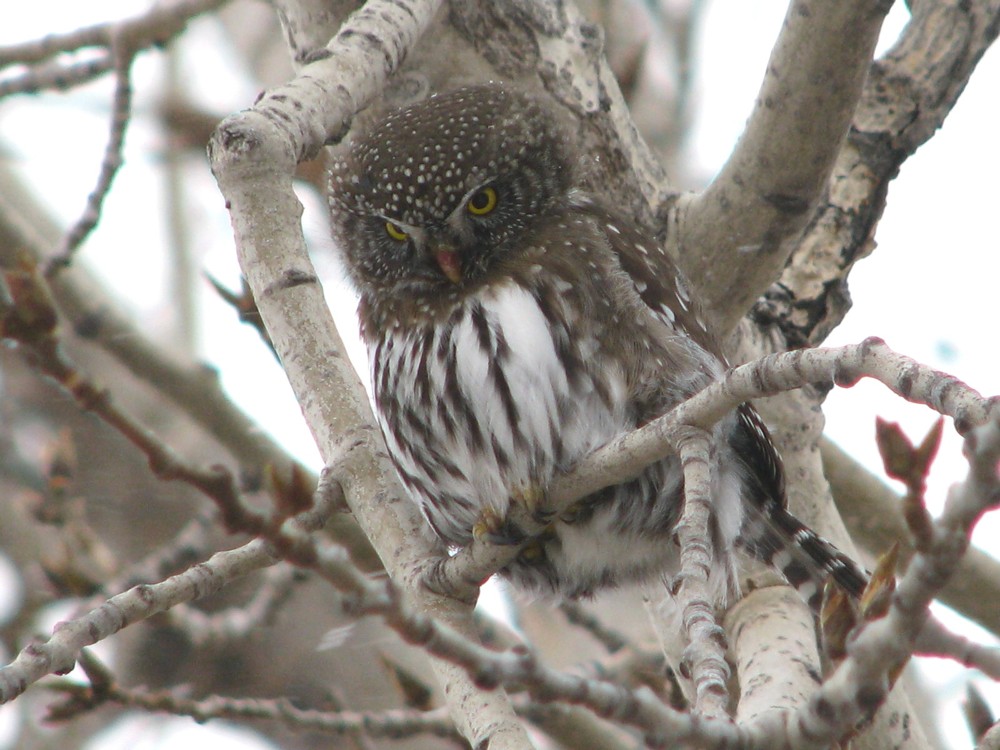 My first Pygmy-Owl.  There was a 500mm lens at the other end of that stare.
I have had occasion to use this method on several subsequent birding trips, and it has never failed me.  Whenever there is a tight group of birders and photographers, festooned with lenses, and all looking intently in the same direction, there is invariably something interesting to be seen.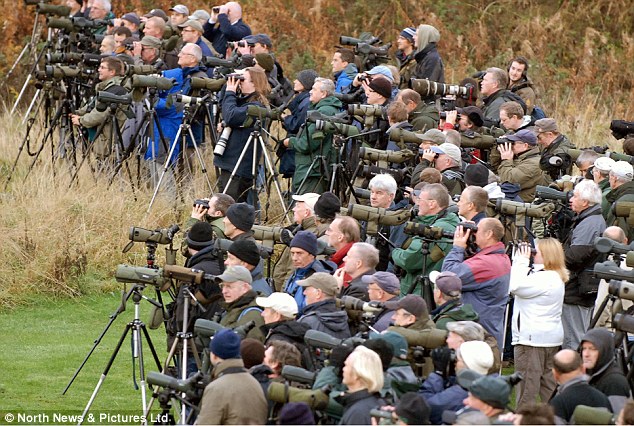 These people might be on to something…
So far this winter, Northern Pygmy-Owls have not been reported in the city.  But if they are, I'm ready.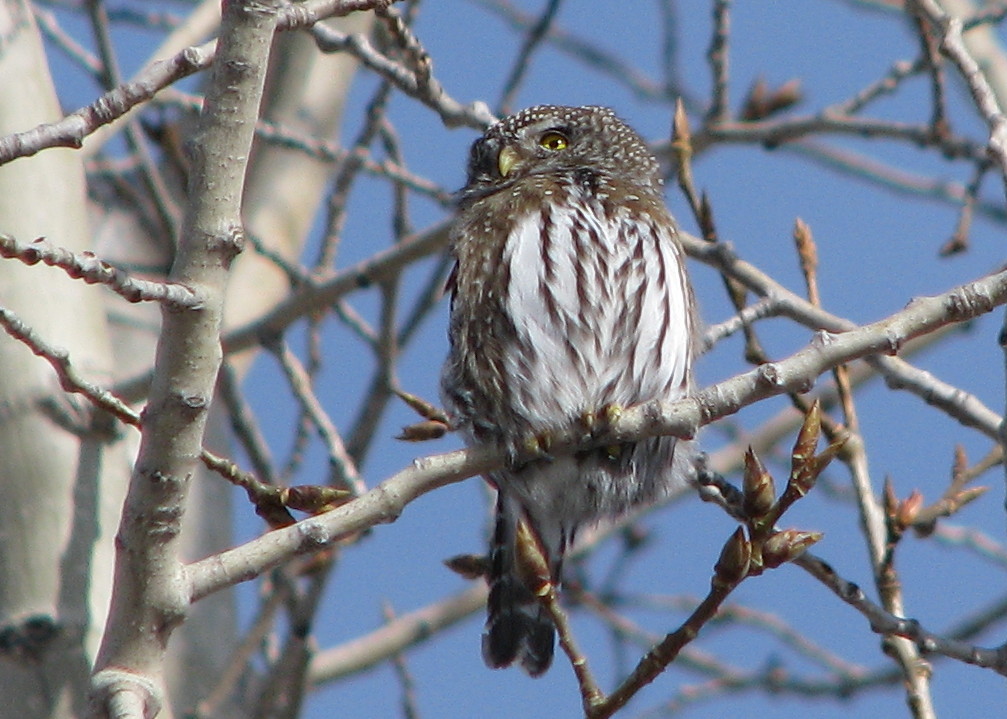 Another owl, from Shannon Terrace, Fish Creek Park.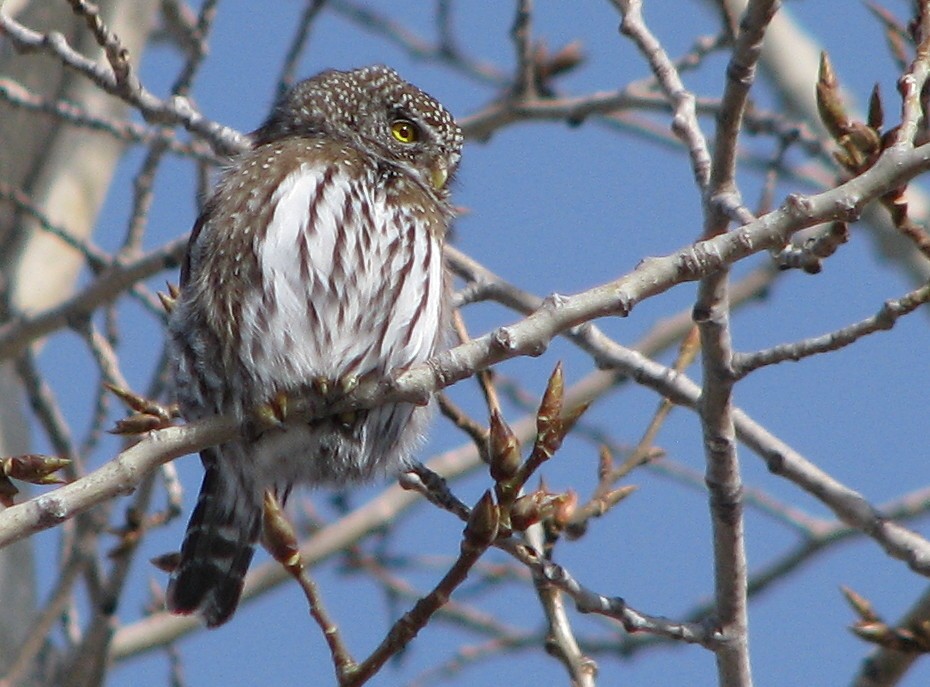 To see more of Anne Elliot's Northern Pygmy-Owl photos, and her many other wonderful photos, go to her Flickr page.