I've been feeding the birds in my backyard ever since that morning eight years ago when I noticed several black-hooded birds hopping around the overgrown garden of our new home on Gabriola Island. They made an odd, metallic chip, chip, chip noise that forced me to sit up and pay attention. Once I started looking, of course, I saw all kinds of birds, many much more colourful than the Dark-eyed Juncos that I now refer to as 'my gateway drug', and many with a much more beautiful song, like this male House Finch.
I was quickly hooked. It was all so easy: all I had to do was put out seed and suet and fresh water in return for a never-ending supply of avian visitors that charmed and entertained me. Friends and family were flying all over the world in search of adventure; I just had to sit on my deck. A glorious win-win.
Then, one day, tragedy struck. A window strike. Fortunately, the little Pine Siskin survived – although many birds do so, in the short term, only to die later of internal injuries.
Over the years I've lost too many birds to the windows (one is too many!) and have experimented with various 'solutions', including decals and keeping drapes closed in order to reduce the  perception of a flyway. So far, the solution that has worked the best is the American Bird Conservancy Tape. http://blog.aba.org/2012/02/is-bird-tape-the-solution-for-window-kills.html) Since installing it on our garden room windows we haven't had any bird strikes – that we know of. I just ordered some more for other windows.
Sometimes one of "my birds" is taken by a bird of prey. Last fall when a Cooper's Hawk stopped by for a meal, I spent an hour trying to get the Steller's Jays to ignore the peanuts I'd put out and get back up into the blasted trees! Fortunately, all seven jays survived to tell the tale another day – probably a tale about the woman in the back yard flailing her arms and hooting and hollering like a maniac.
But I can't be there 24/7 to shoo away hungry hawks.  I've witnessed them munching on a junco on the back fence and seen remnants of kills in the gardens several times. The rational part of me screams, as I write this, "The hawks need to eat too!" Another part of me answers, dejectedly, "I know this." But the reality is that by encouraging birds to congregate in one spot, a feeder, they become easy pickin's for birds of prey.
And don't get me started about cats!
See the sad stats on kills-by-cat here: http://theoatmeal.com/comics/cats_actually_kill) Although I adore INDOOR cats and am averse to violence, I have been known to keep a long handled water gun at the ready. (It's ridiculous, of course, does nothing but make me feel slightly less helpless, since by the time I open the door and aim the thing, the cat is already high-tailing it out of its favourite spot under a feeder.) Maybe I should deliver scrunchies to all the roaming cat-owners in the neighbourhood? http://www.abc.net.au/news/2015-03-20/scrunchies-prevent-wildlife-death-study-finds/6337222?pfm=ms
These hazards – window strikes, being eaten by a natural predator, being murdered by a cat – can happen at any time of year. But spring, now in full swing here on Gabriola …
… brings a new problem: disease. Pine Siskins with salmonella and House Finches with conjunctivitis have shown up at our feeders a few times, in spite of my obsession with keeping the feeders clean. The spread of disease is the peril that upsets me the most and that most makes me consider abandoning my bird-feeding habit once and for all.
The risk of spreading disease is why I took down my big seed feeder, the one where, in the spring, many birds fight for a spot while others scratch around in the ground below.
The day came where I just couldn't bear to look at the patch of ground under the feeder. We'd covered it with a wooden contraption that we moved periodically, hoping that would help reduce the risk of disease (wishful thinking? delusion?) but whenever I looked at it (often) I just saw a patch of earth teeming with deadly bacteria. It had to go.
Now I have various small feeders placed in strategic positions all over the yard, hiding under bushes and hanging from branches and garden structures. I also toss seed by hand and provide suet for the woodpeckers, especially in winter and during breeding season, and shelled peanuts for the chickadees and nectar for the hummingbirds. And I plant native plants and flowers, more every season. Here's a great resource in that regard: https://www.audubon.org/news/10-plants-bird-friendly-yard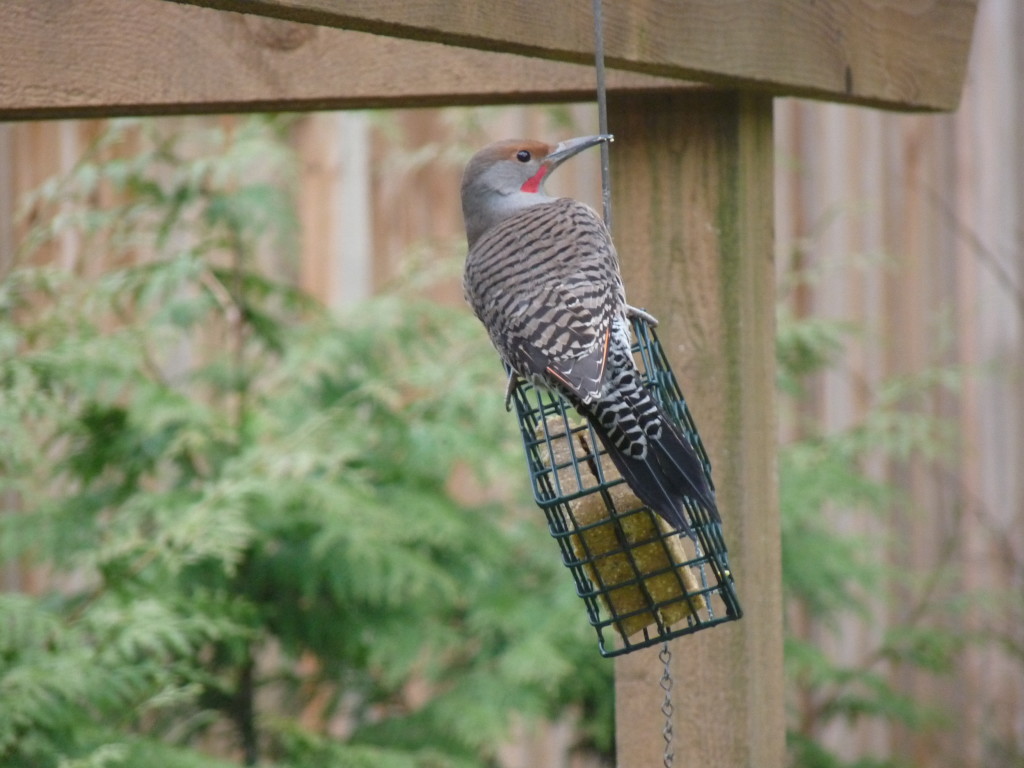 Northern Flicker with the suet block all to himself.
And I still toss peanuts-in-the-shell to the jays that seem to think they own the place.
One part of me nudges me to stop feeding the birds altogether, to just quit, cold turkey, especially in spring and summer when natural food is plentiful. So far, though, a much bigger and louder part immediately screams NO! – and begins to whimper. Apparently, it's not quite ready for me to give up my habit. At those times, I go looking for support and corroboration from experts. Luckily, it is there to be found!  I found this invaluable information, for example, on the Cornell Lab website:
"Some people prefer not to feed birds in the spring and summer when there is abundant food. However, during migration in the spring, a bird feeder might be a very welcome source of food for a bird that has already come a long way from its wintering grounds and still has a long way to go before reaching its breeding grounds. In the summer, even though there is a lot of food available for birds, their energy requirements are high because they must feed their young."
Thank you Cornell, for enabling my habit. I owe you one. 🙂
Have you struggled with this dilemma? Any insights or advice to share?