February came and went in a flash.  Even with the extra day this year.  I guess having so many days with Spring-like temperatures made it one of the most pleasant February(s) we've endured in a few years.
The backyard didn't present too much activity, or rather nothing out of the ordinary.  We were just going through the motions of the regulars coming and going at their choice.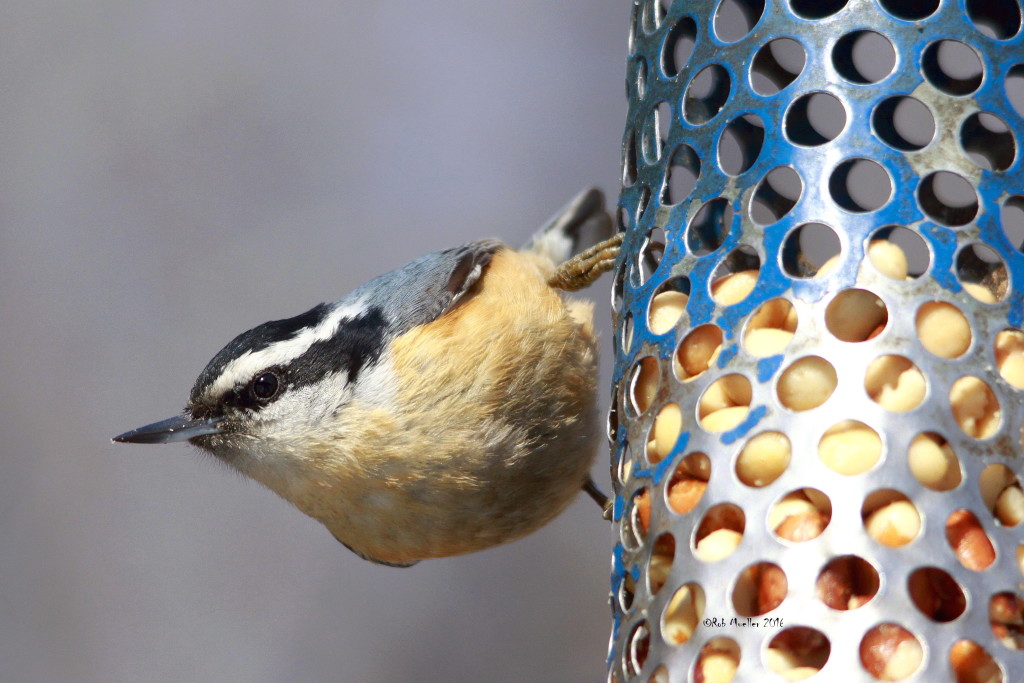 Our Project Feeder Watch counts averaged 10 species with 90 to 100 individuals, 75% + being Pigeons and House Sparrows. We were blessed with half a dozen Northern Cardinals usually coming in together at dusk.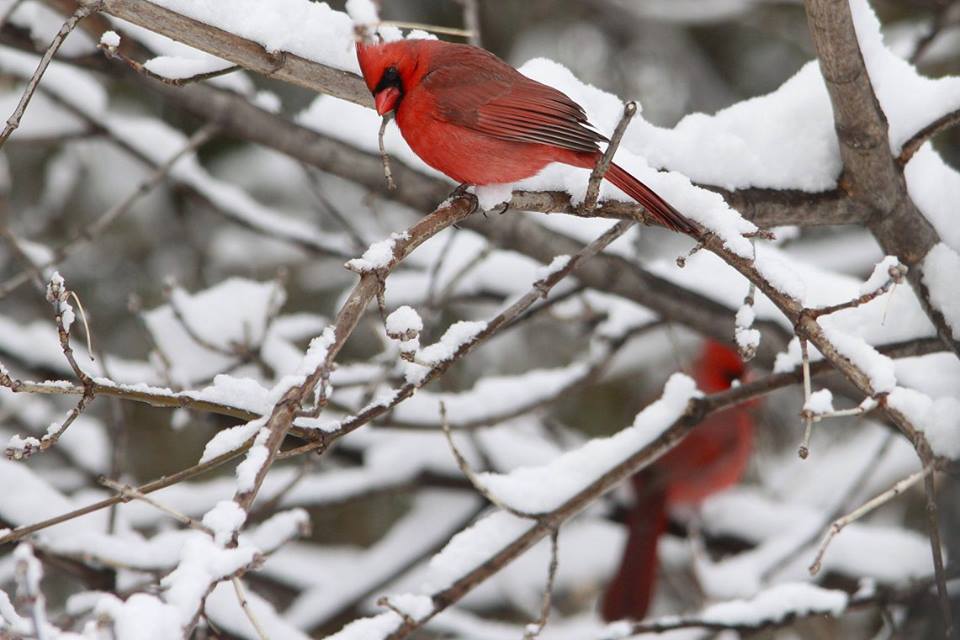 Hawk activity reduced to very few sightings which the other birds certainly did not mind.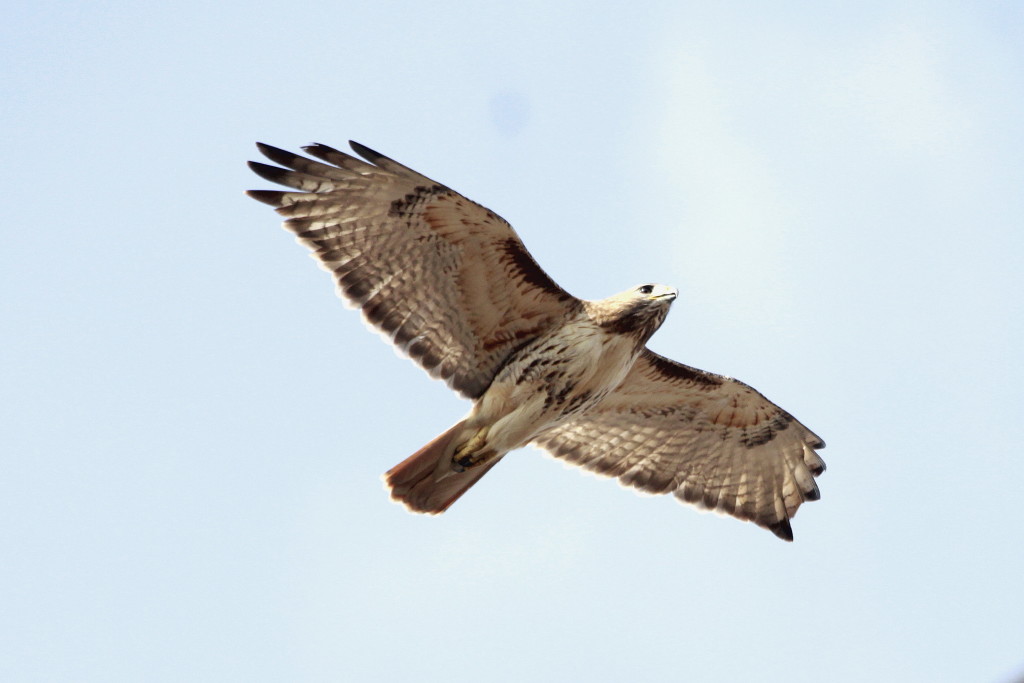 What really made February interesting was all the night Owl activity in our region. Snowy Owls to be exact. There was a time when we would not have believed that such an Owl visited the Toronto area. The irruptions in the last 5 years brought us many sightings. This time around, there was no irruption, and we thought it was going to be a season lacking for Snowy Owl sightings. This turned out to be true in one way as there have not been any regular reliable daytime sightings with the lake parks like many of us have been used to over the last number of winters.  But come nighttime, for myself anyway, they suddenly appear.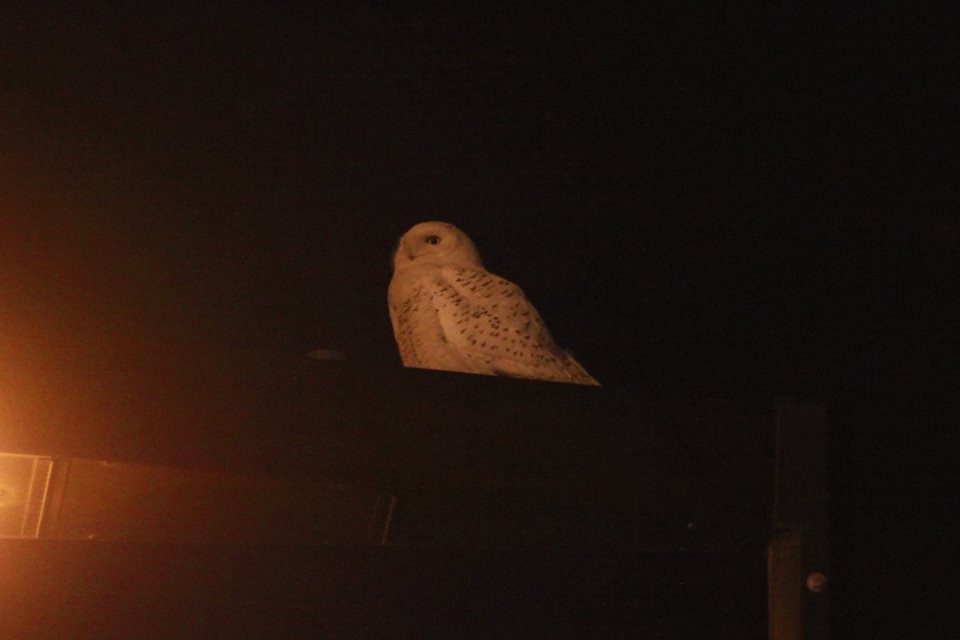 The previous winter I was fortunate to have sightings of these Owls, often more than just one any given night on my way home from work. I started documenting all my encounters but when a lull in the sightings occurred for a number of weeks, I stopped logging. I heard that a total of 35 Snowy Owls were trapped and re-located from Pearson Airport in December of 2014. It made for a much quieter January. But as February rolled in, the Snowys started popping up again. I was regularly spotting these Owls after dark right up until my last sighting in mid-April of 2015.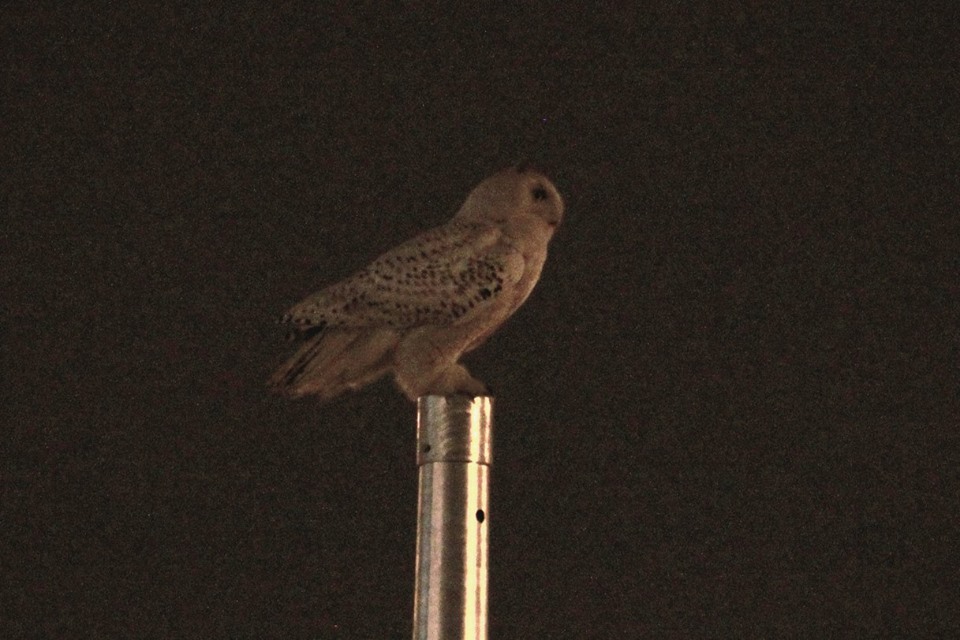 This season I spotted my first Snowy Owl on October 29, 2015. I went a full month before I saw my next bird. From that first Owl sighting until the end of January 2016, I accumulated 10 sightings in total. There have been far less Owls in our region this time around. I'd not heard about any trapping/re-locating at Pearson this season. So interesting that for different reasons, there still has been a lull in that same time frame.
February arrives and so did the Snowy Owl sightings or "encounters" as some call them. Luckily I did not discard my notes this time around. Through the 29 days of February I managed 23 Snowy Owl night encounters in my travels from work in Mississauga to our home in the west end of Toronto. I'm guessing that I've been seeing the same approximately half dozen Owls. Some nights I've spotted one, some nights two, my record is four. I've gone 3 or 4 nights without any Owl sightings and then night after night I am encountering them once again.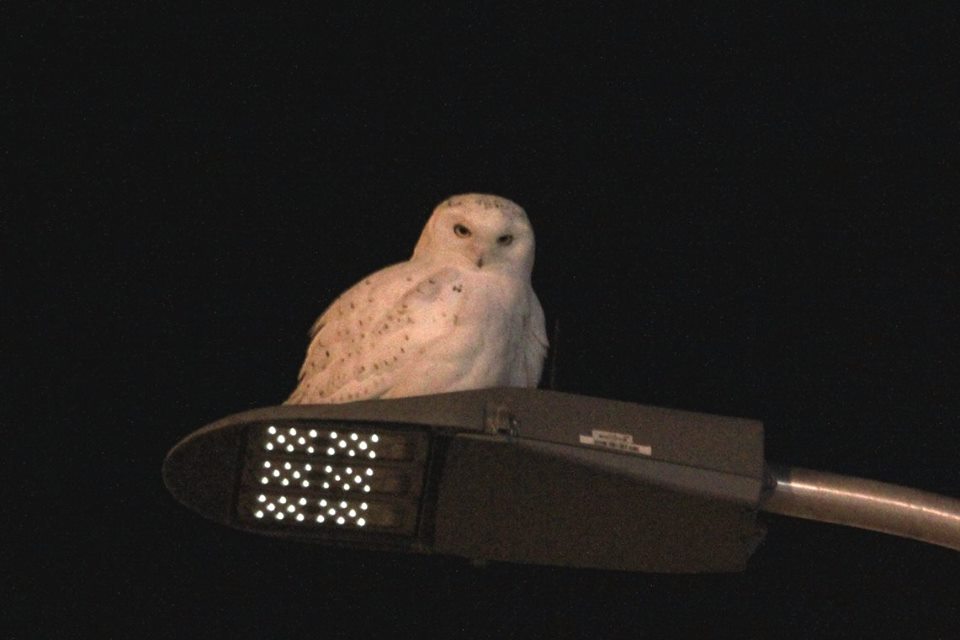 They aren't always so easy to spot. They aren't always in areas where I can stop the truck and have a safe view of them, so I just keep driving. Night Owl viewing isn't the best for photographs either. This is something I am learning how to capture record shots with manual camera settings, not using flash photography on the birds. Sometimes it works out well, other times it doesn't. A lot depends on where the Owls are sitting, if I can make use of street lighting or not.
Here is a perfect perch for a nighttime photograph.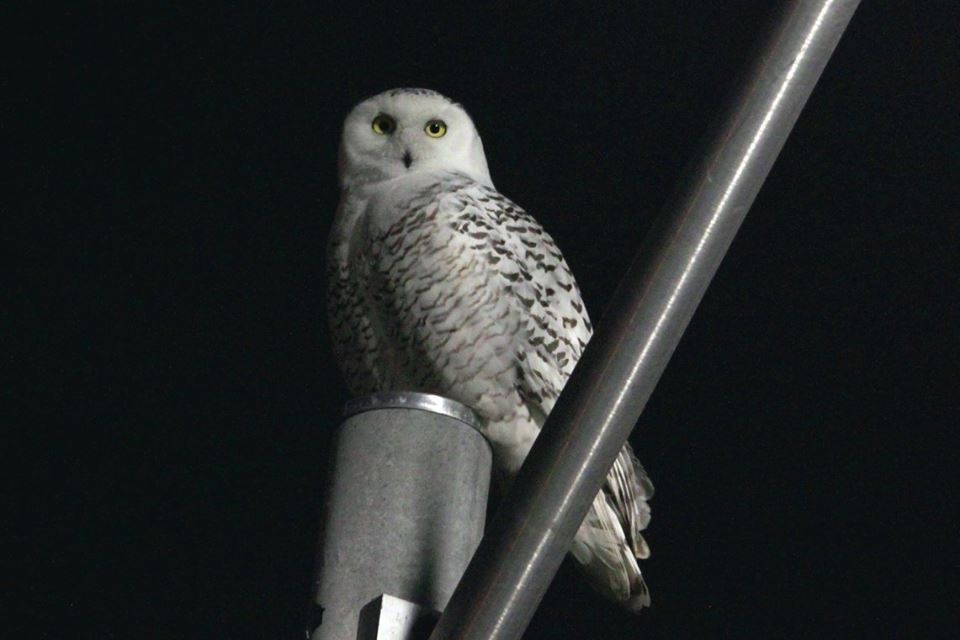 Here is a less than ideal spot. Just for the record is all I'm using such photos.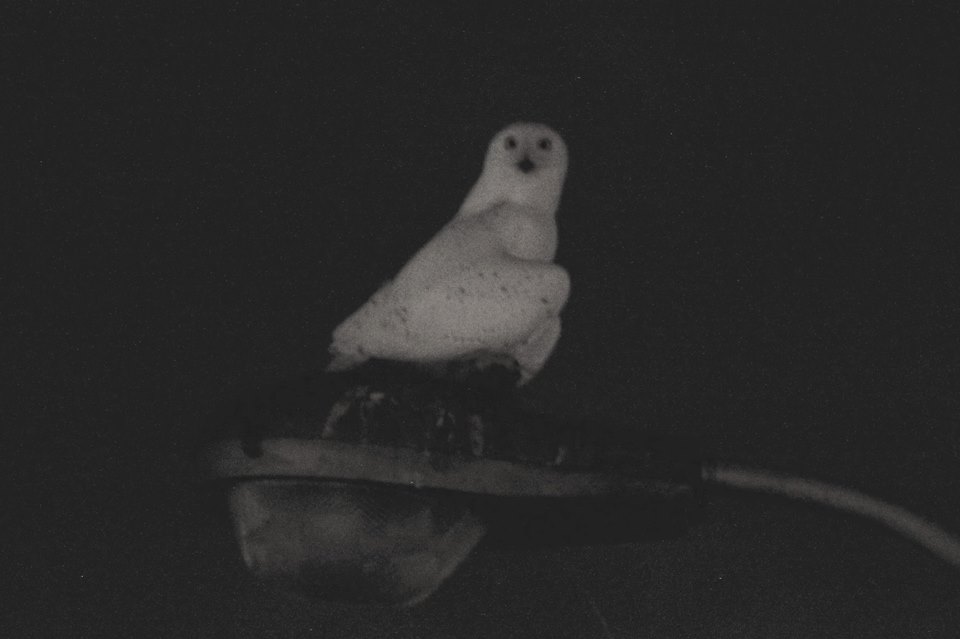 The night sights have made for some interesting pictures though…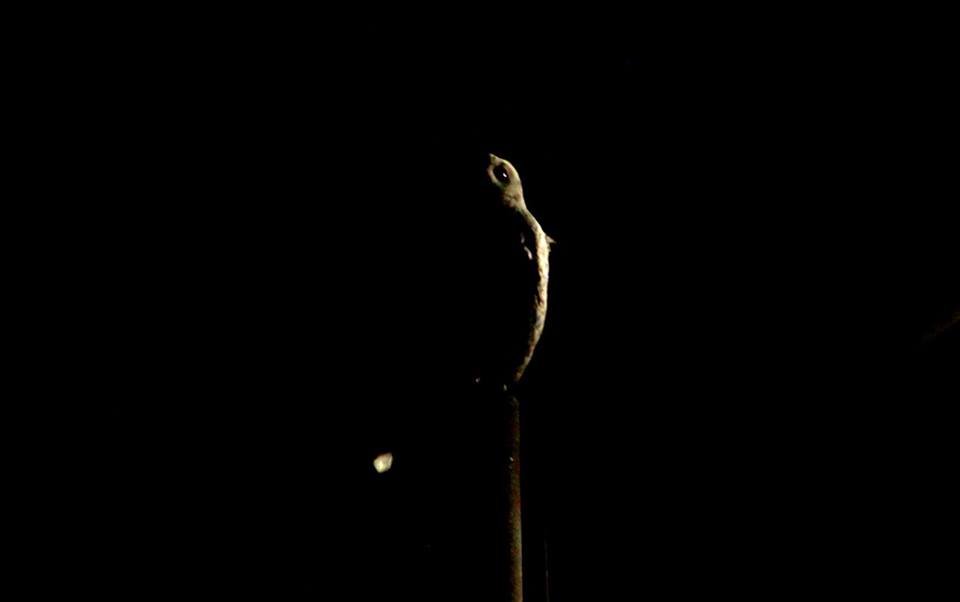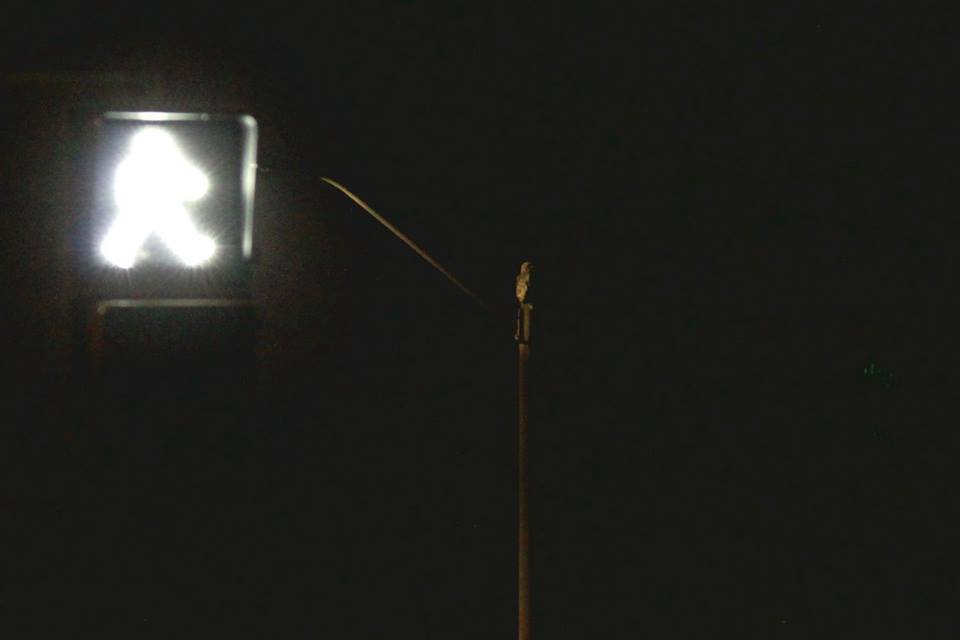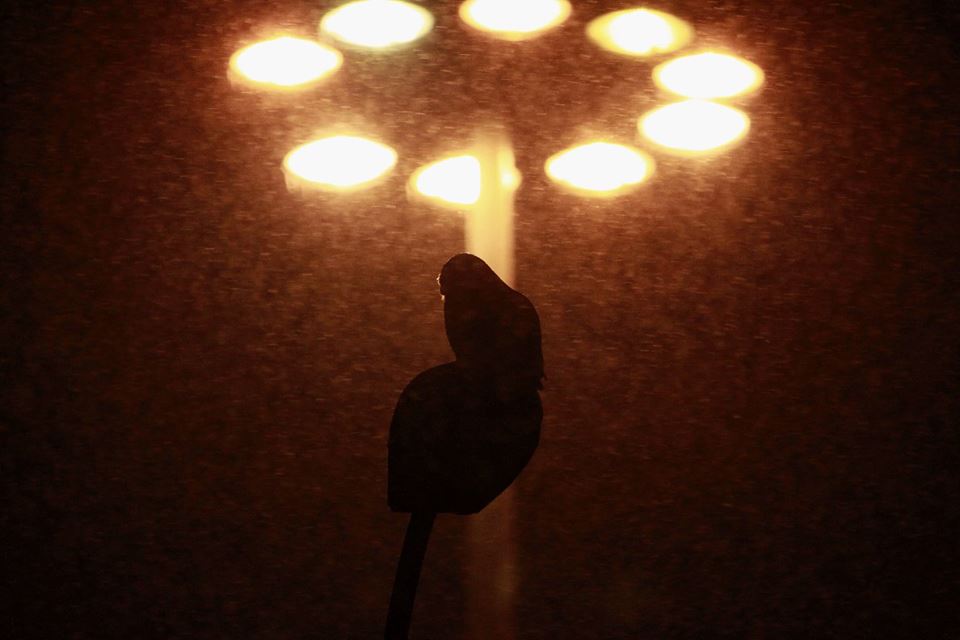 Just as years ago I thought Snowy Owls would never be seen in Toronto, and I was proven incorrect. I never thought I'd experience, and have so much fun, birding at night in the winter. Seeing these Owls after a long evening at work is a blessing.
Last winter Angie woke me up at 3am one Sunday in February, asking me if I wanted to go look for some Snowys. She wanted to experience what I was enjoying. We managed to find 2 within a couple kms of each other not far from our home. I remember not being so enthusiastic in the waking moment but am happy we did go out and spot a couple.  It's great when a couple share a passion.
Here is my favorite photo from February this time around.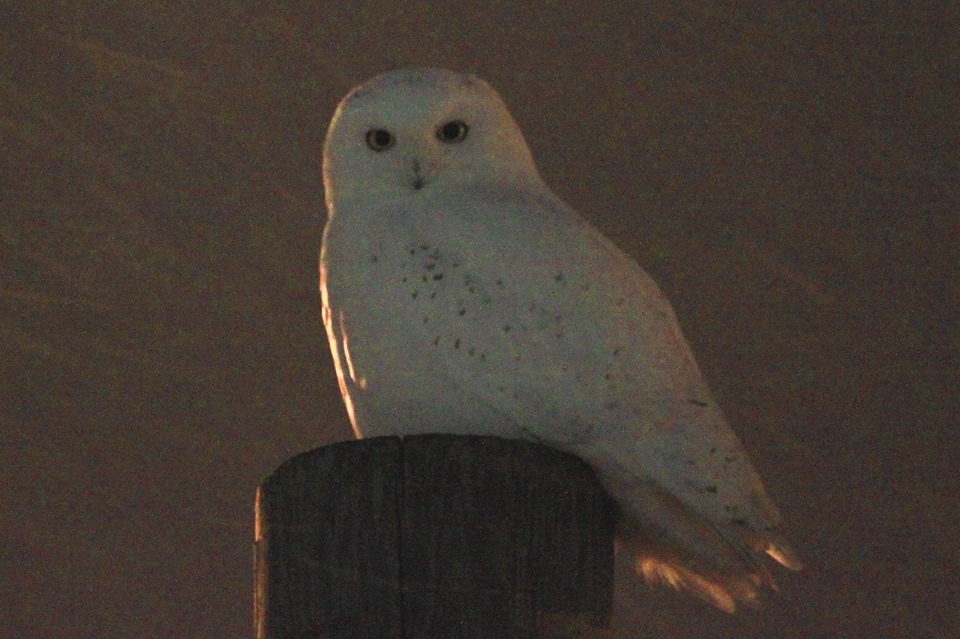 It wasn't the nicest of nights as you can see in this next shot. The settings are different and so is the angle. A night most people wouldn't think of stepping out of their homes to go look for Snowy Owls. I know I probably would not have either but since I am out and on my way home from work, I am not going out of my way by any means.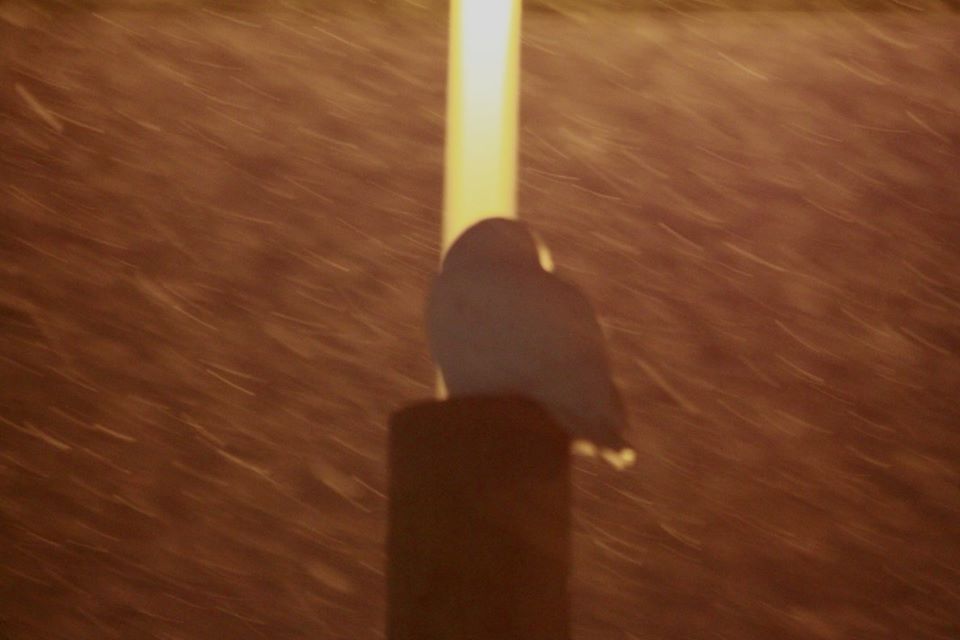 Call me lucky. Call me a little spoiled. I will agree. I don't tire of the views because I know it's only for such a short amount of time.
A Snowy Owl at night can provide some memorable moments as they are much more active than any day time view I've had of one.  They hunt, often diving into nearby fields.  And seeing them where I have been, along back roads off the highway 401, I don't need to step out of the truck to enjoy the views (or take a photo).
I encourage people to open their eyes to the wild world around us, even at night.  Just be safe about it and of course always remain courteous to the Owls.