Welcome back to our Toronto backyard! First off I really want to thank everyone who took the time out to read our July post, and comment, regarding the Peregrine Falcons and fledge watch. I put a lot of heart into that one and the feedback was appreciated.
So here we are in September already. Seriously, where did summer go? We had some very warm days this summer but thankfully not for extended lengths like last summer. It wasn't exactly the most active time here with birds but we enjoyed whatever came around.
Odd was having random appearances by a Cooper's Hawk. Normally we don't see this species until mid-September. I'm unsure if it has been the same Hawk or not. It did manage to catch one of our visiting Pigeons one afternoon.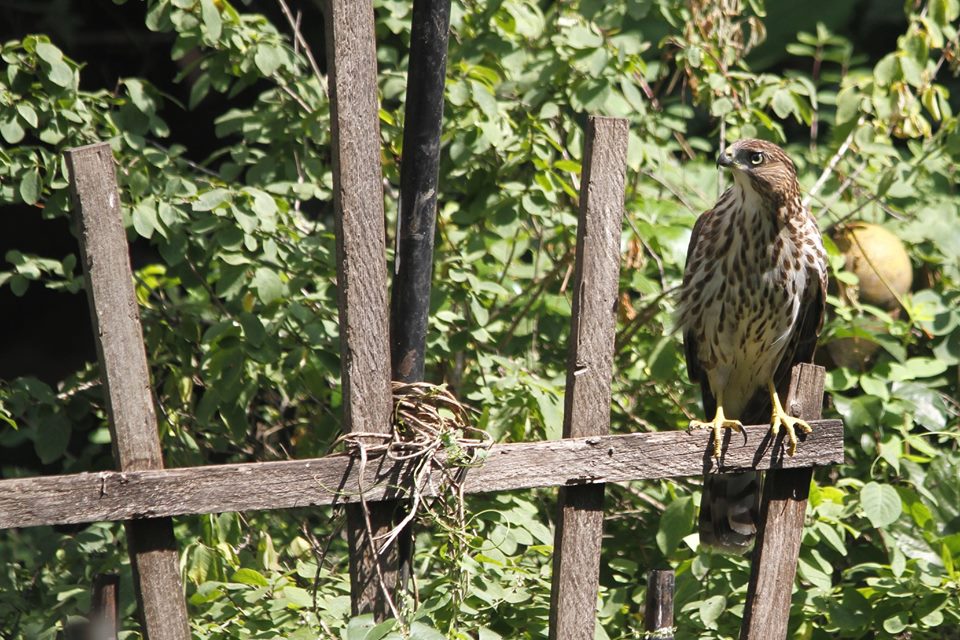 I am happy to report that none of my special friends were the Hawk's meal. Fitz here, along with Charlie and Barney are all okay and still coming to see us.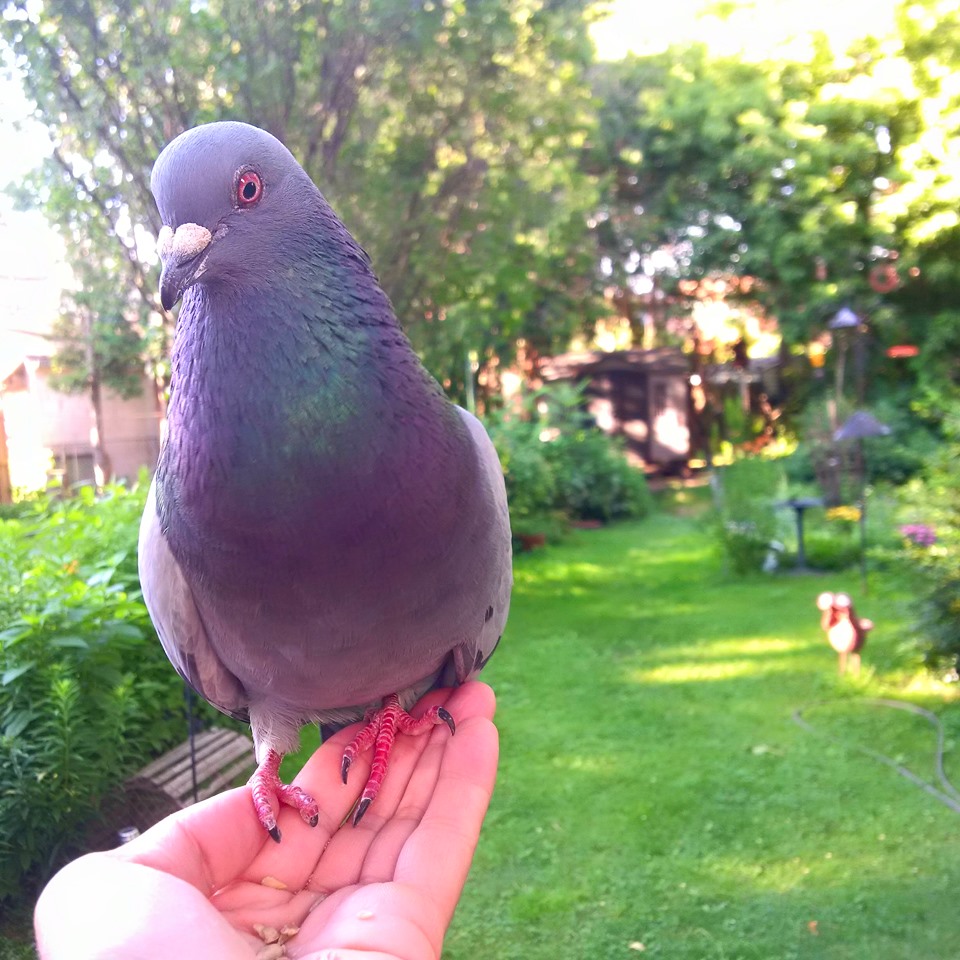 Here is Barney. He's rather new to the backyard. Pigeons are very charismatic birds if you get to know them as individuals. They have big personalities!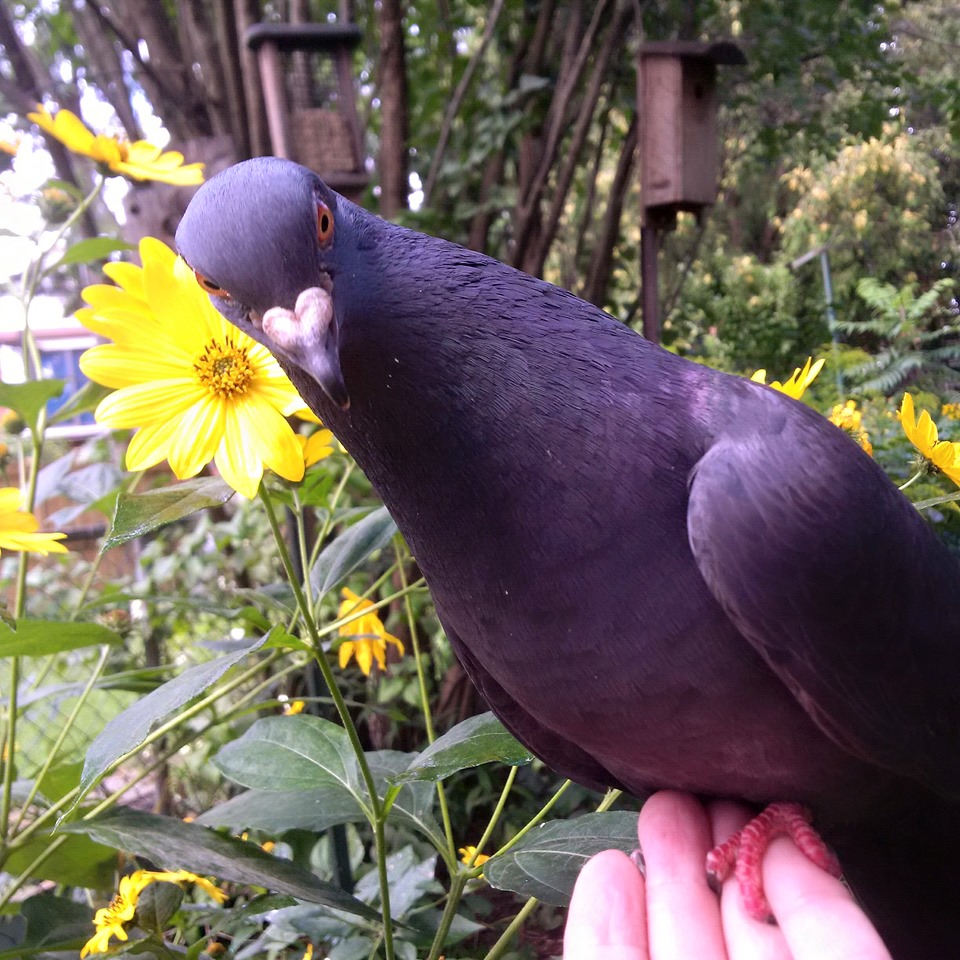 A White-breasted Nuthatch has also made some appearances. Another bird species we normally don't see until well in the fall. Hmmm? Are these birds telling us something?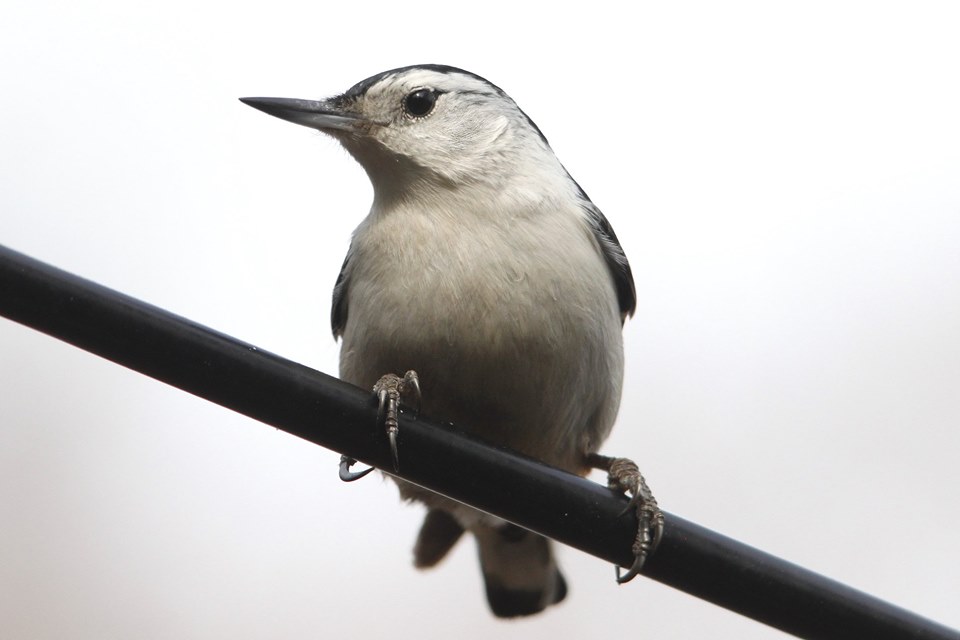 We know for certain we have at least 4 Hummingbirds coming, which is normal for this time of year. The birds are fueling up for their migration south in the coming weeks. They are visiting the pollinator garden as much as they are visiting our couple feeders. This one was going through one of our Bee Balm plants.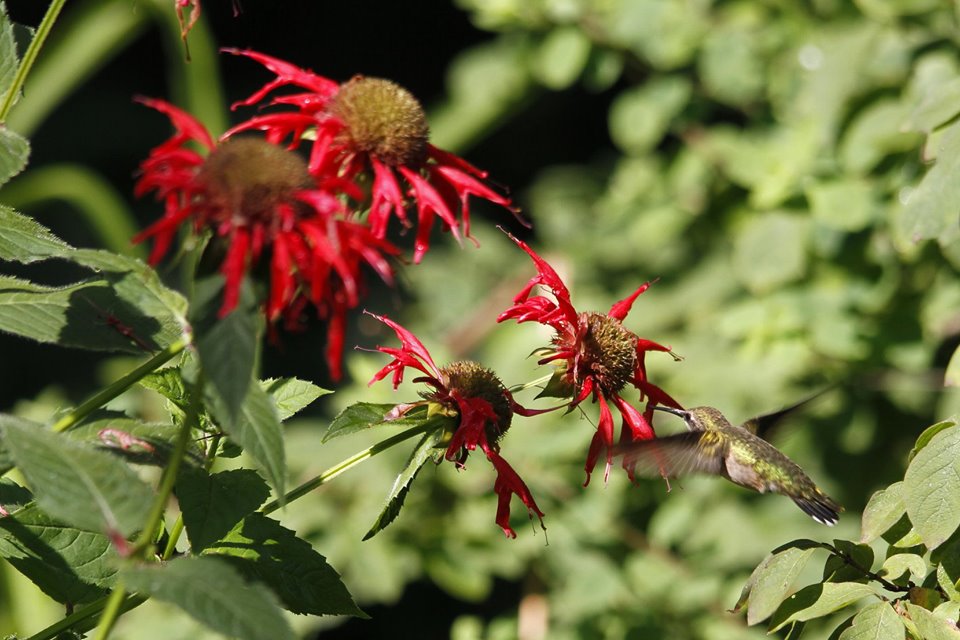 The Baltimore Orioles disappeared this summer. Past years, we would have one or two pairs hit us up for sustenance all summer, as well as bring their young by August. Not the case this time. Weird. A couple have returned the last week of August including this banded bird that I have not been able to get any band info of through photographs. The birds have since left us, as per norm, gone by the first week of September. *sigh*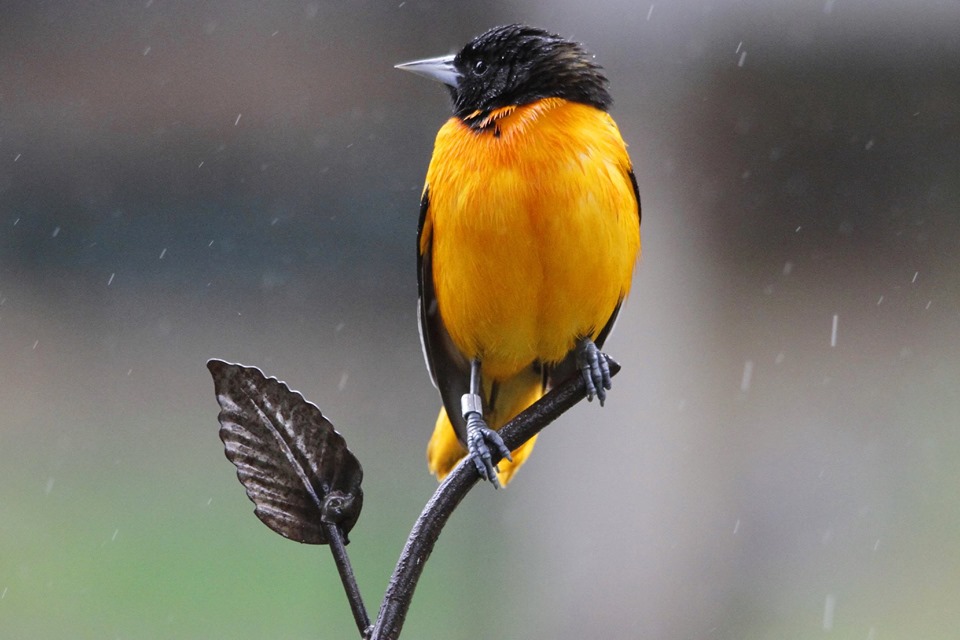 Our family of Northern Cardinals are still coming in, with the male who we call "papa" still feeding two young birds. This is their second brood.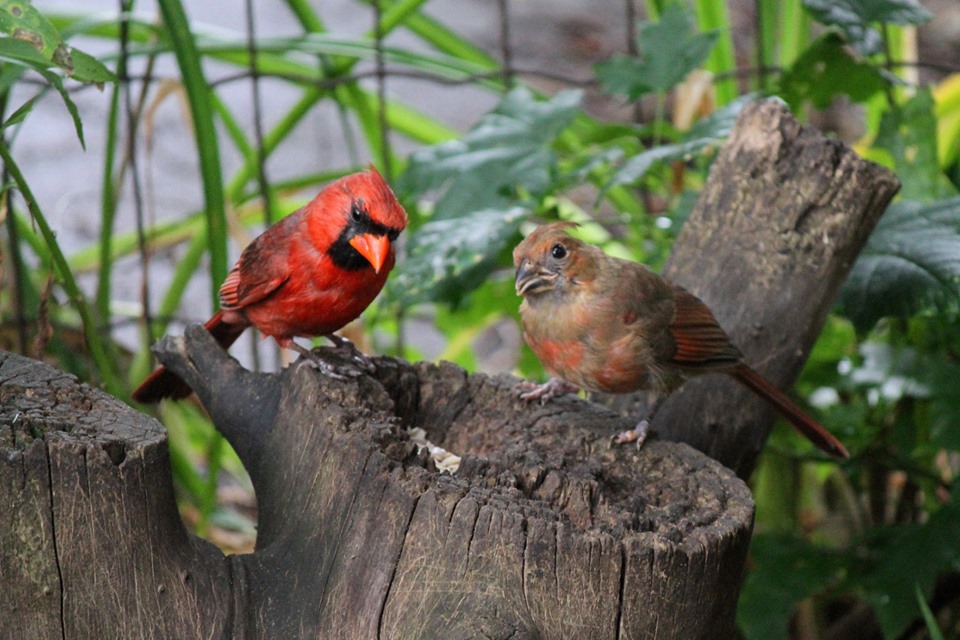 We had a new batch of American Robins appear in August.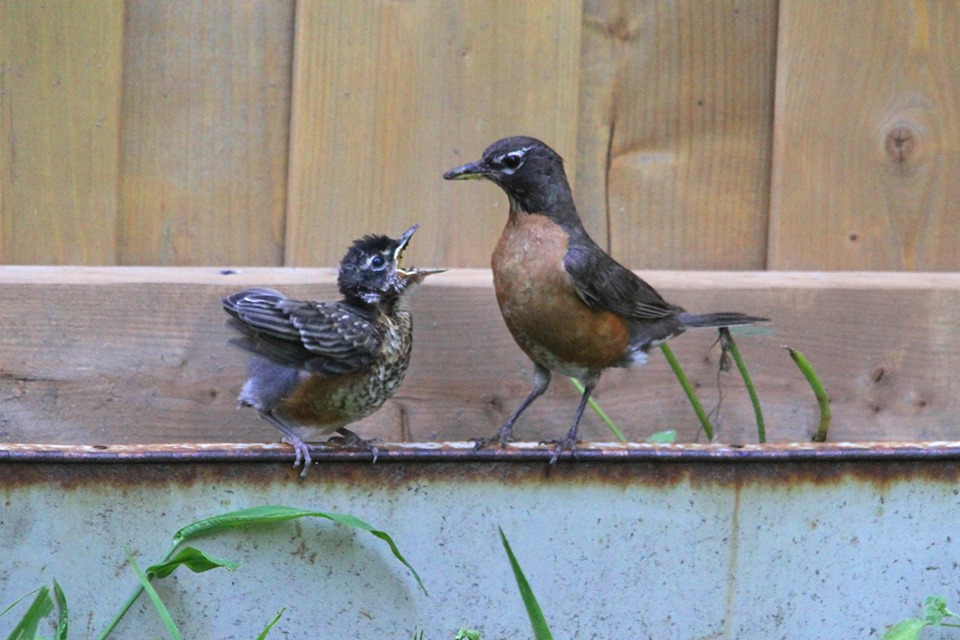 A Downy Woodpecker has started roosting in one of our nest boxes the last couple weeks. He's very sneaky about his entry, doing it in the blink of an eye. I watched every evening of the Labour Day long weekend and finally saw him go in on the Monday just before dark.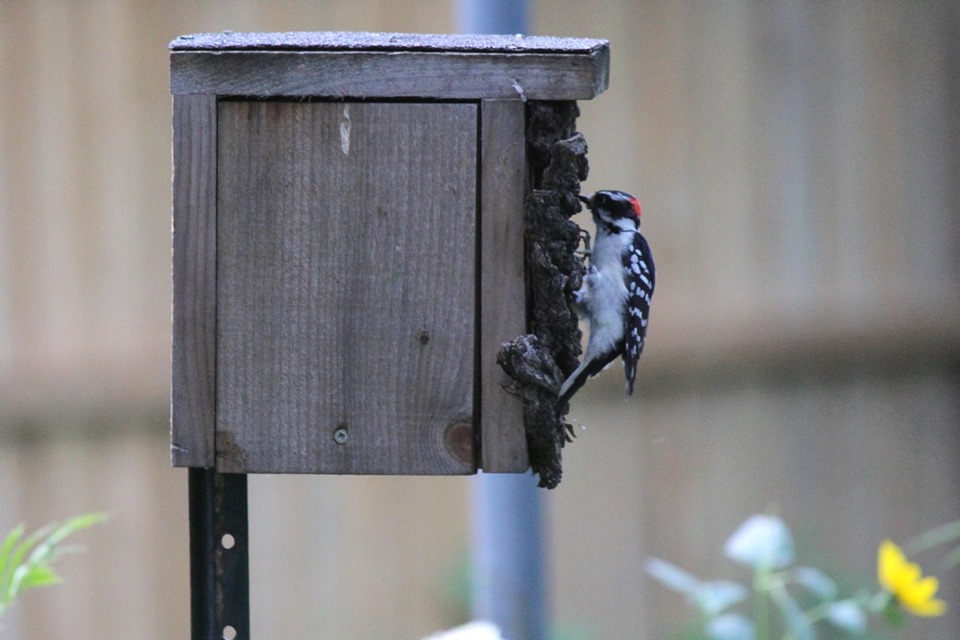 I work an afternoon shift and about 11 pm every night I go for a walk around the backyard to see what's happening. Some nights the Woodpecker is sleeping right at the entry hole and this is what I see.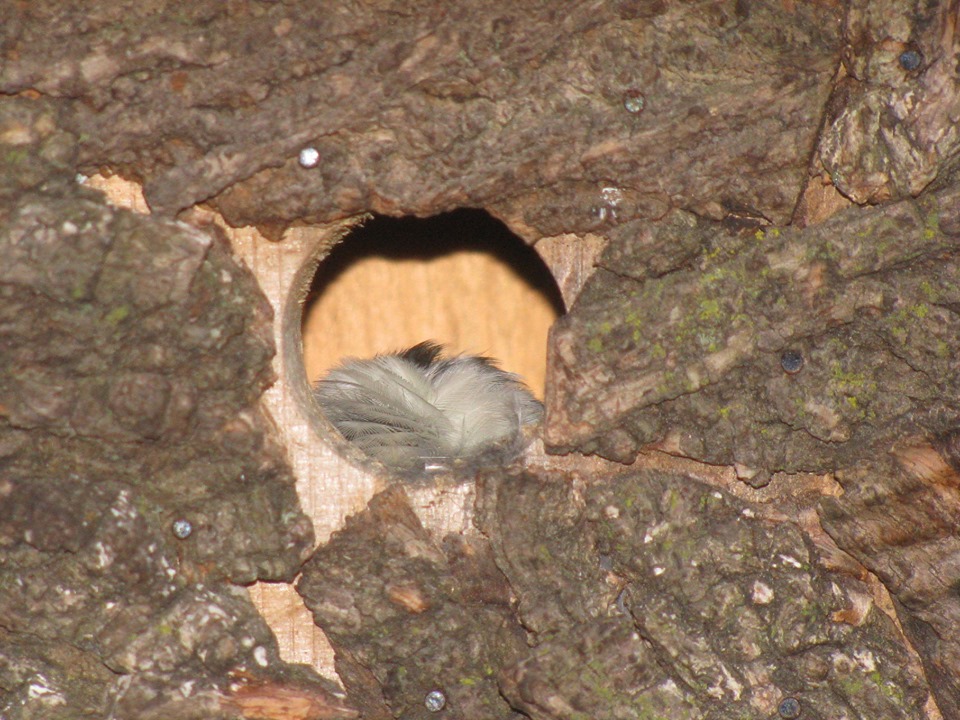 We've had a couple Warblers stop in already but none have been positively ID'd. Hoping to add a new species or two to our yard list this fall migration.
I guess that's about it for the birds but here's some other highlights from our backyard this summer.
Earlier in August I happened to spot a Monarch caterpillar on our swamp milkweed plant. Angie and I watched him for a few days until he disappeared.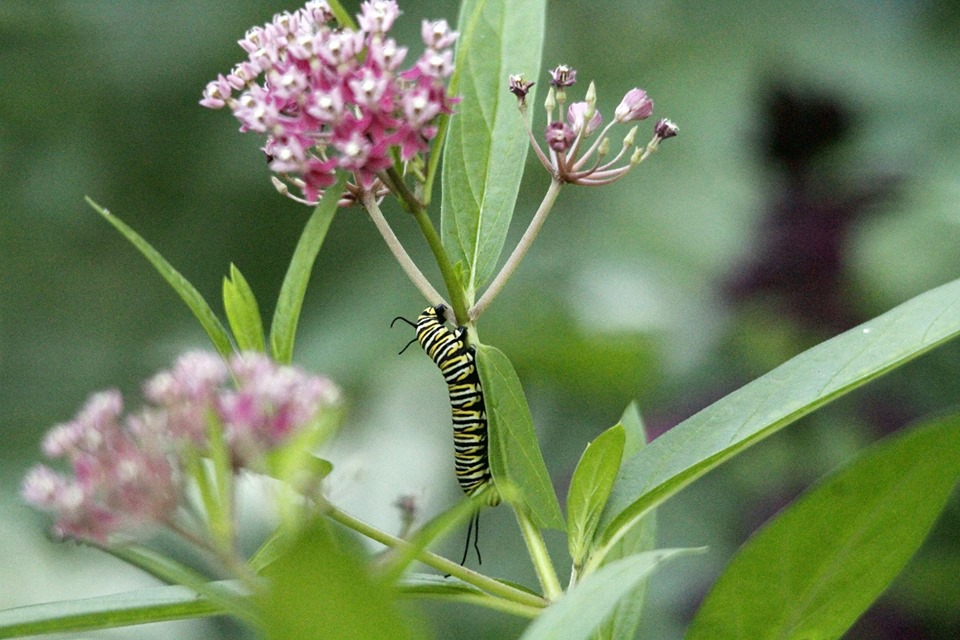 The next couple weeks we kept an eye open when around that part of the garden. We told ourselves he went off to go into his pupa stage even though we weren't certain what really happened. A friend assured us they do leave the "food plant" and try to find a safer place to go into their next phase. Day after day, I always had my eyes near the milkweed, scoping the plants, often squatting down. Finally I saw him. He really did make it to the butterfly stage!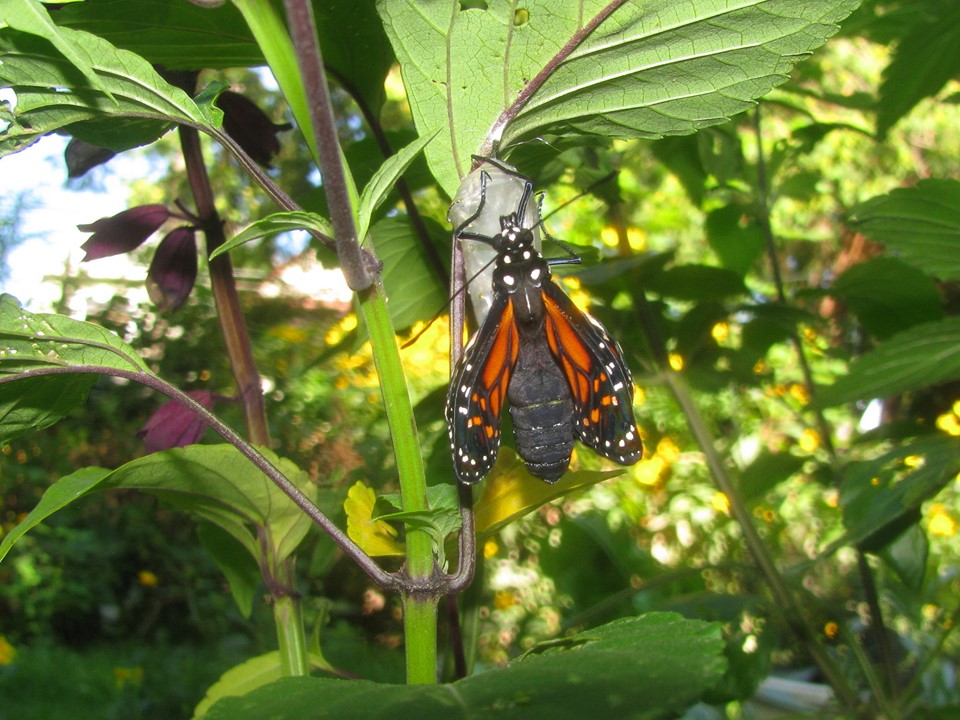 You can read more about it in a blog of my own here. We actually had a number of different caterpillars appear in the yard this summer, a short photographic blog here.
No shortage of Raccoons going through the backyards this summer. At least two families were spotted at once. A mom with 3 young as well as a mom with 4 young made for some active nights. Add a big male in there too. Crazy loud snarling times!
I'm soooooooooo cute!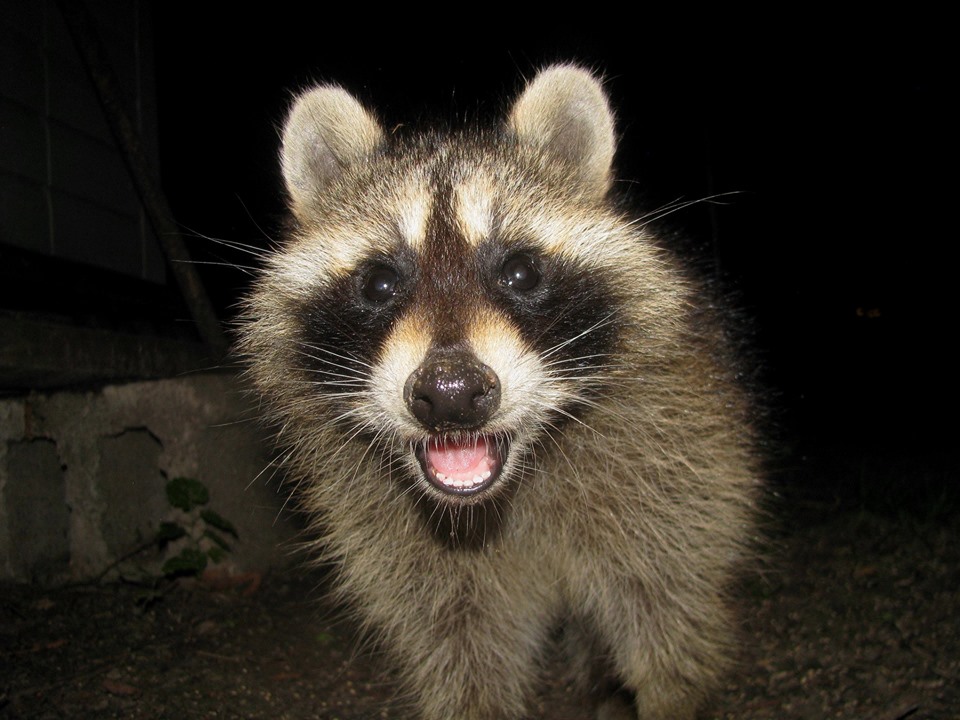 I'm sooooooooo shy.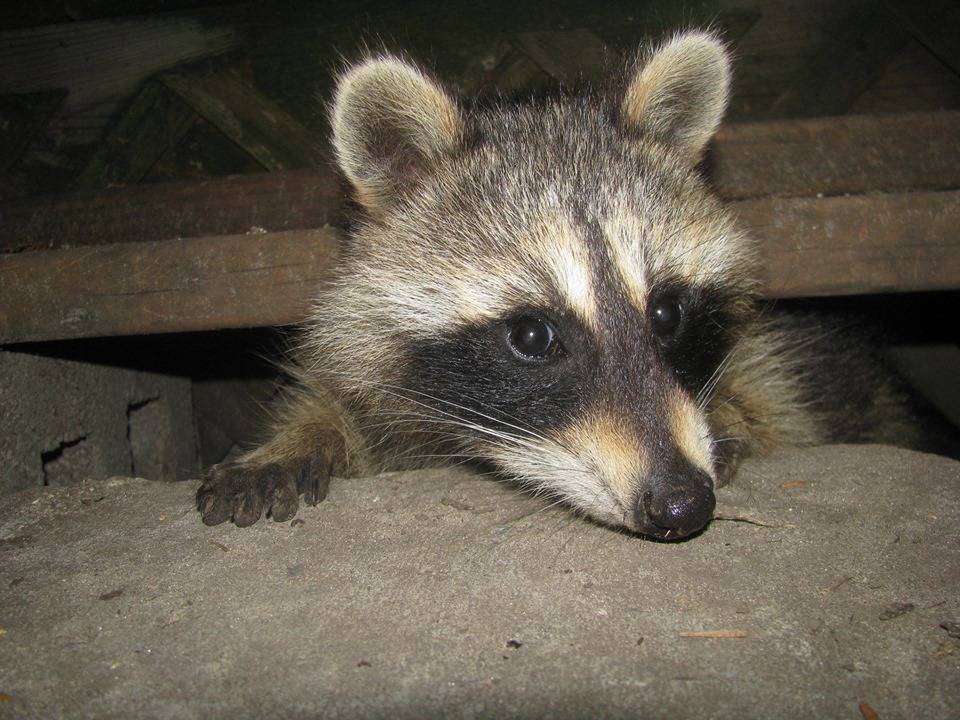 This is the big male. All the other Raccoons scattered whenever he showed up.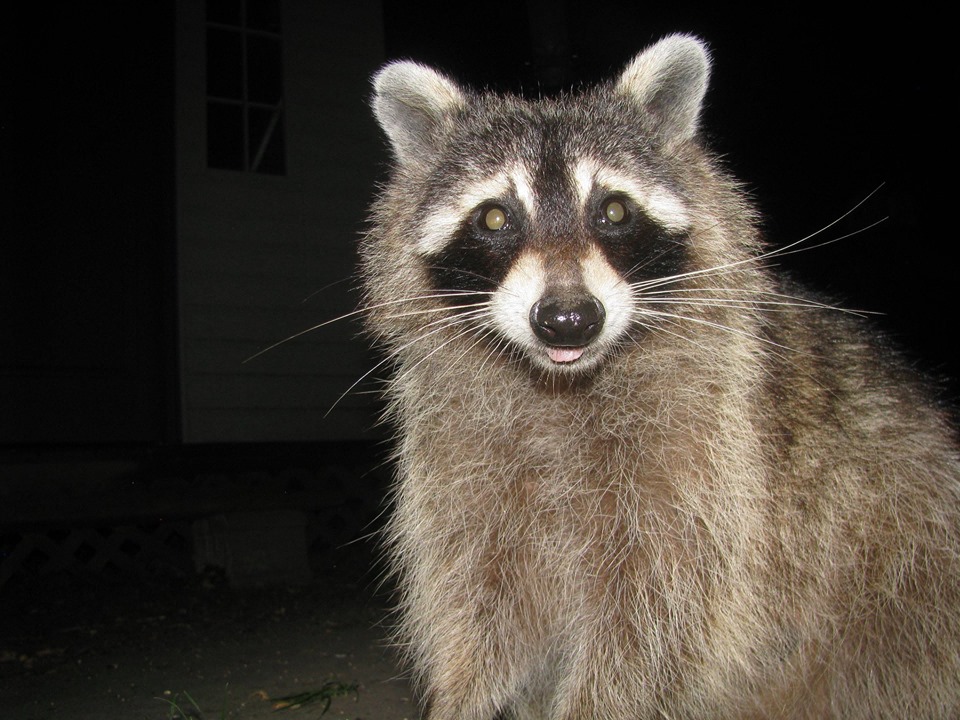 One of the mother Raccoons came out late afternoon while we were enjoying the Monarch caterpillar. The swamp milkweed is to the right of her.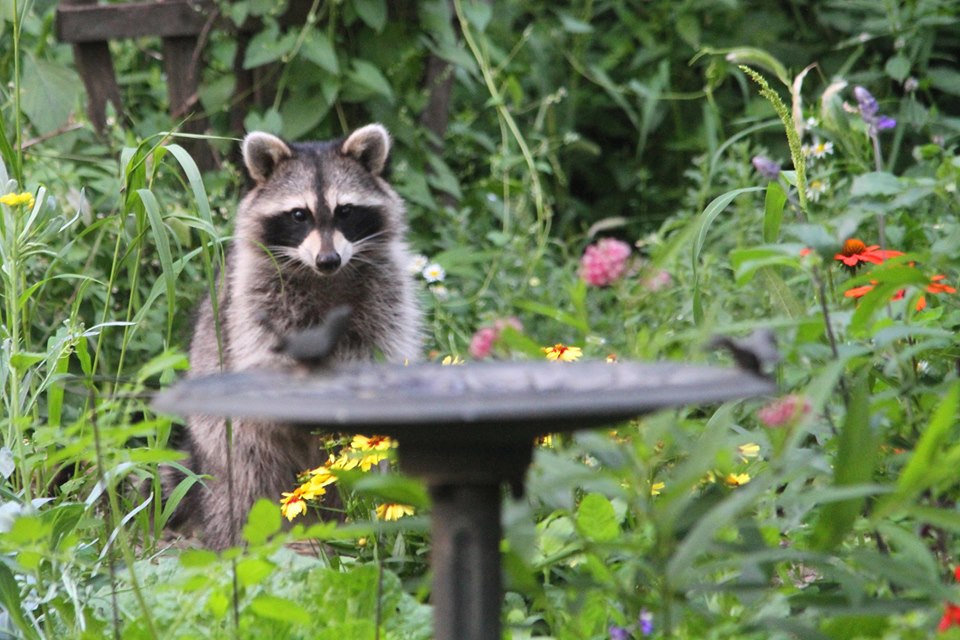 We named this Raccoon Albert. He's a young Raccoon and always alone. He often makes early evening appearances before any of the other night creatures. A few times he's come around mid-day like here. I was gardening, putting in some new plants, when suddenly he appeared. He walks around, sniffs everything, touches everything, plays in the bath basins, scrounges under the feeders and then disappears again. Funny guy he is. It's a good thing he comes to a backyard where the humans are pro-wildlife. I do believe they can sense such things.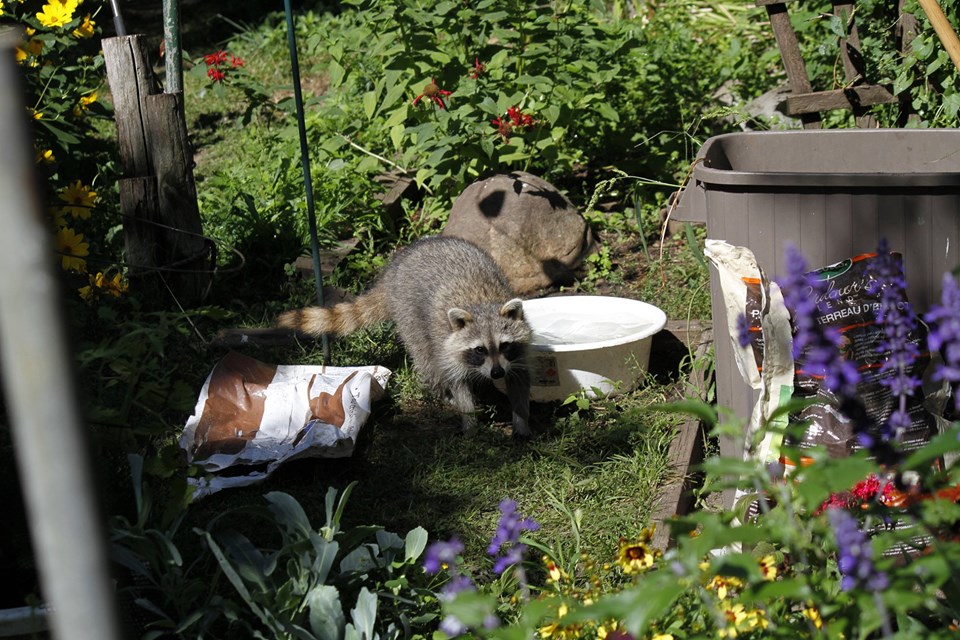 We've had a couple Opossum sightings this summer too. In the fall we usually see them more often. Perhaps with less foliage for them to hide in as they wander around is the reason?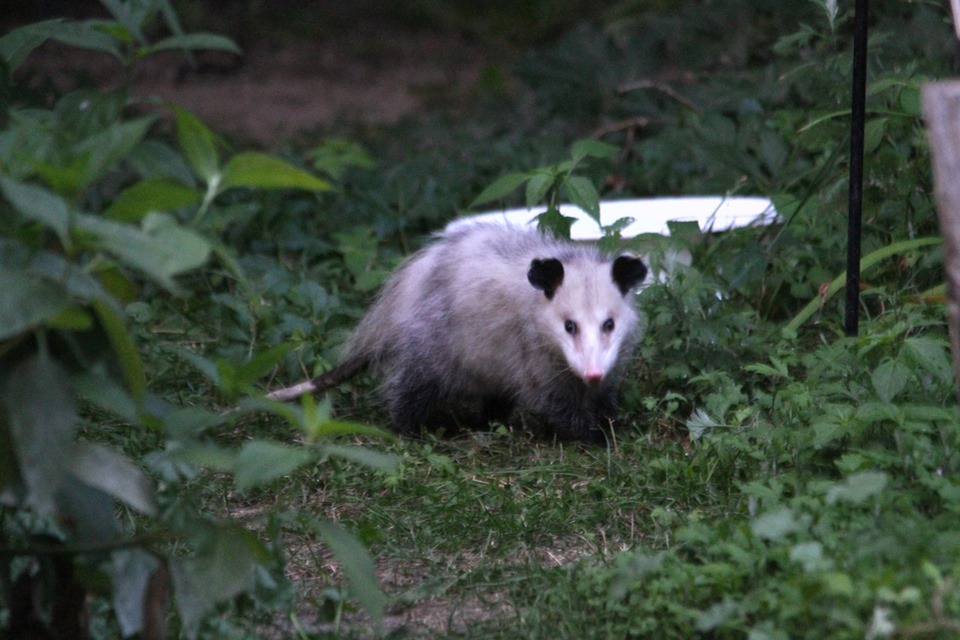 And what Toronto backyard would not be complete without some Skunks? I'm unsure how many we are seeing, but there are some large ones, and wee little ones too.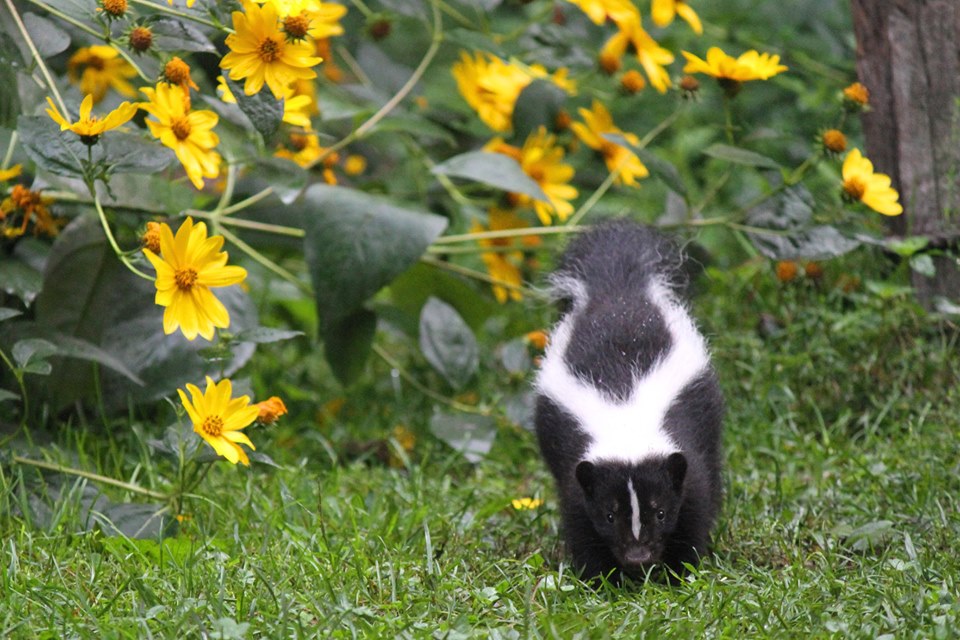 I hope you enjoyed visiting our backyard again this month. It's our favourite place to be!
A hand feeding Hairy Woodpecker we have coming to visit almost daily.